Comforting Words for Loss of a Brother
Finding the right words to send someone when they have lost a brother can be tough. These days we often use social media or texts to express our sympathy, though I do believe a phone call can be more meaningful if you know the person well.
Another option is a beautiful sympathy card – we have our own designs here with moving quotes – or a gift.
The words on this page were written by real people for real people. You can adapt them to suit your needs. We hope they will inspire you to comfort your loved ones in their time of grief.
---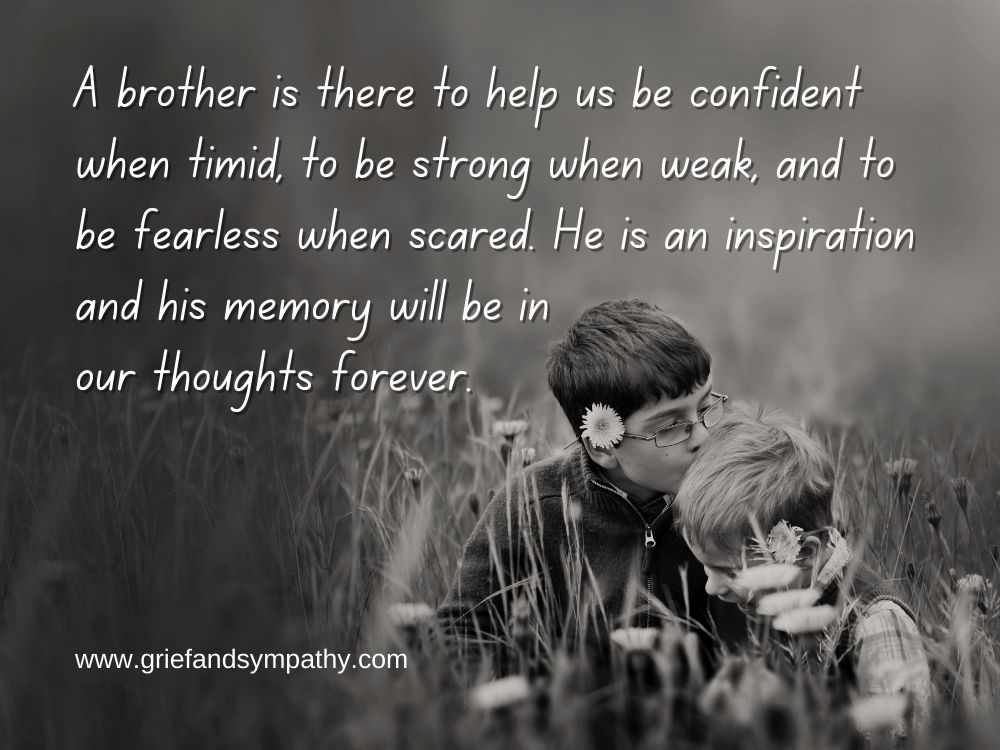 ---
My heart is extremely saddened by the news of your brother's death.
He brought such joy to our family and those memories will always be remembered. He was always a bright spirit, ever since you were both kids. I never heard him say bad things about anyone.
What I will fondly remember are his jokes and random acts of kindness. Even when it was out of his way, he would always extend a hand to help. I always admired that and will miss that about him.
He was such a hard-working and dedicated man. I know how much he did for the family.
I know that dealing with this can be difficult and I can't erase the pain you're experiencing right now, but I'm here if you need a shoulder to cry on.
---
Your brother was such a warm and gentle person. He was a man of purpose and he always valued every second of his time.
Even when you were younger, he was always a good confidante and protector. He would always encourage you to stand up for yourself and be fearless when scared. He could be miles away but was there any time you needed him. He was the kind of person you can always count on.
He often told me how proud he was of you. The bond you shared as siblings will always be something special and unparalleled.
I know you were very close to him and you must be going through a lot right now.
A life lived with greatness should be remembered with memories of happiness.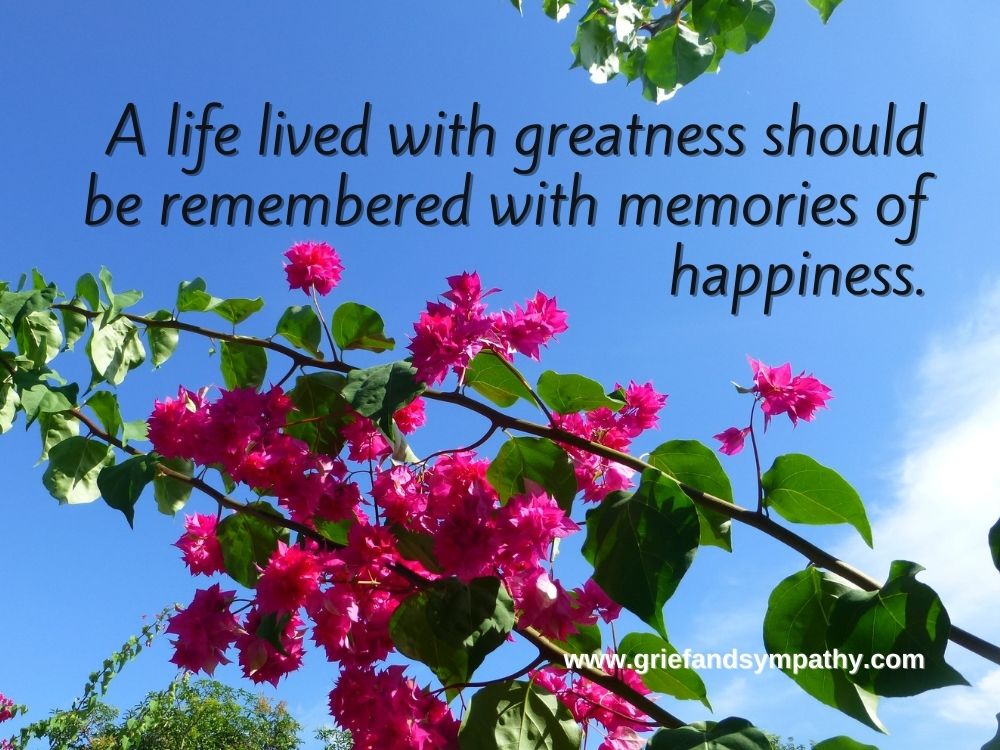 I know that at this time it can be difficult to face each new day. I will be with you as we draw strength from beautiful moments and memories with him.
---
Dear Amanda
It's heartbreaking to hear of the death of your brother. It's tough for a young girl like you to go through this. I feel for you, and I want to do anything I can to help you cope.
Let's walk through this shadow together and let his sweet memories comfort you as you heal. I love you.
---
Dear Tom
We are deeply grieved about the loss of your brother. He was so dear to all of us. He was a happy guy, and it was fun to be with him. We love him, and we feel his absence so much.
We know we can't replace the bond you both had, but we will try our best to encourage, comfort and be there for you. We will come to see you soon.
---
I heard the heartbreaking news about your brother. I am at a loss for words.  May you find the strength to move past this loss. 
Sending so many prayers your way.
---
Words can't sum up what you might be going through right now. Your brother was one of a kind. I am sorry that he couldn't stay a little longer.
May you find the courage to cope with this great loss.
---
As you mourn the loss of your beloved brother, please accept my deepest sympathy and well wishes.
I hope beautiful memories soften your grief and the support you receive from family and friends give you hope through this journey of mourning and healing.
Wishing you peace and thinking of you.
---
I understand that words cannot take away your grief. However, as you grieve the loss of your brother, please accept my heartfelt sympathy. I wish you the kind of peace that brings you comfort, courage to face the sad and difficult days, and loving memories to forever hold in your heart.
It's tough now, but let us fight through this together.
---
We were so sad to hear about your brother. We know he was your best friend. We just want you to know you're not alone at this time and we will keep the memory of him alive.
---
Your brother was the one you trusted, he was your closest friend. We all saw the bond you had right until the end.
Please know this, that even though your brother has now gone, we all loved him and love you too and his memory lives on.
---
I'm so sorry to hear about your brother. Losing a sibling is one of the hardest things to go through, so I hope you know I'm here for you.
---
Hearing about your brother's passing was totally devastating not only to me but also to everyone whose lives he touched.
I'll never forget how considerate and caring he was. Just last winter when the power was out during the snowstorm, he came over to make sure we had food and water. I'll always remember him for his kind heart.
You and your brother mean so much to me, and I love you both more than you'll ever know.
Words for Loss of Brother
---
Where to get help: 
---
Have You Considered One-on-One Online Grief Counseling? 
Get Expert and Effective Help in the Comfort of Your Own Home

The following information about online counseling is sponsored by 'Betterhelp' but all the opinions are our own. To be upfront, we do receive a commission when you sign up with 'Betterhelp', but we have total faith in their expertise and would never recommend something we didn't completely approve.  
Do you feel alone and sad with no support and no idea how to move forward?  It can be tough when you are stuck in grief to find the motivation to get the most out of your precious life. 
Online counseling can help by giving you that support so you don't feel so alone. You can have someone to talk to anytime you like, a kind and understanding person who will help you to find meaning in life again, to treasure the memories of your loved one without being overwhelmed and to enjoy your activities, family and friends again.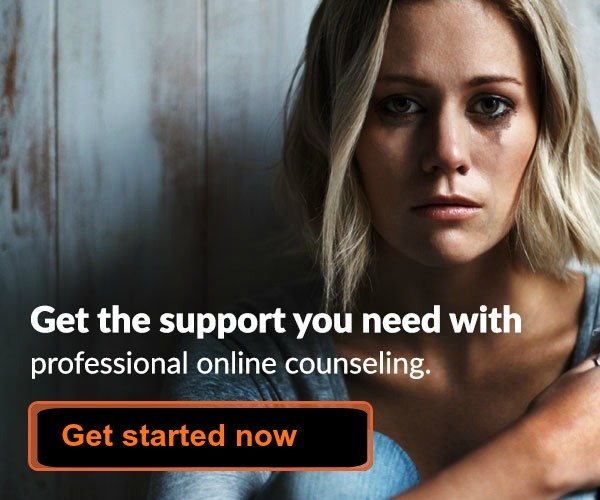 Click here to receive 20% off your first month. Exclusive to GriefandSympathy readers.
---
Sales from our pages result in a small commission to us which helps us to continue our work supporting the grieving.  

Help Other Men with their Grief in this Brief Survey

Grief and Growth Survey for Men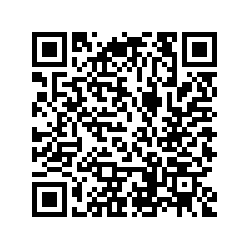 This survey by Stuart, a Master's student at Viterbo University, is focused on the relationship between resilience and grief among men who have lost a loved one within the last 30 years, are at least 18 years old, and use he/him/his pronouns.
---
Hypnosis for Grief - 10 Ways It Can Help You
Try a gentle hypnotherapy track to relax the mind. Learn how self-hypnosis can help you cope with grief at any time of the day or night.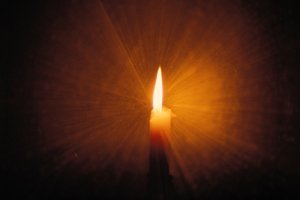 ---
---
For Remembrance: 
Sales from our pages result in a small commission to us which helps us to continue our work supporting the grieving.  
---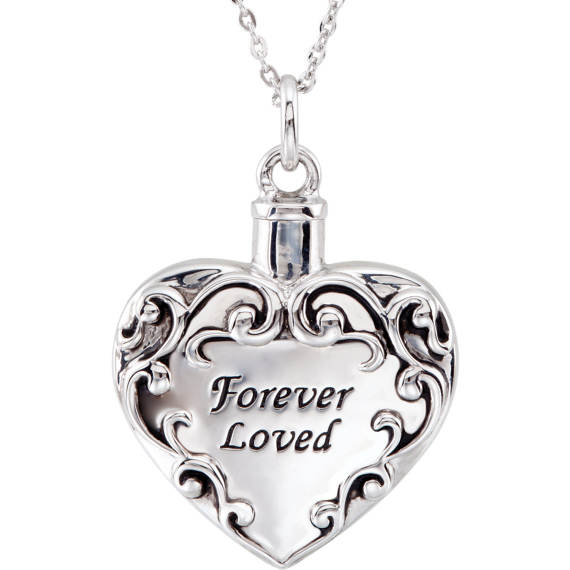 Memorial Jewelry to Honour a Loved One

Check out our lovely range of memorial jewelry for any lost loved one.  Pendants, necklaces, rings or bracelets, we have them all in all kinds of styles.  Choose for yourself or buy as a sympathy gift. 

---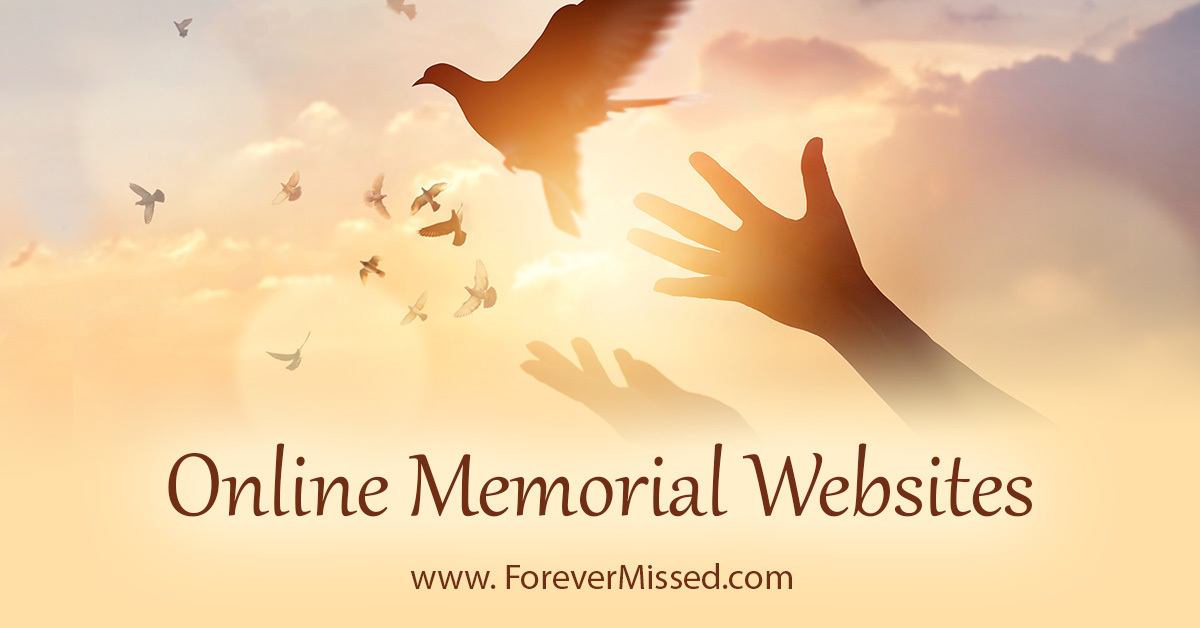 Create an Online Memorial Website
Honour your loved one with their own memorial website.  Share photos, videos, memories and more with your family and friends in a permanent online website.  Free for basic plan with no ads. 
---
Keep in touch with us: 
---
Sign up for our newsletter and receive:

"The 10 Most Important Things You Can Do
To Survive Your Grief And Get On With Life"
Our free downloadable and printable document "The 10 Most Important Things You Can Do To Survive Your Grief And Get On With Life" will help you to be positive day to day.  
The 10 points are laid out like a poem on two pretty pages which you can pin on your fridge door to help you every day! 
All you have to do to receive this free document is fill in your email address below. 
You will also receive our newsletter which we send out from time to time with our newest comforting and helpful information.   You can unsubscribe any time you like, and don't worry, your email address is totally safe with us. 
NEW BONUS - Also receive a copy of our short eBook - '99 Ways to Spot a Great Grief Counselor'.  Available for instant download as soon as you sign up. Never waste money on poor counseling again! 
---
Join us on Facebook for articles, support, discussion and more.  Click 'Like' below.

---