Sending Sympathy for Loss of a Husband
All the condolence messages on this page were written by real people to send sympathy to their loved ones on the loss of a dear departed husband. 
Pick and choose the parts you like best to help you compose a comforting condolence note.
We also have lots of lovely sympathy cards we designed ourselves that you can customise and send direct.  Check them out here. 
Ideas for the best sympathy gifts here!
---
---
During this challenging chapter of your life, may love be what you remember most, and the memories of your late husband be treasures you cherish forever.
Please find strength in the support of those who care and hope in each new day as you allow his memories to live on through you.
In your saddest moments, if you feel like talking, or you need company, your friends and family will be there for you. You're not alone.
---
Sometimes words are not enough to express the sorrow we share but please know this,  we loved him as we love you and we're here for you, not just today, not just this week but always.
---
The man you loved was always there, a strength and helping hand, the friend you told about your day, who'd always understand.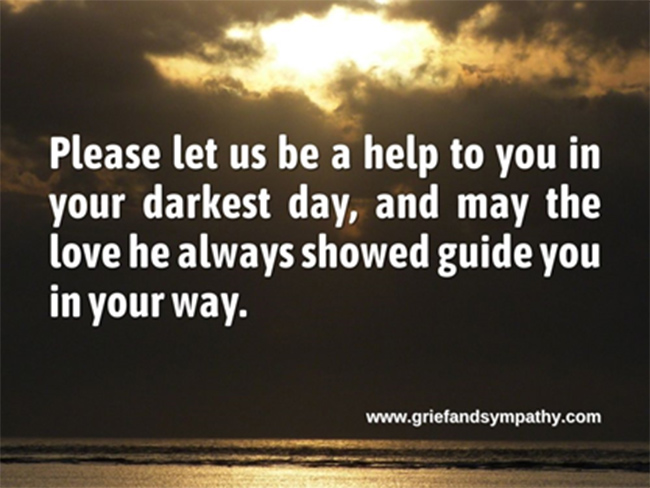 Please let us be a help to you in your darkest day, and may the love he always showed guide you in your way.
---
I'm so sorry to hear about your husband. I know he was your source of strength and comfort. Your bond has always been special.
He was a man of his word. He always kept his promise of putting you and the family first. He was your shoulder to cry on and your number-one fan. He was a genuinely caring man who wanted nothing but the best for everyone around him.
I know that he is someone irreplaceable. We will forever cherish our memories and moments spent with him.
Hold on to the memories you've had with him as you heal through time.
You surely have so much on your mind right now, so if there's anything I can do to help, please let me know.
---
My heart goes out to you at this moment. I wasn't expecting to hear this news about your husband.
He was such a personality in our community. He was always funny and quick-witted. When times were rough, he would always manage to lighten the situation. His larger-than-life attitude motivated everyone.
He always talked about you and the children very fondly.
I know he was your shoulder to lean on, so don't hesitate to come to me if you feel like everything is becoming too heavy.
---
Dear Esther
Losing a husband can be so painful, especially since the kids are still very young. We are so sorry for your loss.
Your husband had the best of hearts. He was an excellent husband and father to you and your kids. And he was our best friend.
We are ready to help you and the kids in any way we can.
We love you all.
---
Dear Sandra
I broke down when I heard the news of your husband's death. The sickness wasn't supposed to take his life. He really struggled to stay alive. It's so sad.
You need to be around your children and grandchildren at this time. They can help to strengthen and comfort you.
If you need me around, please let me know and I will be there with you.
---
I am sorry for the huge loss that you have to suffer.
I know the world might seem to stop for you but I wish with all my heart that things start making sense somehow, that you find the courage and patience to move on and one day look back on the memories of the two of you and smile.
---
Certainly, a great tragedy has unfolded. My heart is shattered for you. I am here and I grieve with you.
Losing your husband is like losing a great pillar of strength. Take your time to heal and find the will to live through life for the sake of your loved ones.
---
I wish you and the family peace and comfort as you grieve the loss of your dear husband. May the sorrow and emptiness you feel in your heart be lightened by the love that surrounds you.
Please be gentle with yourself. A grieving heart takes time to heal.
---
I'm sad and shocked to hear about the loss of your wonderful husband. He was one of the friendliest and funniest men I've ever met, and more importantly, he was kind to everyone. If I can be of any help, call me at any time.
---
I can still remember first meeting your husband (before he was your husband) so many years ago. His big, bright smile, witty jokes, and sense of humor instantly won me over. Over the years I'm blessed to have seen your lovely family grow. He was so incredibly dedicated to you and your children and loved being a father and a husband. 
I'm sending all of my love and support to you during this difficult time. Your husband was cherished and appreciated by so many people who are mourning him with you.
---
Dear Sue
I'm so very sorry to hear of the passing of your beloved husband Joe.  He was greatly admired by all who knew him and he will be a huge loss to the community. 
We are sending you our love and will bring you some shopping tomorrow. Let me know if there is anything you need.
Much love
Jessica and Mike
Sympathy for Loss of Husband
---
For Remembrance: 
Sales from our pages result in a small commission to us which helps us to continue our work supporting the grieving.  
---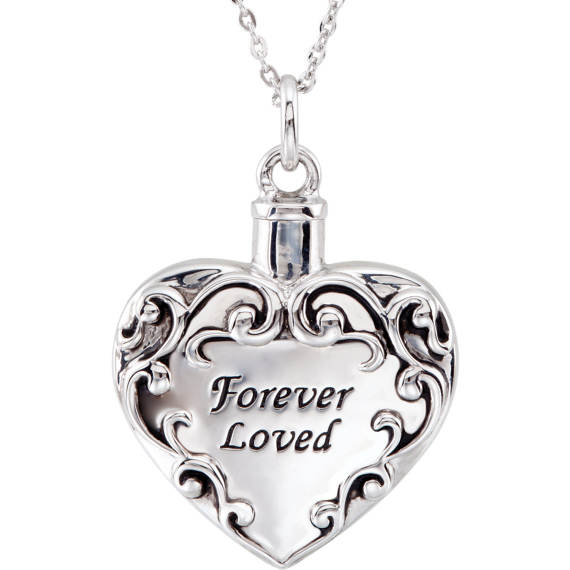 Memorial Jewelry to Honour a Loved One

Check out our lovely range of memorial jewelry for any lost loved one.  Pendants, necklaces, rings or bracelets, we have them all in all kinds of styles.  Choose for yourself or buy as a sympathy gift. 

---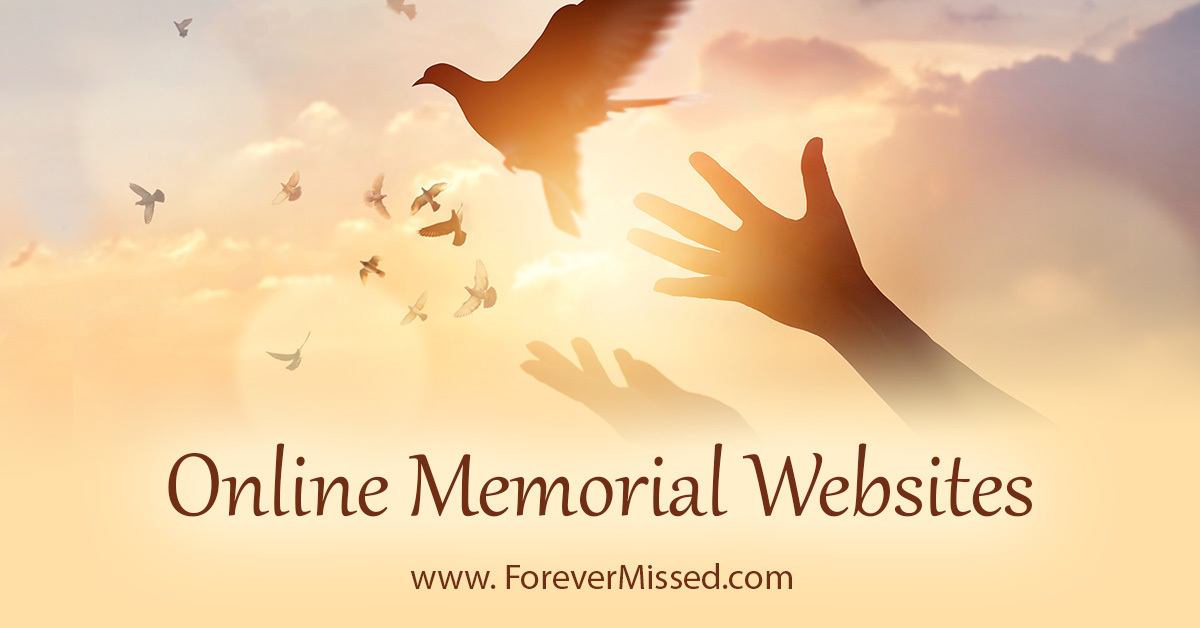 Create an Online Memorial Website
Honour your loved one with their own memorial website.  Share photos, videos, memories and more with your family and friends in a permanent online website.  Free for basic plan with no ads. 
---
For USA Residents: 
Please help our colleagues at Memorial Sloan Kettering Cancer Center, St. Jude Children's Research Hospital, and Children's Hospital of Philadelphia, USA by joining in their research study:


SUPPORT FOR BEREAVED PARENTS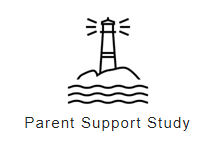 Losing a child to cancer is devastating, and there is a critical need to develop effective supports.
A federally-funded study in the United States (US) evaluating different types of support for bereaved parents is currently seeking participants. Parents residing in the US may be eligible if they lost a child diagnosed with cancer at least 6 months ago and live in one of the following states: NY, NJ, PA, CT, FL, or TN (other eligible states are being added, please complete the survey to check with us).
To find out if you may be eligible, please click here, visit our website at bereavedparentsupportstudy.com, or email us at parentstudy@mskcc.org.
---
Keep in touch with us: 
---
Sign up for our newsletter and receive:

"The 10 Most Important Things You Can Do
To Survive Your Grief And Get On With Life"
Our free downloadable and printable document "The 10 Most Important Things You Can Do To Survive Your Grief And Get On With Life" will help you to be positive day to day.  
The 10 points are laid out like a poem on two pretty pages which you can pin on your fridge door to help you every day! 
All you have to do to receive this free document is fill in your email address below. 
You will also receive our newsletter which we send out from time to time with our newest comforting and helpful information.   You can unsubscribe any time you like, and don't worry, your email address is totally safe with us. 
NEW BONUS - Also receive a copy of our short eBook - '99 Ways to Spot a Great Grief Counselor'.  Available for instant download as soon as you sign up. Never waste money on poor counseling again! 
---
Join us on Facebook for articles, support, discussion and more.  Click 'Like' below.

---