Our Favourite Pet Loss Sympathy Gift Ideas
A pet loss sympathy gift shows your friends or relatives that you understand their grief at the loss of their beloved dog or cat.  Pets are such an important part of our lives and part of the family that losing them can cause a lot of sorrow and pain.  A pet condolence gift from you at this time shows that you get it, and that you care.  We also have a selection of pet sympathy cards which we have designed ourselves - see links at the end of the page.  
We have put together a selection of the best pet bereavement gifts on the market for you to choose and send.  Most of these sympathy gifts for loss of a dog, cat or horse can be personalized for individual pets.   
Please note that we will receive a small commission on the sale of any of these items, which help us support the grieving through the work of this site.  
---
Personalised Pet Loss Photo Frame
This pretty frame can be customised with the name and dates for the beloved animal.  

The text reads:
 When tomorrow starts without me,
Don't think we're far apart
For every time you think of me, 

I'm right here inside your heart.  
---
Pretty Pet Loss Bracelet
The text inside this shiny beaten aluminium bracelet reads: 

"You smiled with your eyes, laughed with your tail, and loved with your heart" 
There is a little pawprint on the outside and you can have the pet's name engraved too. 
---
Personalised Keychain with Bone for Dog's Name
Made to order and engraved with the loved pet's name.  This practical gift ships worldwide. 
---
Forever in my Heart Pet Bereavement Gift
A silver plated locket for a photo or keepsake of the beloved pet.  
Finished off with an initial and a pawprint charm for remembrance.  
---
Personalised Horse Memorial Jewelry
Remember a beloved horse with a personalised piece of jewelry.  Add the horses name and date, and any other charms desired.  
Choose from a wide range of different designs. 
---
Customisable Pet Loss Mug
Add your own photo and text to make a pet memorial mug that you will use every day.  
Makes a great gift for an animal lover. 
Ships worldwide from the USA
---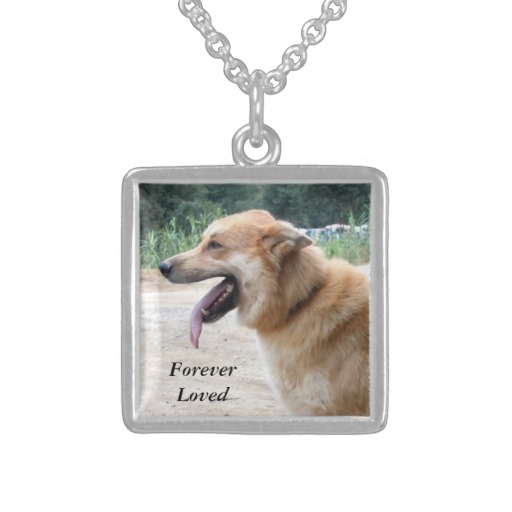 Personalised Pet Bereavement Necklace - Sterling Silver
This lovely sterling silver necklace can be personalised with your own photo and text.  Also available in a larger version or gold tone, and in a circular shape too.  
Perfect for a pet sympathy gift for a dog lover who has recently lost their pet.  
---
Silver Plated Pet Memorial Photo Locket
A cute locket to keep a photo of a beloved pet.  
This also comes in gold tone or in sterling silver. This makes an excellent pet loss sympathy gift where the recipient can add a photo of their departed fur baby.  
---
Gold tone Personalised Pet Memorial Necklace
Create a beautiful piece of remembrance jewelry with this gold tone necklace.  Add your pet's photo, name and memorial message.  
This necklace is available in various sizes and colours and ships worldwide.  
Related Pages: 
Horse Sympathy Cards and Gifts
Grief and Sympathy Home
> Pet Loss Sympathy Gift
Join us on Facebook for articles, support, discussion and more.  Click 'Like' below.

---
Sign up for our newsletter and receive:

"The 10 Most Important Things You Can Do
To Survive Your Grief And Get On With Life"
Our free downloadable and printable document "The 10 Most Important Things You Can Do To Survive Your Grief And Get On With Life" will help you to be positive day to day.  
The 10 points are laid out like a poem on two pretty pages which you can pin on your fridge door to help you every day! 
All you have to do to receive this free document is fill in your email address below. 
You will also receive our newsletter which we send out from time to time with our newest comforting and helpful information.   You can unsubscribe any time you like, and don't worry, your email address is totally safe with us. 
---