10 Beautiful Message Examples for Funeral Flowers
Are you ordering funeral flowers and looking for message examples to write on the card? 
It's so hard to think of what to write as an appropriate message on funeral flowers.  How can we express our feelings and our love and our memories in such a short note?  
On this page we come to the rescue and provide you with 10 perfect short notes to use with funeral tributes and we've added another 3 at the end especially for the loss of a child or baby. 
Finally we have another 10 short messages for use on funeral wreath banners.  
We've also recommended the best companies we have found for ordering funeral flowers online. Check out the links to the uplifting designs we have chosen.  Any sales through these links result in a small commission which enables us to support the grieving through this website.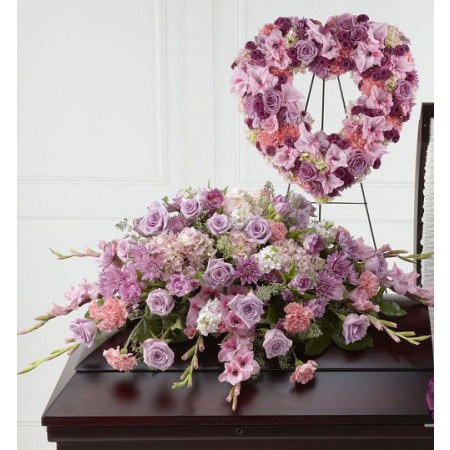 Choose Funeral Flowers Here
Order Funeral Flowers for the UK and Worldwide 
10 Funeral Flower Card Messages
1.  With you here the world was a better place. You will be sorely missed by all your family and friends. 
2.  Whenever you walked into a room it was like a breath of fresh air.  Your smile and energy brightened everyone's day.  Your loss leaves a huge gap in our lives. 
3.  Sleep peacefully my love, you will live on forever in my heart.  
4.  We love you and are so proud of you.  Rest in Peace.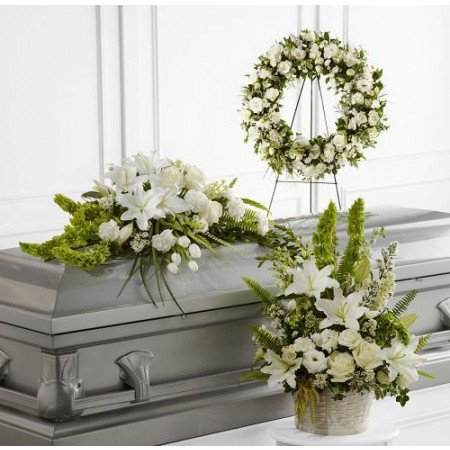 Order Funeral Flowers Online for the USA
Order Funeral Tributes Online in the UK from Interflora
5.  In Loving Memory.  Gone but Not Forgotten.  
6.  Rest in peace my love.  Your life's work is done.  Everyone who knew you can only say, "Well Done". 
7.  One day we will remember you with wonder, not grief.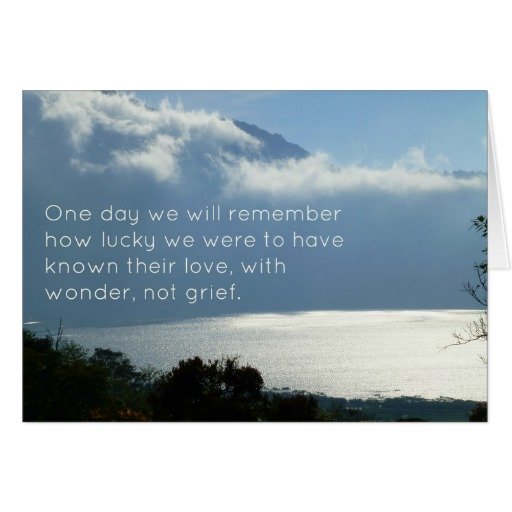 Quote by Elizabeth Postle. Buy as a card.
8.  A light has gone out of our lives, but our happy memories remain.  
9.  Nothing can be the same now you are gone.  All our lives were enriched by knowing you. 
10. You will be missed but never forgotten.  You have captured a place in our hearts. Rest in Peace. 
3 Funeral Wreath Messages for a Child or Baby
1.  You are the brightest star in the sky.  
2. How very quietly you tiptoed into our world, silently, only a moment you stayed.  But what an imprint your footprints have left on our hearts.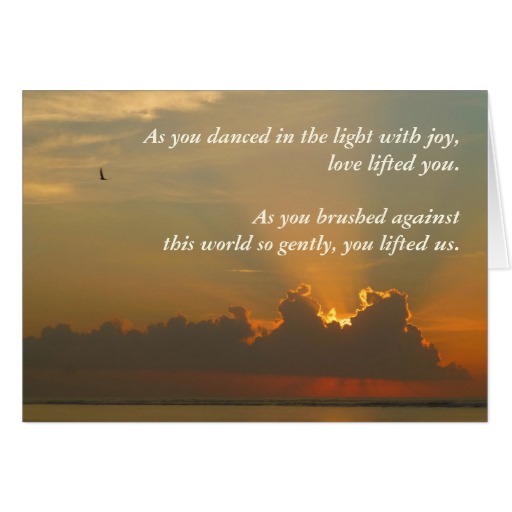 Available as a Card. Click Here
3..  As you danced in the light, love lifted you.  As you brushed against this world so gently, you lifted us.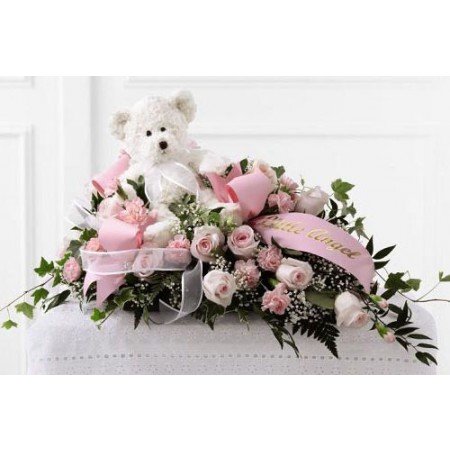 See Our Selection of Funeral Flowers for Children
---
10 Short Funeral Wreath Banner Messages 
Choose or adapt any of these messages for funeral wreaths.  Add the name of your dearly departed or just Mum, Mother, Dad, Sister, Brother, Grandma, Granddad, or Friend.  
Rest in Peace
Sleep Peacefully
Forever in Our Hearts
Gone but Never Forgotten
In Loving Memory
We Will Miss You Forever
Goodbye My Love
Memories of You Will Last Forever
Our Eternal Love
Our Beloved Sister - We Love You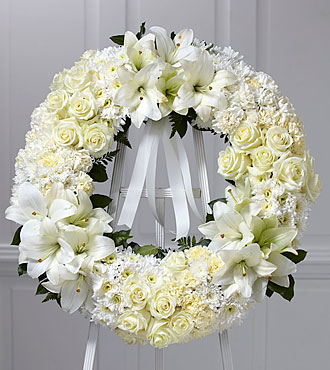 See Our Ideas for Funeral Flowers Here
To all of those reading this page, we are sincerely sorry for your losses and hope you will visit this site again to find comfort in your grief.  Our grief pages are written by Elizabeth Postle, RN, HV, FWT.  You can read more about her here.  

Related Pages: 
Unique and Unusual Funeral Flowers
Funeral Flower Etiquette - 10 Most Commonly Asked Questions
How to Stay Calm at the Funeral
Funeral Flowers Message Examples
---
For Remembrance: 
Sales from our pages result in a small commission to us which helps us to continue our work supporting the grieving.  
---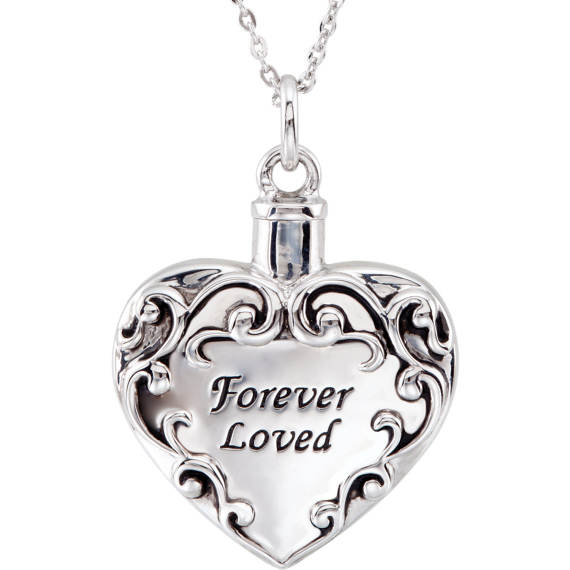 Memorial Jewelry to Honour a Loved One

Check out our lovely range of memorial jewelry for any lost loved one.  Pendants, necklaces, rings or bracelets, we have them all in all kinds of styles.  Choose for yourself or buy as a sympathy gift. 

---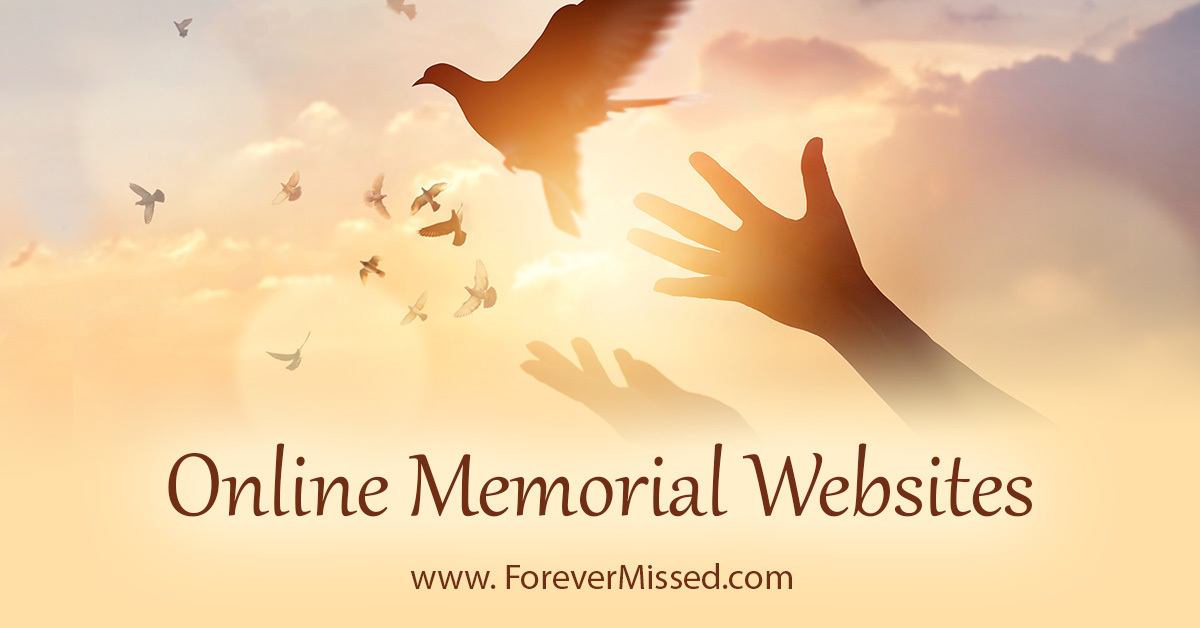 Create an Online Memorial Website
Honour your loved one with their own memorial website.  Share photos, videos, memories and more with your family and friends in a permanent online website.  Free for basic plan with no ads. 
---
For USA Residents: 
Please help our colleagues at Yeshiva University, USA by joining in their research study:
ARE YOU A CAREGIVER OR HAVE YOU RECENTLY LOST SOMEONE SIGNIFICANT?
#33769566.1  IRB Approved at the Study Level. 21 July 2022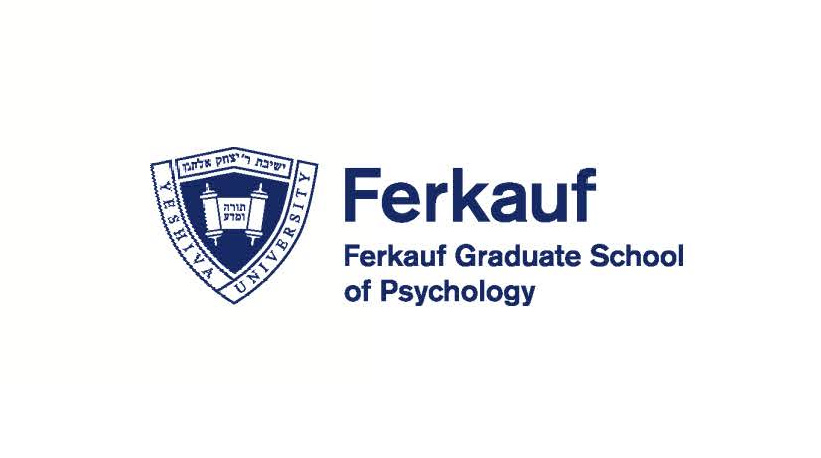 We are seeking individuals who are caregiving for someone with a life-limiting illness and those who have experienced a significant loss to participate in a research study through Yeshiva University. The purpose of the study is to develop a questionnaire to identify those who may be in need of caregiver or grief support in order to ultimately improve family-centered care in hospitals and clinics.
For caregivers and bereaved individuals who would like to contribute to our understanding of caregiving and bereavement, this is a way to make a difference.
For USA Residents only.  Click here to learn more. 
---
Keep in touch with us: 
---
Sign up for our newsletter and receive:

"The 10 Most Important Things You Can Do
To Survive Your Grief And Get On With Life"
Our free downloadable and printable document "The 10 Most Important Things You Can Do To Survive Your Grief And Get On With Life" will help you to be positive day to day.  
The 10 points are laid out like a poem on two pretty pages which you can pin on your fridge door to help you every day! 
All you have to do to receive this free document is fill in your email address below. 
You will also receive our newsletter which we send out from time to time with our newest comforting and helpful information.   You can unsubscribe any time you like, and don't worry, your email address is totally safe with us. 
NEW BONUS - Also receive a copy of our short eBook - '99 Ways to Spot a Great Grief Counselor'.  Available for instant download as soon as you sign up. Never waste money on poor counseling again! 
---
Join us on Facebook for articles, support, discussion and more.  Click 'Like' below.

---