Memorial Jewelry - A Keepsake to Wear Next to Your Heart

Memorial jewelry has been popular throughout history.  The Victorians made it especially popular with their Whitby Jet mourning jewelry and lockets to keep loved one's hair.
These days keepsake jewelry can be for keeping a photo close to your heart, for keeping a pinch of cremation ashes in, or a lock of hair.  Sometimes, just a heart, an angel or a cross can be a comforting symbol to wear.
Whether you are buying a piece for yourself, as a remembrance of a loved one, or choosing a gift for a bereaved friend, we have put together a selection of the most beautiful pieces we could find for you. 
---
Personalised Memorial Jewelry from Luxe Designs

The pretty personalised memorial pieces from Luxe Design are all lovingly made by the jewellery designer Joanne Hart in solid silver or gold.  You can choose your own design and add charms such as a forget-me-not or birthstone, and have them hand engraved by Joanne with your loved one's name or a personal message. 

The following are just a few examples of what is available.  If you click through from any of the designs you can visit the site and see all the possibilities.  Joanne ships internationally, and her prices are very reasonable for such beautiful quality pieces.  
---
Sterling Silver Memorial Pendant
Hand-engraved with your loved one's name and two dates.  A forget-me-not and birthstone charm complete this precious jewel, created especially for you to wear next to your heart. 
Also available in gold
---
Forever in My Heart Silver Charm Necklace
This pretty pendant includes an angel and a forget me not charm.  This is on a thick cable chain with toggle closure. It can be personalised with your loved one's name.  A comforting keepsake to wear close to your heart.
---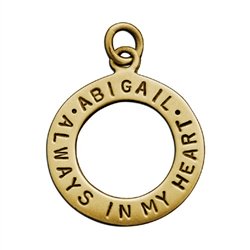 Always in my Heart Gold Charm 
A solid gold memorial charm with space for your loved one's  name.  It can be worn on a bracelet or necklace for remembrance.  Beautifully hand made and engraved with love. 
---
Gold Teardrop Necklace
A beautiful solid gold teardrop necklace.  A classic and simple design.  A subtle reminder of your loss that only you will know.  Wear as a reminder of your loved one.
This can also be a thoughtful gift for someone who has lost a baby or had a miscarriage, or for anyone who is grieving to let them know that you understand their sadness. 
---
Loved Forever Memorial Bracelet
This keepsake bracelet can be hand engraved on both sides to commemorate your beloved.  Add a forget me not or an angel to complete your unique jewel. 
---
A few more ideas:

Affordable Cremation Jewelry for Ashes
High End Platinum Cremation Jewelry
Sterling Silver Cremation Jewelry

Cremation Rings
Also Have a look at the links below for a selection of memorial jewelry and lockets for buyers on Amazon.  

Gorgeous Selection of Memorial Tear Jewelry on Amazon USA
Memorial Jewelry UK
---
If you need help with your grief, there are lots of pages on this site to aid you on your journey to acceptance.  Elizabeth Postle, the author of this site had 45 years of nursing helping the dying and the grieving, and she has written many pages of useful advice for you.  You can start here:

If you are here to buy a gift for a bereaved friend, you may find our page on Helping Others Cope with Grief useful. 
Grief and Sympathy Home
> Memorial Jewelry
---
Join us on Facebook for articles, support, discussion and more.  Click 'Like' below.

---
Sign up for our newsletter and receive:

"The 10 Most Important Things You Can Do
To Survive Your Grief And Get On With Life"
Our free downloadable and printable document "The 10 Most Important Things You Can Do To Survive Your Grief And Get On With Life" will help you to be positive day to day.  
The 10 points are laid out like a poem on two pretty pages which you can pin on your fridge door to help you every day! 
All you have to do to receive this free document is fill in your email address below. 
You will also receive our newsletter which we send out from time to time with our newest comforting and helpful information.   You can unsubscribe any time you like, and don't worry, your email address is totally safe with us. 
---