10 Sample Sympathy Letters on the Loss of a Mother or Father
We hope that these sample sympathy letters will make it easier for you to write and express your condolences when a tragedy happens.  When a friend or relative of yours loses a parent, whether it be a mother or a father it can be hard to know what to write. 
There are five letters for loss of a father and five for loss of a mother.  
The first four of these are actual letters sent to my daughter when my husband died.  We'd like to thank those who sent them, they were of enormous comfort.  We have changed names and places for privacy reasons. 
The images on this page are Sympathy Cards which we created specially from our own photographs. All the cards are customisable, so you can add your letter and send direct to your friend or relative.  Sales help us to continue our work in helping the grieving on this site.  Click on the cards to find out more. 
---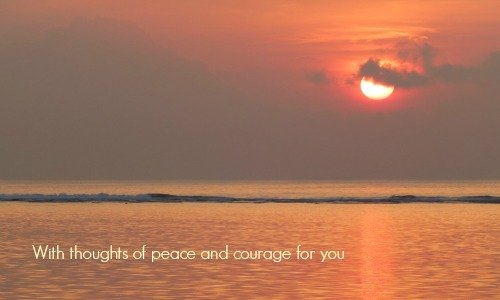 With Thoughts of Peace and Courage - Buy Card Now
---
1. Sympathy Message for a Friend on the Loss of their Dad:

Hi Lovely

Thank you so much for your call last night. I am devastated for you and Tom, your Mum, Martin, the grand kids and the countless people who your Dad made friends with over the years. I have been thinking of you all day today and have found myself telling countless people at work about how sad I am for you and how sudden this has all been.
If things were different I would love to be able to jump on the next flight to hold your hand and give you a hug. I will be with you in thoughts over the weeks to come and send you all my love. Xxxx
---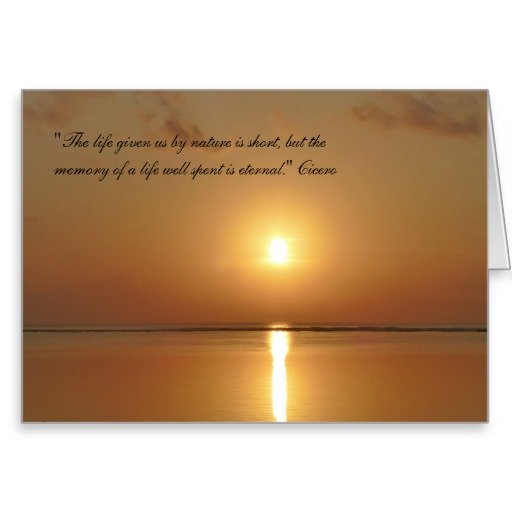 ...the memory of a life well spent is eternal...Buy Card Now
---
2. Another Sample Sympathy Letter to a Friend When Their Dad Died:


Dear Jenny
I am so sorry to read your devastating news. I never met your Dad, but know how wonderful and supportive he was to you over the years and can only start to imagine what you are feeling now.
You will gradually find comfort in all the happy memories. Your parents found their new life in Australia and lived the last years of his life in contentment there, surrounded by family.
Your dad lived to see you find happiness and security and love. He will have died content for knowing that. AND best of all he did not suffer a long illness.
Make sure you find time to grieve and allow yourself to do so - and don't expect it to pass quickly. Losing a parent takes time to process for us mortals. Do you remember I was in the aftermath of losing my dad when we first became close? I didn't fully recover from that for at least two years - and made some very strange decisions and acted out of character for much of that time.
I wish I could be with you to try to help somehow. I'm giving you a big hug now from halfway across the globe.
Sending love to you and all your family.
Take care and hang on in there. 
---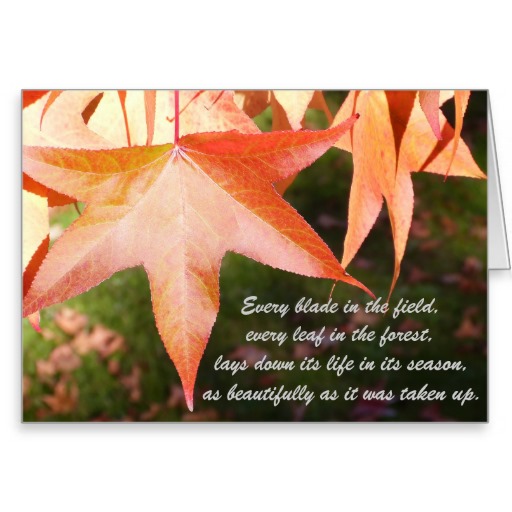 Every Blade in the Field - Buy Card Now
3. Sample Sympathy Note from a Friend on the Death of a Father:


So sorry to hear the sad news. I know exactly how you must be feeling right now having lost my dad two years ago. Please send our sympathy to your mum, brother and all your loved ones. It is a help that your Dad didn't suffer but such a terrible shock that will take forever to heal. As you say your Dad had a wonderful life and you can celebrate that luckily you are managing to feel that way. I also believe you should celebrate the life lived and not the sorrow of death.
Here is a poem that helped me a lot, I hope it does the same for you...
PS  Anytime you feel like it , just go on chat and pour your heart out. I'll always be there.

4. Sympathy Message for Loss of a Father:


Such sad news and it must have been a very difficult e-mail for you to write. We're really thinking of you all and especially your Mum and Tim. I'm sure that John and Mary must have adored their Grandpa and it will be hard for all of you to adjust to life without Charlie around. We always think of him as larger-than-life and such a warm, generous, funny and lovely friend to us. It is really hard to think that we won't see him again.
I won't say more, the last thing you need is an e-mail of information to take in.
We're really thinking of you, Linda, so please contact us whenever you wish. You'll hear from us soon.
With lots of love
---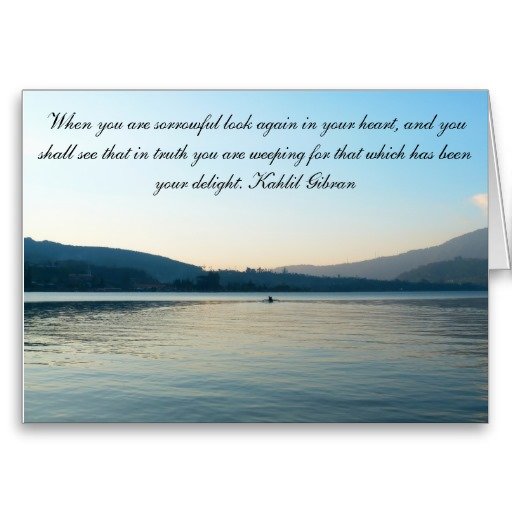 You are weeping for that which has been your delight - Buy Card Now
5. Sample Sympathy Letter to a Friend on the Loss of her Father


Dearest Sally
Our deepest condolences are sent to you in this note.
What a terrible shock for you and the rest of your family. Your Dad was a lovely man and even though I only met him the once I can remember his warmth and openness. Such a sad time for you. If I can do anything to help please let me know.   Thinking of you, if you want to chat you have my number.
Lots of love and a big hug
---
1. Sample Sympathy Letter for Loss of Mother


Dear Pat
The news we received this morning about the loss of your wonderful mother, although expected, made us feel very sad.  It was a privilege to call her a friend. She always had such great stories to tell, many exciting episodes, during her long life.
Her positive attitude despite her failing health made every visit a pleasure. There is never anyone quite like a Mum, despite her living for over 90 years, your loss must be very difficult.
Our family want to say you are all in our thoughts at this difficult time.

With best wishes
---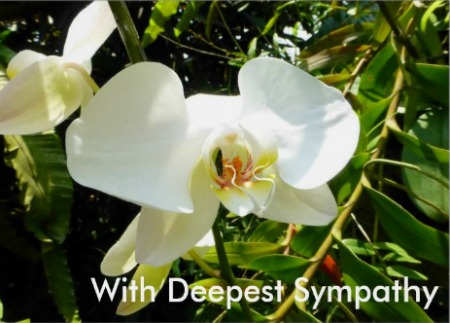 Buy Card
---
2. Words of Sympathy for Loss of a Mother
Your mother was a truly incredible woman whom I will miss dearly, and I can't begin to imagine what you must be going through at this time. Please remember how much she loved you. She was always telling stories about you and about how proud she was of you.
Also, please know that I love you just as much as I loved your mother, and I'm a phone call away if you need anything.
---
3.  Note for Loss of a Mother
Our community has lost one of its brightest lights with your mother's passing. Her smile and laugh were truly infectious. She will be remembered for her creativity, generosity, and boundless amounts of love and kindness.
I was always inspired by her dedication to helping those less fortunate, from starting the canned food drive, to coordinating winter jacket donations. She was a remarkable woman who will be missed by many.
I and some of your mother's friends will send over meals for the week.
It breaks my heart that you're going through this, but you can lean on us in this time of sorrow.
---
Send Flowers Too. . .
Send Beautiful Sympathy Flowers Here
---
4.  Loss of Your Mother Message
I can't believe she is gone. I was only talking to your mother last week and she seemed to be in good spirits.  
She will be sorely missed by all who knew her. I hope that all the happy memories of the times you spent with your Mom over the last few years will help to comfort you in the coming weeks and months.  
It's never easy losing your Mom, and you two had such a close relationship. That love will help keep you strong. 
Sending all our love and deepest condolences. 
---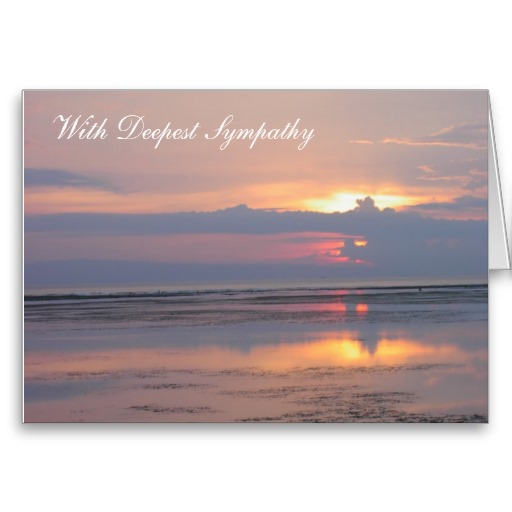 Buy Card Here
---
5. Sample Sympathy Letter for Loss of Mother
We heard the news about your mother's passing away and we are so sorry.
Her kindness will be remembered forever. I hope you find patience in this time of ordeal and carry on her legacy further by continuing her charity work. She was such an inspiration to many. 
---
Send a Sympathy Gift Too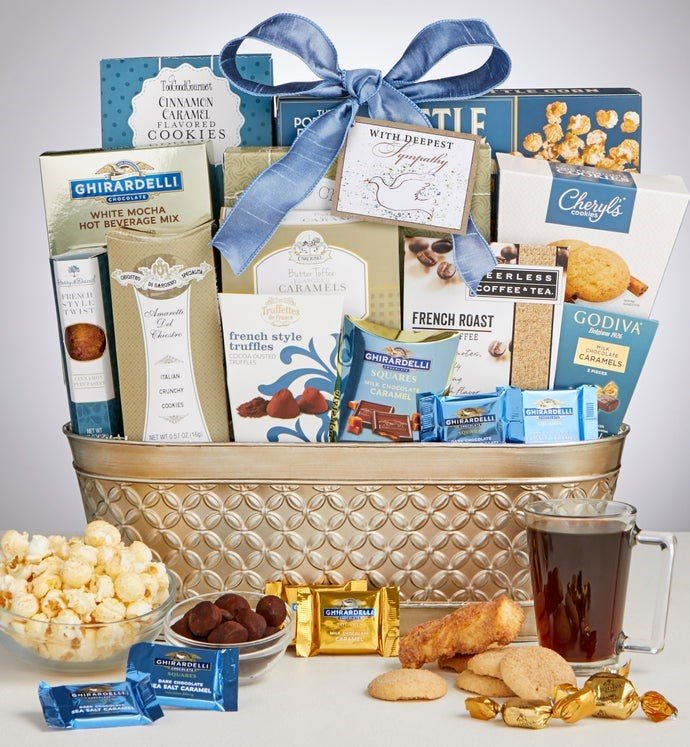 7 Best Sympathy Gifts to Show You Care
Memorial Jewelry and Keepsakes
---
For USA Residents: 
Please help our colleagues at Memorial Sloan Kettering Cancer Center, St. Jude Children's Research Hospital, and Children's Hospital of Philadelphia, USA by joining in their research study:


SUPPORT FOR BEREAVED PARENTS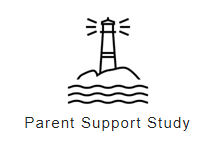 Losing a child to cancer is devastating, and there is a critical need to develop effective supports.
A federally-funded study in the United States (US) evaluating different types of support for bereaved parents is currently seeking participants. Parents residing in the US may be eligible if they lost a child diagnosed with cancer at least 6 months ago and live in one of the following states: NY, NJ, PA, CT, FL, or TN (other eligible states are being added, please complete the survey to check with us).
To find out if you may be eligible, please click here, visit our website at bereavedparentsupportstudy.com, or email us at parentstudy@mskcc.org.
---
Keep in touch with us: 
---
Sign up for our newsletter and receive:

"The 10 Most Important Things You Can Do
To Survive Your Grief And Get On With Life"
Our free downloadable and printable document "The 10 Most Important Things You Can Do To Survive Your Grief And Get On With Life" will help you to be positive day to day.  
The 10 points are laid out like a poem on two pretty pages which you can pin on your fridge door to help you every day! 
All you have to do to receive this free document is fill in your email address below. 
You will also receive our newsletter which we send out from time to time with our newest comforting and helpful information.   You can unsubscribe any time you like, and don't worry, your email address is totally safe with us. 
NEW BONUS - Also receive a copy of our short eBook - '99 Ways to Spot a Great Grief Counselor'.  Available for instant download as soon as you sign up. Never waste money on poor counseling again! 
---
Join us on Facebook for articles, support, discussion and more.  Click 'Like' below.

---