How to Express Sympathy for Loss of a Sister
Losing a sister is a terrible tragedy at any age.  It's often hard to know what to say when someone experiences such a blow.
Here we have put together some genuine sympathy messages to give you some ideas of what to say or what to put in a card.
We have some beautiful sympathy cards with quotes here too and great ideas for sympathy gifts.
---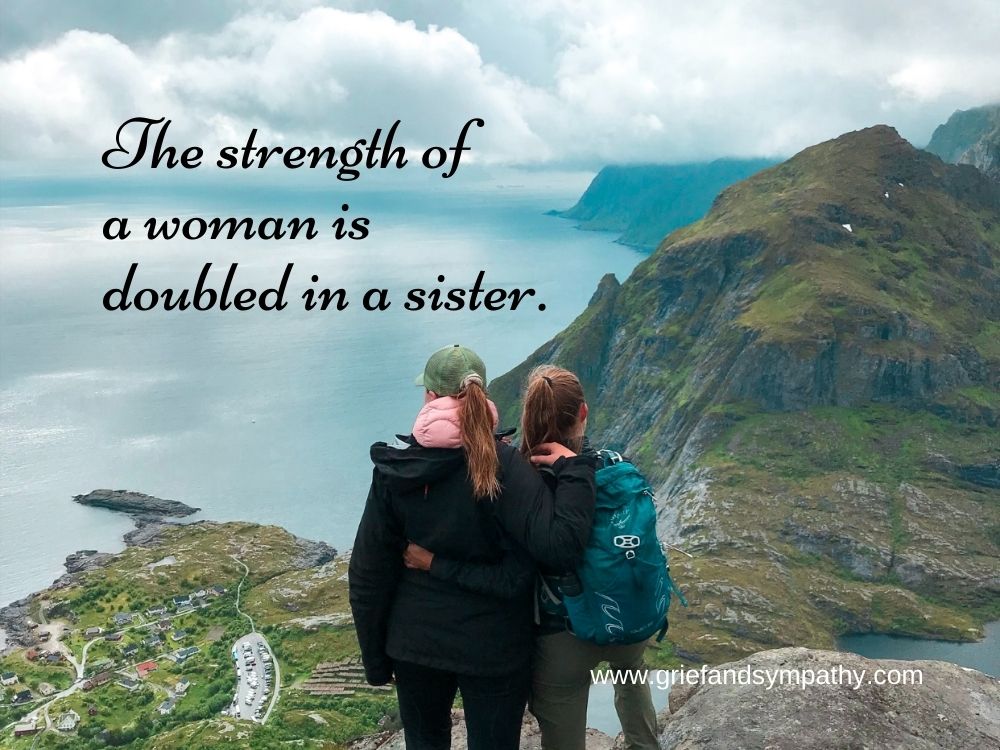 ---
Your sister was special in every way and will be missed by so many, and today we think of you and want you to know we share in your pain and grief.
I know that doesn't help knowing others are sad and we can't make it go away for you but we wanted to let you know we really do care about you and we are here to help ease any burden you have.
---
They say you can't choose family but if you ever could, your sister would have chosen you and not because she should.

She loved you every single day, you were her closest friend, she'll stay with you inside your heart, your love will never end.
---
I'm torn apart hearing about your sister's passing. She was such a special woman who had so much to offer the world.  While there aren't enough words in the world to express my sympathies, I hope you'll reach out if there's anything I can do or if you need someone to talk to.
---
I'm heartbroken to hear about the loss of your sister. She was one of the best friends I could have ever asked for, and I feel so lucky to have known her. She was the life of the party, fiercely loyal, and the funniest person I know. I swear it was impossible to be in a bad mood around her, with her positivity and infectious laughter.

I admire her so much. She was never afraid to be herself and do what made her happy, and encourage others to do the same. In fact, she was the one who pushed me to pursue my passion for art, even when I doubted myself. I'll never forget her and the light she added to my life.
I know this must be an incredibly difficult time for you, so take your time to mourn, grieve, and remember the good times you had with your sister.
---
The news about your sister came as a shock to me. She was one of the most thoughtful people I've ever met. I won't forget how she made me feel included and welcome whenever we were together. It was never boring around her because she always had a story or a joke to tell.
I know how much she means to you. Sisterhood is a special, irreplaceable bond shared between women. She was like a sister to me, so I can't imagine what it feels like to go through what you are going through right now. I'm sure that she has been a great sister to you. I hope you continue to hold on to the memories you've had with her.
I know it's going to be hard to go through this, but take the time to heal.
Please know that I am available to listen to whatever you are feeling.
---
Your sister always brought a different energy whenever she entered the room.
She was one of your first teachers, your first best friend, and your ally. I saw how you were stronger when you were together. She was a source of strength and wisdom in the family. She has graced your life so beautifully and guided you through since you were a child.
I saw how she was still there for you even now that we are all grown up. Life has bloomed with her presence and makes our memories of her always wonderful to look back on.
May we honor and remember her affection, her joyful spirit, and her vigor for life. She was an inspiration and her memory will be in our thoughts forever.
No matter what you feel, you have my sympathy, love, and support.
---
---
Dear Cherry
It's with great sadness I write you this letter.
Your sister's death was a shock to us all. She would always make us smile and care for us. She was out to help everyone around her who needed her assistance. We will remember her for all the good she has done for everyone.
Even though she's gone, her beautiful memories remain in our hearts.
Please let us know if there's anything we can do for you. We love you, and we are here for you.
Our love,
Cynthia and Emma
---
I am saddened upon hearing about your sister. I know your sister meant the world to you and I hope she rests in peace.
As for you, may you find it in yourself to look at the brighter side of things in this gloomy time. Your sister would sure want that for you.
---
My deep condolences for your sister's passing. Life can be really unfair sometimes.
My heart goes out to you. Sending love your way.
---
The burden of the loss of your sister is a heavy one. May the heartache you experience be healed with time and the burden you carry lighten as you grab hold of life and let it pull you forward.
Hoping with time a gentle peace will return to your life and that you'll take comfort in knowing that you are surrounded by love and people who share in your sadness.
Sending you comforting hugs and cheer as you mourn the loss a sister who meant so much to you. Please let me know if I can do anything to help.
---
As you come to terms with the death of your sister and the void she has left in your life, be hopeful that every time you recall a moment of laughter with her or find yourself doing something you both enjoyed, a part of you will feel whole again.
Keep her unique laugh, beautiful smile, and stories shared in your heart.
With deepest sympathy in this time of sorrow.
Sympathy for Loss of Sister
---
For Remembrance: 
Sales from our pages result in a small commission to us which helps us to continue our work supporting the grieving.  
---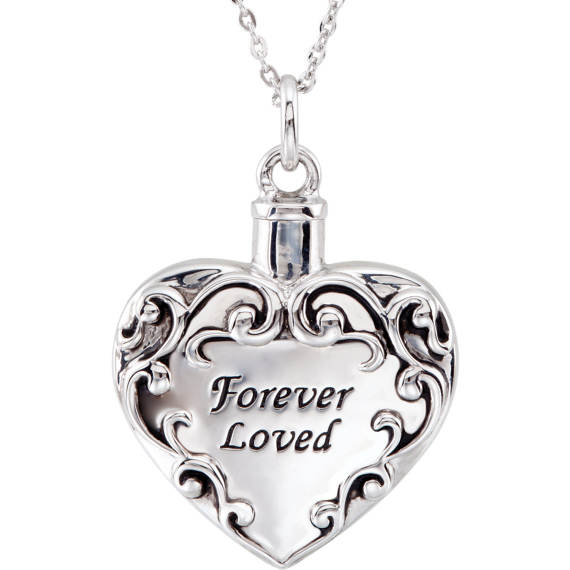 Memorial Jewelry to Honour a Loved One

Check out our lovely range of memorial jewelry for any lost loved one.  Pendants, necklaces, rings or bracelets, we have them all in all kinds of styles.  Choose for yourself or buy as a sympathy gift. 

---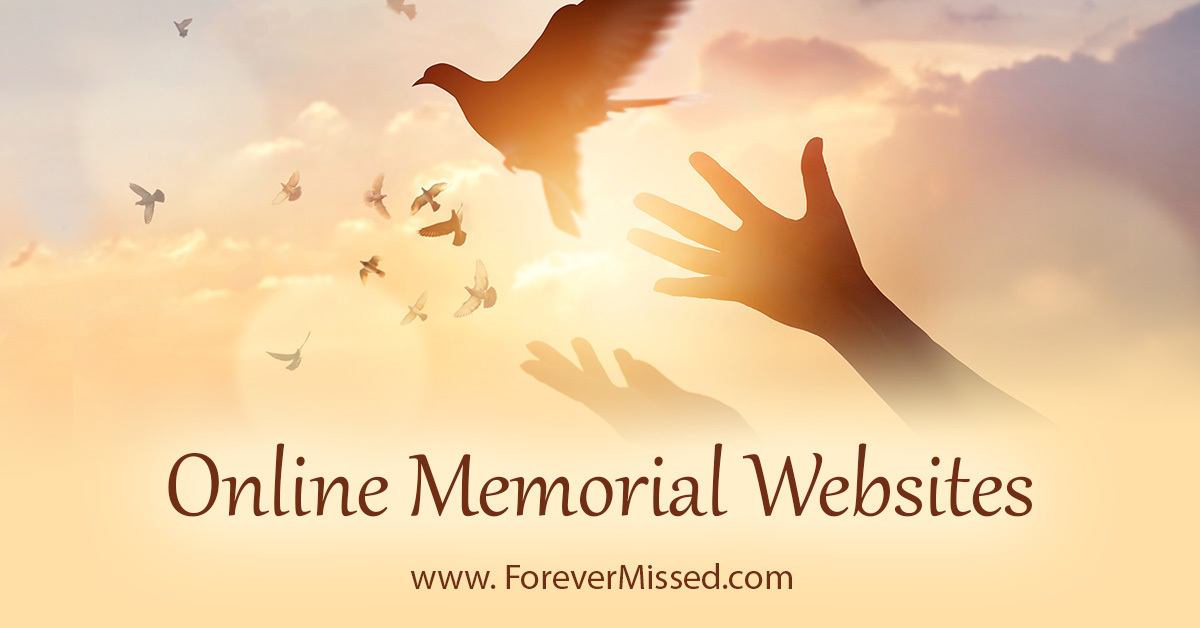 Create an Online Memorial Website
Honour your loved one with their own memorial website.  Share photos, videos, memories and more with your family and friends in a permanent online website.  Free for basic plan with no ads. 
---
Keep in touch with us: 
---
Sign up for our newsletter and receive:

"The 10 Most Important Things You Can Do
To Survive Your Grief And Get On With Life"
Our free downloadable and printable document "The 10 Most Important Things You Can Do To Survive Your Grief And Get On With Life" will help you to be positive day to day.  
The 10 points are laid out like a poem on two pretty pages which you can pin on your fridge door to help you every day! 
All you have to do to receive this free document is fill in your email address below. 
You will also receive our newsletter which we send out from time to time with our newest comforting and helpful information.   You can unsubscribe any time you like, and don't worry, your email address is totally safe with us. 
NEW BONUS - Also receive a copy of our short eBook - '99 Ways to Spot a Great Grief Counselor'.  Available for instant download as soon as you sign up. Never waste money on poor counseling again! 
---
Join us on Facebook for articles, support, discussion and more.  Click 'Like' below.

---