Dog Sympathy Cards with Moving Messages
These dog sympathy cards have been designed by us to give comfort and pleasure to those who have had a pet bereavement.  Pet loss can be as significant and profound as the loss of any family member, and I know that when I have lost a pet in the past, a moving pet loss sympathy card has been really touching. Each card has a moving message or quote.  
A purchase of one of these sympathy cards especially for a dog's death not only helps us to keep our site going so that we can help those coping with grief of any kind, but will also provide your recipient with this website address so that they can get help with their loss too.  (It is written on the back of each card - not on the front as you see here!)

A percentage of the proceeds from the cards which depict dogs from Bali, will also go towards the Bali Animal Welfare Association.  Thanks go to many of our friends who have generously allowed photos of their beloved pets to be used for these cards. 
Click on any of the cards to go through to Zazzle to purchase at very competitive prices.

Product Information for the Dog Sympathy Cards:

These cards are printed by Zazzle in the USA.  Don't worry if you are overseas, they ship fast, and you can get express post with tracking too.  They can be customised with your own text or message and sent direct to your recipient.  They are fabulous glossy quality on heavy card and come with a white envelope.  There is no minimum quantity, but there are discounts for bulk buys.  You can also buy them on smaller note card sizes and some are also available giant card size.  Zazzle also has a wide range of customisable products and gifts and any purchases will result in a commission to help us support the grieving. 

"Nobody can fully understand the meaning of love unless he's owned a dog"
---
Click Here to Buy Card at Zazzle
Sending love as your furbaby crosses over the rainbow bridge. 
I took this amazing photo of a cloud that looks like the head of a dog from a ship in Thailand, just off the coast near Koh Samui. 
---
"Dogs come into our lives to teach us about love, the depart to teach us about loss.  A new dog never replaces an old dog, it merely expands the heart.  If you have loved many dogs your heart is very big." Erica Jong
---
"The greatest love is a mother's, then a dog's, then a sweetheart's".  Polish Proverb
---
"Not the least hard thing to bear when they go from us, these quiet friends, is that they carry away with them so many years of our own lives".  John Galsworthy
---
Dogs are not our whole life, but they make our lives whole. 
---
---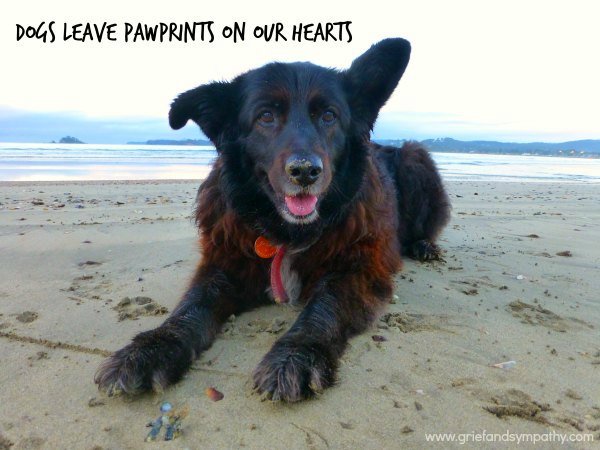 Dogs Leave Pawprints on Our Hearts - Buy Here
---
A dog is the only thing on earth that loves you more than he loves himself.  
---
Dogs leave Pawprints on our Hearts.  
Click here for the full range of cards

---
Don't KNow What to Put in a CArd?  Check OUt OUr Book:  
It includes a section of messages for pet loss as well as lots of letters expressing sympathy which you can adapt.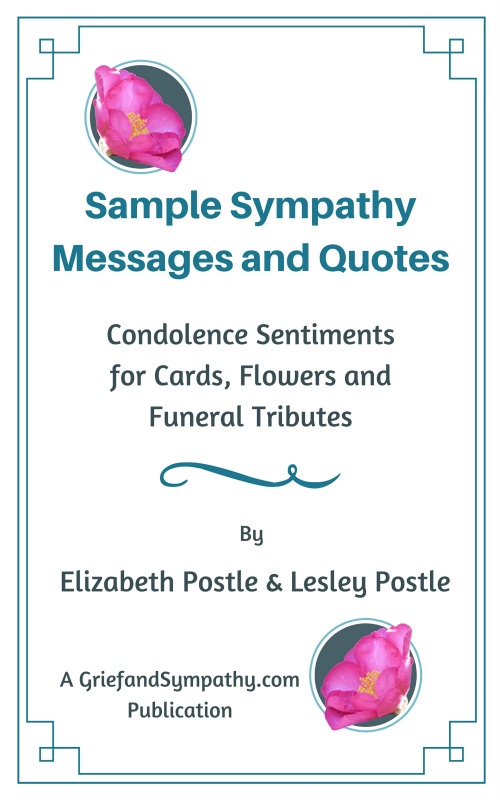 Click for Full Information
Related Pages: 
How to Write a Pet Sympathy Card
---
Keep in touch with us: 
---
Sign up for our newsletter and receive:

"The 10 Most Important Things You Can Do
To Survive Your Grief And Get On With Life"
Our free downloadable and printable document "The 10 Most Important Things You Can Do To Survive Your Grief And Get On With Life" will help you to be positive day to day.  
The 10 points are laid out like a poem on two pretty pages which you can pin on your fridge door to help you every day! 
All you have to do to receive this free document is fill in your email address below. 
You will also receive our newsletter which we send out from time to time with our newest comforting and helpful information.   You can unsubscribe any time you like, and don't worry, your email address is totally safe with us. 
NEW BONUS - Also receive a copy of our short eBook - '99 Ways to Spot a Great Grief Counselor'.  Available for instant download as soon as you sign up. Never waste money on poor counseling again! 
---
Join us on Facebook for articles, support, discussion and more.  Click 'Like' below.

---