How to Write a Pet Sympathy Card 

These comforting words will help you to write a pet sympathy card.  We have written sample pet sympathy messages for the loss of a beloved cat, dog or horse.  Just adapt them by adding the pet's name and changing he to she if needed.  
It's always good add a special memory that you have of the pet if you can.  Just sending a card or gift and adding a lovely message will show your friend and family member that you understand their grief and that you care.
Support this site by purchasing our beautiful pet sympathy cards too.  Just click on any card to see the whole range.  

Loss of a Dog Sympathy Words
Click to See All Pet Sympathy Cards
These dog sympathy messages will give comfort to the recipient and show you care.  
To lose your faithful companion is very sad.  Such a wonderful dog and special friend. 

We hope your many happy memories will provide some comfort.
I will never forget ....... playing with his ball and swimming in the river.  He was such a joyful dog and a loyal companion.  We know you are going to miss him terribly, but hope that those happy memories will bring you comfort.  You'll never forget him and he will live on in your memory for ever.  

Cat Sympathy Messages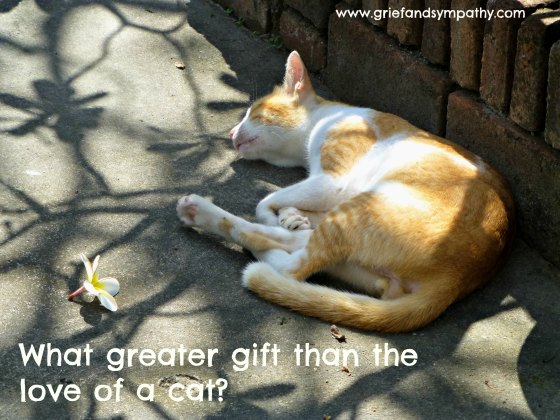 Choose from Our Range of Cat Sympathy Cards
Cats leave paw prints on our hearts. We are sure that ..... your beloved cat will have done that too.  We are sorry to hear of your sad loss but know you will always remember that precious relationship.
We are sorry to hear about the loss of your wonderful cat ...... Our thoughts are with you at this sad time.  Your daily routines will change and home will seem empty for a while, but we are sure that your beloved ..... will live on in your memory.   
Cats can be independent creatures, but when they show you their affection it is even more meaningful. You will miss the love you had from your feline friend.  I hope that you will treasure the happy memories of ...... and they will give you comfort.  

Horse Sympathy Messages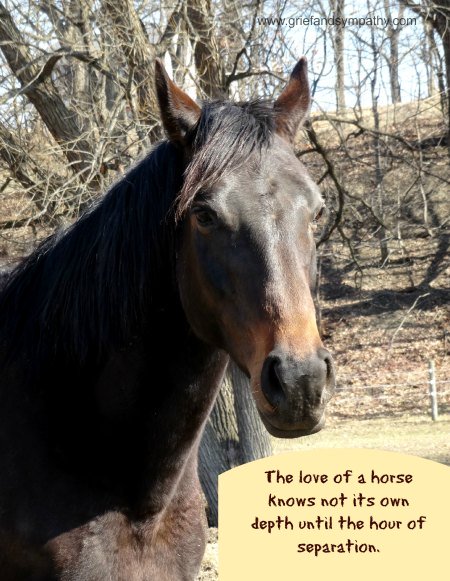 Click Here for Horse Sympathy Cards and Gifts
The bond between horse and owner is very special and strong. We are so sorry to hear of your loss. Our thoughts are with you and we hope that you get some comfort from the years of happy memories.
Our horses are such a major part of our daily lives. It is a sad time for you and we know that you will miss .....for a long time.  We are sending our sympathy and hugs.  Lots of love. xxx
We were deeply saddened to hear of the loss of .....  Horses bring so much fun and joy into our lives, it is a huge loss when they leave us. Our sincere condolences at this difficult time.  
Horses leave Hoofprints on our Hearts. 
All the messages on this page are included in our book:  
Wondering What to Write in a Card?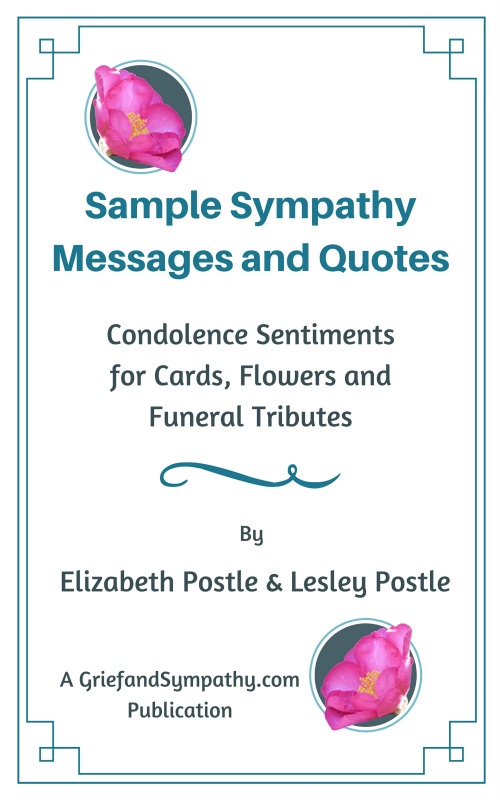 Click Here to Find Out More
Related Pages: 
7 Worst Things to Say on the Loss of a Pet!
More Pet Loss Greeting Messages
Write a Pet Sympathy Card
---
Keep in touch with us: 
---
Sign up for our newsletter and receive:

"The 10 Most Important Things You Can Do
To Survive Your Grief And Get On With Life"
Our free downloadable and printable document "The 10 Most Important Things You Can Do To Survive Your Grief And Get On With Life" will help you to be positive day to day.  
The 10 points are laid out like a poem on two pretty pages which you can pin on your fridge door to help you every day! 
All you have to do to receive this free document is fill in your email address below. 
You will also receive our newsletter which we send out from time to time with our newest comforting and helpful information.   You can unsubscribe any time you like, and don't worry, your email address is totally safe with us. 
NEW BONUS - Also receive a copy of our short eBook - '99 Ways to Spot a Great Grief Counselor'.  Available for instant download as soon as you sign up. Never waste money on poor counseling again! 
---
Join us on Facebook for articles, support, discussion and more.  Click 'Like' below.

---