Grief Poems for Solace and Comfort

In times of grief poems can be of great comfort.  Reading poems written by others who have been able to express the sentiments and emotions we are feeling can be of benefit to us in our grieving process. These pages include some famous poems and some written by myself and visitors to the site.  
Often people find writing themselves a help in expressing their emotions and working through their grief, and grief poetry can be an inspiration. Getting in touch with our emotions and feelings, and realising that writers through the centuries have felt the same emotions can help us in coming to terms with what are universal experiences for all mankind. 
I wrote the following poem when I lost my husband and it really expressed how I was feeling at that time:

Whether you are reading grief poems for your own solace, looking for something to write in a card for a friend, or choosing some verses to read at a funeral, there are hundreds of bereavement poems from the earliest times, right through to the 20th century. 

My all time favourite poem for grief was written by my Grandson, who read his poem at his Grandad's Celebration of Life ceremony and then won a school prize for his poem.  You can read it here:  Poem for Grief by Jamie. 
Another very special poem was written by a university friend of Lesley's from way back - Remembrance Poem by Roger Quick. 

Here are a couple of my favourite well-known grief poems:

Though I am Dead: A poem of hope and uplifting sentiment which encourages us to continue to enjoy life for the sake of our lost loved one.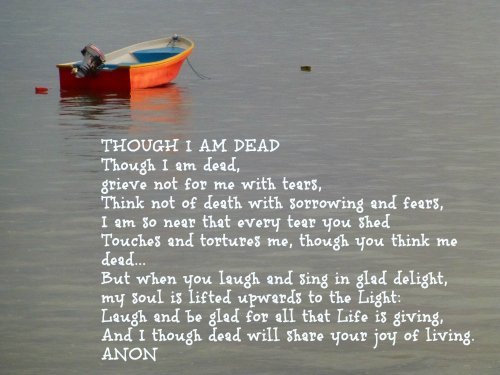 This Heritage, Anon - A poem celebrating the precious memories we have of our lost loved ones. 

This Heritage

They are not dead,
Who leave us this great heritage
Of remembered joy.
They still live in our hearts,
In the happiness we knew,
In the dreams we shared.

They still breathe,
In the lingering fragrance windblown
From their favourite flowers. 
They still smile in the moonlight's silver
And laugh in the sunlight's sparkling gold.
 
They still speak in the echoes of words
We've heard them say again and again. 
They still move,
In the rhythm of waving grasses,
In the dance of the tossing branches.

They are not dead;
Their memory is warm in our hearts,
Comfort in our sorrow. 

They are not apart from us,
But a part of us
For love is eternal,
And those we love shall be with us
Throughout all eternity. 
ANON

See also our best poems for funerals
Gift a Grief Poem in a Frame to Comfort a Loved One
Recommended Reading: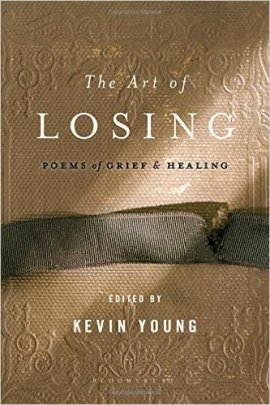 Click to Read Some Samples and Reviews
---
Share your poignant grief poem with us all
Have you found writing poetry a comfort in your grief? Why not share your creativity with us here on your very own page. It will be a lasting memorial to your loved one. You can write a dedication, or tell us the background to why you wrote the poem. Or you could just enter the poem on it's own. All up to you. You can even add a photo or two if you like. All we ask is that it is all your own work.
Poetry and Dedications from Other Visitors
Click below to see contributions from other visitors to this page...

One Last Time/On the Wings of a Dove
I just want one more last time. One more last touch, I just want to feel your love. ONE more last time, I want to feel your face, your hands on my …
Grief and Sympathy Home
> Grief Poems
---
Get Private and Confidential Help in the Privacy of Your Own Home

Simply fill out the online questionnaire and you will be assigned the expert grief counselor most suitable for you.  It only takes a few minutes and you don't even have to use your name.  
Pay an affordable FLAT FEE FOR UNLIMITED SESSIONS.  
Contact your counselor whenever you like by chat, messaging, video or phone. 
You can change counselor at any time if you wish.
Or read more about how online counseling works here.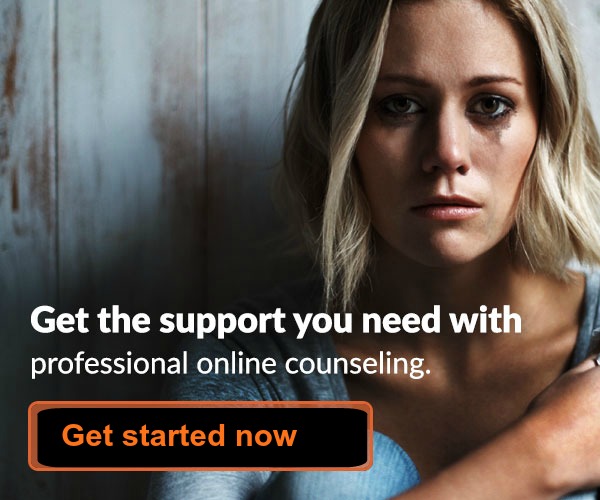 ---
Sales from our pages result in a small commission to us which helps us to continue our work supporting the grieving.  
---
Self-Help Hypnosis Downloads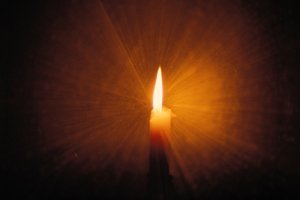 ---
Memorial Magnolia Tree

The Magnolia is one of the earth's oldest plants, with a spectacular flower which dates back 95 million years.  What a beautiful specimen to commemorate a life. 
These trees are grown by the foremost magnolia nursery in the USA and they will send a variety most suited to the recipient's climate. 
The flowers in spring will bring joy to the bereaved and help to heal their heart.

Only available in the USA. 
For Memorial Trees within the UK, click here

Join us on Facebook for articles, support, discussion and more.  Click 'Like' below.

---
Sign up for our newsletter and receive:

"The 10 Most Important Things You Can Do
To Survive Your Grief And Get On With Life"
Our free downloadable and printable document "The 10 Most Important Things You Can Do To Survive Your Grief And Get On With Life" will help you to be positive day to day.  
The 10 points are laid out like a poem on two pretty pages which you can pin on your fridge door to help you every day! 
All you have to do to receive this free document is fill in your email address below. 
You will also receive our newsletter which we send out from time to time with our newest comforting and helpful information.   You can unsubscribe any time you like, and don't worry, your email address is totally safe with us. 
---