Obituary Examples to Help Writing a Death Notice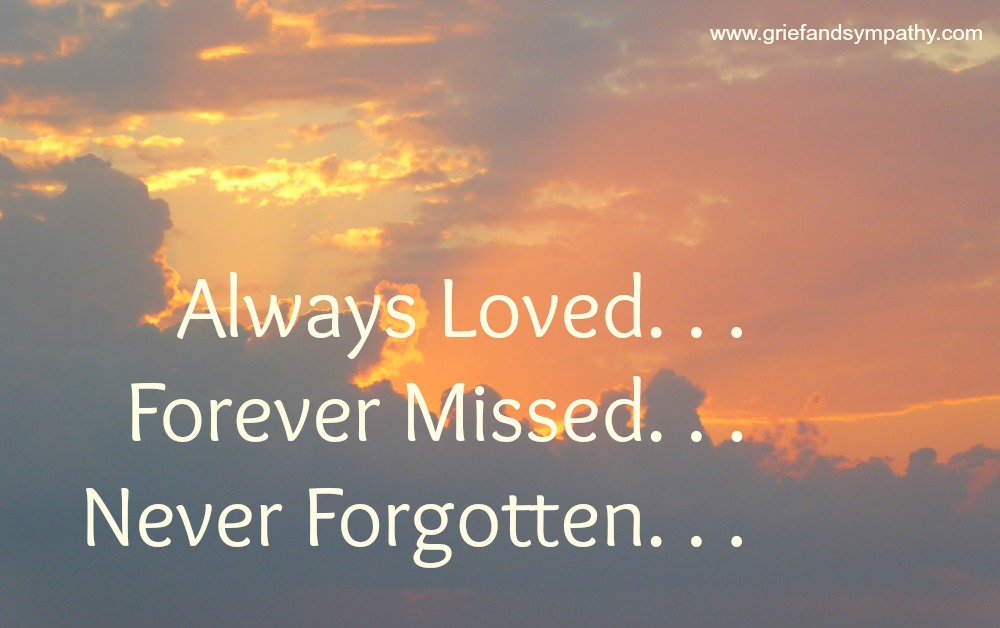 These obituary examples will help you to write a death notice for your relative.  For a printable template and more information about how to write an obituary click here.  
First of all, let's definite exactly what an obituary is:  
Definition of Obituary:  

A notice of a death, usually in a newspaper. It includes some biographical details about the person's life and information about the funeral service.  
This is different from a eulogy which is usually read out in a funeral service and is longer and more detailed.  
The following free obituary samples are for: 
Feel free to cut and paste them out and use them as a starting point for your own.  You can also download a free printable obituary template here.  
---
Sample Obituary for 38 Year Old Man

Jonathan Man, a Real Estate developer, and life-long resident of Chicago, Illinois, died on May 27, 2018 in Argentina, at the age of 38 after a brief fight with cancer. 
Man is survived by his grandparents Joseph Man, grandmother Lisa, his biological parents (both father and mother), nuclear family consisting of his wife (Racheal Man) and three kids- Jane Man, Maria Man and Bryon Man. Jonathan also has a younger brother- Donald Man and an elder sister Victoria Keen.
Jonathan was born on January 7, 1980 to Mr. and Mrs. Joseph Man in the city of Chicago. He also lived all his life in Chicago. He graduated from the University of Illinois in 1999 with a degree in Real Estate Development. He worked briefly with Griland Properties and Associates as the Head Developer before starting up a firm of his own 4 years later.
Jonathan got married to his high school sweetheart, Racheal who works as a chef at a nearby eatery. They dated right from his sophomore year and got married 6 years later. After 13 months of marriage, they welcomed their set of twin girls, Jane and Maria who he cherished more than the world itself. 
Jonathan was a devoted father, a loving husband and an officiating pastor at Presbyterian Church, Chicago where he has been a member for the past 5 years. He was a spiritual man and involved in many church activities, including playing the organ during church services. 
Jonathan enjoyed skating and taking his children swimming at the beach.  He enjoyed the company of his family more than anything. 
Jonathan had a number of other hobbies. He also enjoyed playing the trumpet. He was the band leader at his church and he played for fun at local restaurants, always with his family in attendance. 
Jonathan spearheaded a number of architectural buildings in Chicago, a good example is the Willis tower, the Aon center, Aqua etc. They are all brainchild of this young entrepreneur. These buildings will always remind us of him, as well as other great works and accomplishments he achieved. He will be greatly missed by his family, friends, acquaintances, and all who knew him.
A funeral service is scheduled for 12p.m. on February 11 at the Presbyterian Church at Clinton Street. James Mark will be presiding. Flowers, donations and condolences may be offered at his Clinton residence.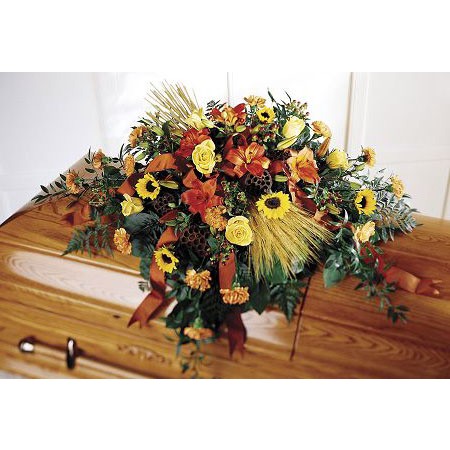 Best Casket Sprays for Men
---
Example of an Obituary for a 53 Year Old Woman

Alysia "Allie" James died in the Jones Hospital in Michigan on the 19th of April 2018 due to complications following throat cancer. She was 53. 
Mrs. James was born on 23rd November, 1964 to parents David and Michaela Parkwood. She was a graduate of Philosophical Sciences from the Illinois State University and got married to Fletcher James in 1997. She and her husband moved to Michigan in 2000 where he worked as a teacher in the local high school and she devoted her time and resources to looking after her three kids and she was also an active member of her community.
Mrs. James was a loving wife, mother, sister and grandmother. She devoted most of her time to caring for others and ensuring that all her loved ones were happy. She was selfless in her ways and volunteered at many homeless facilities and charities whenever she had the time. She often sang for the choir in her local church and was a source of inspiration to many kids and teenagers in the community. 
She loved her grandchildren so much and she visited them as often as she could amidst the discomfort her ailment caused. She lived a happy life and was content with all the blessings she received. She is survived by her three children, Janet Combs, Jared James, Jemimah Marseille and seven grandchildren.  Mrs. James is preceded in death by her beloved husband Fletcher James and her sister Gloria Parkwood.
Mrs. James will be laid to rest in a very private ceremony on the 23rd of April, 2018. Also, a memorial will occur on 24th April, 2018 in the Family house in Michigan. All are very welcome to attend and celebrate the fulfilling life of Mrs. Alysia James. All donations and flowers are thankfully welcome.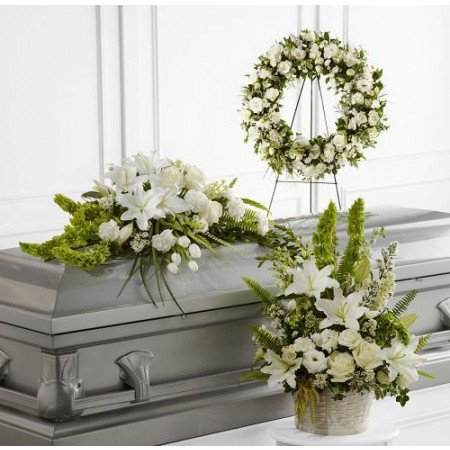 Order Beautiful Funeral Flowers Here
---
Sample Obituary for a War Veteran
Lieutenant Johnny Maxwell, aged 96, died on Monday 28th of April 2018 peacefully in his home while sleeping.  He was a veteran of World War II, and earned many medals like the Purple Heart and the Silver Star medal. 
Born on October 2, 1922 to the beloved parents of Mark and Jane Maxwell.  He joined the armed forces in 1941, and was later assigned to the Marine Corps Base Camp in Lejeune. He was awarded the Purple heart medal when he got wounded in battle in 1943. 
In 1959, Maxwell was appointed as a lieutenant and was an active part of many peace missions.  He was later discharged with full honors in 1966 after a leg injury and he served as a recruitment officer until he retired fully in 1984. 
Lt Maxwell was a courageous and loyal soldier, a caring and loving husband, as well as a patient and kind father. He is survived by his wife; Christine Maxwell, daughters; Linda, Jessica, and Melinda, his son James, and his ten grandchildren.  
The discipline and patriotism Lt. Maxwell learnt when he was in the Marines never left him, as friends and family will confirm; he was also a man with a good heart and very charitable. 
He always tried to touch the lives of everyone around him positively in more ways than one. A lot of people have benefited from his kind heart and his good deeds over the years and the fond memories will forever remain in our hearts. 
A viewing will be at St. Mary's Chapel on May 2nd and the funeral will also be held on the same day at 4:00 pm. Father Mark Petersburg will be officiating at the service. All are invited, and donations and flowers will be welcome.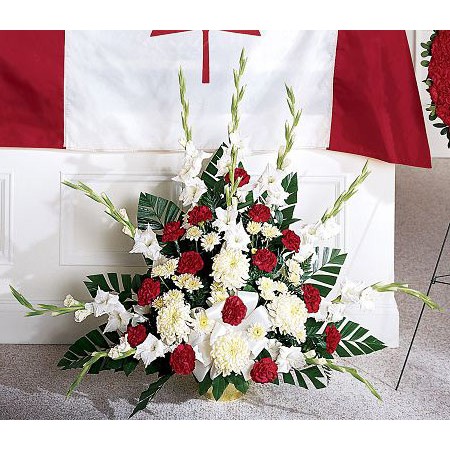 Check Out a Range of Military Funeral Flowers Here
---
Obituary Example for a Teenager
Matthew Joseph Finn, died on Wednesday, March 13, 2018 at St James Hospital, New Orleans aged only 18.  
Born on January 3, 2000, in Michigan to beloved parents Floyd Finn and Marie Miller, Matt as he was fondly called by his family and friends was a studious and very quiet young man. He was well known in his school and neighborhood as the "quiet one" as he kept to himself most of the time. Matthew was a deliberate and selfless child who did all he could to make sure those closest to him were happy at all times. He was also the strongest member of the Math club at his local high school and was deeply passionate about the success of his team.  
He was a good teenager who constantly wished all the problems of the world would go away so everyone could be happy and he tried to impact the lives of those around him positively in his own unique ways. 
Matthew is survived by his parents, Floyd and Marie; his brother, Abel Finn and sister Clara Finn; His maternal grandparents, Matthew and Josie Hill; his aunt and uncle, Faith Hill and Bob Miller; his two cousins, Sandra and Klaus Hill; his best friend Anthony Edelder and his beloved pet dog, Chester. 
Funeral services will occur at the God's Kingdom Church in New Orleans on the 18th of March, 2018, 4.00pm. Donations and Flowers are respectfully declined and his parents ask that they are given the time and privacy to prepare for the funeral appropriately.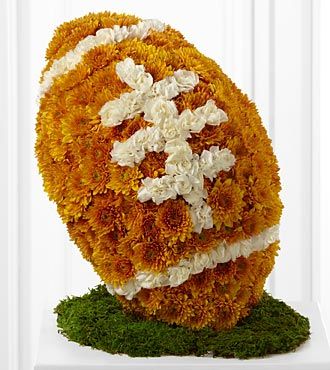 Choose Flowers Here
---
Obituary Example for a Child
Henry Patterson, age 4, died on Thursday, May 4, 2018, at Princeton Memorial Hospital. 
Henry was born on August 11, 2013, in Princeton to parents Gary and Susan Patterson. At a tender age of four, Henry was already known by his family, friends, and teachers to be a very smart and sharp little boy. He was bright and so full of life; he loved to draw and was quite the little artist even at such a young age. Henry was well known amongst all the teachers in his school, family, friends, and even in his neighborhood to be a bubbly little boy that spread happiness wherever he went.
He was a well behaved chap who was rarely seen making trouble. He was loved by all and will be greatly missed. 
Henry is survived by his parents Gary and Susan Patterson, his brothers; John and Joseph Patterson, his elder sister; Margaret Patterson, his paternal grandparents; Rebecca and Simon Patterson, his maternal grandparents; Abigail and Ethan David, his cousins; Augie and Jane Patterson, his best friend; Damian Roberts, and his dearly beloved pet cat; Cookie. 
The funeral service will be held at the Stone Hill Church of Princeton on May 9, 2018 at 11am. All are invited but flowers and donations are politely declined.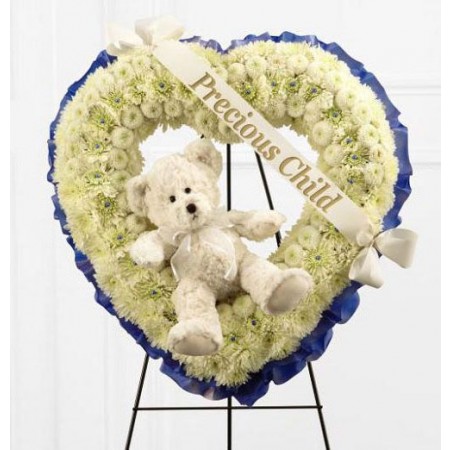 Click Here for Funeral Flowers for Children
---
Related Pages:
Planning a Funeral - Step by Step Guide
---
For Remembrance: 
Sales from our pages result in a small commission to us which helps us to continue our work supporting the grieving.  
---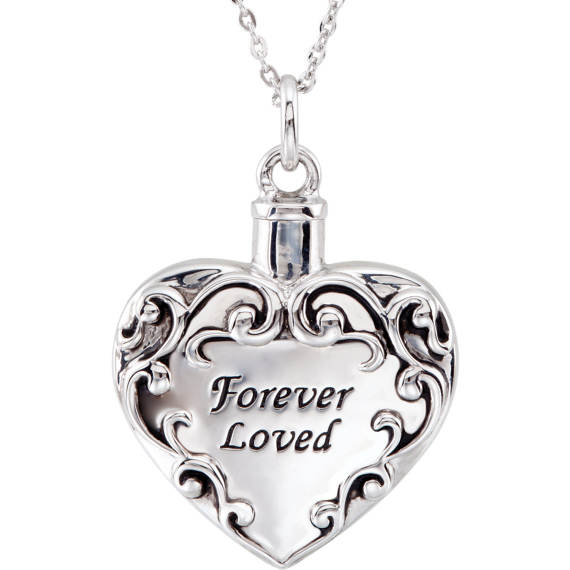 Memorial Jewelry to Honour a Loved One

Check out our lovely range of memorial jewelry for any lost loved one.  Pendants, necklaces, rings or bracelets, we have them all in all kinds of styles.  Choose for yourself or buy as a sympathy gift. 

---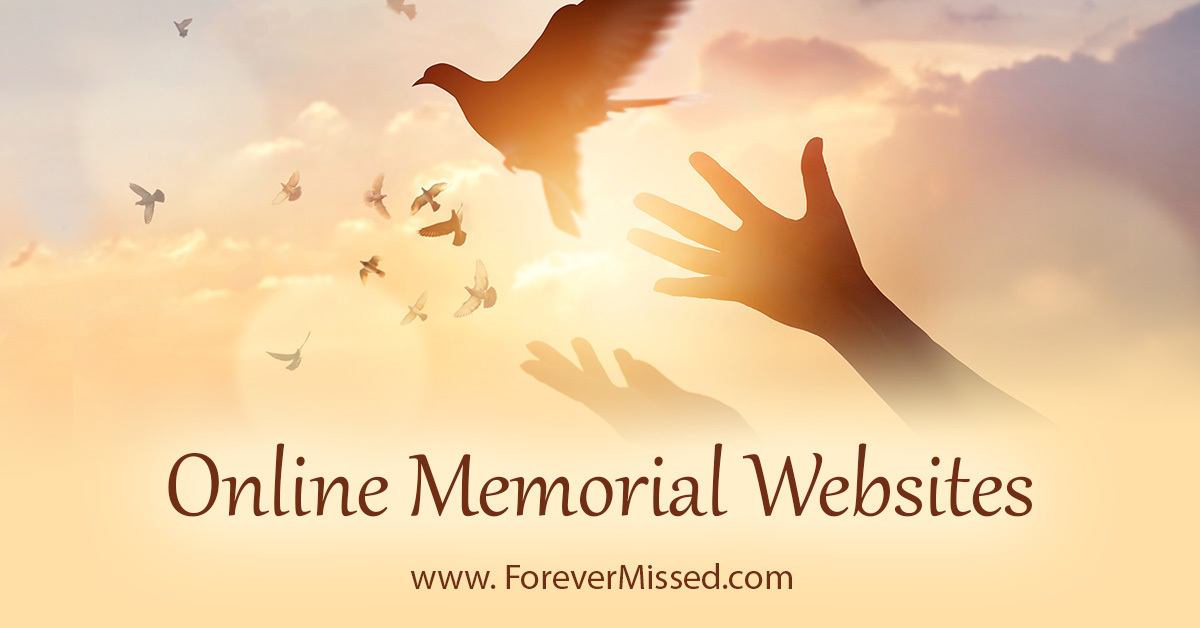 Create an Online Memorial Website
Honour your loved one with their own memorial website.  Share photos, videos, memories and more with your family and friends in a permanent online website.  Free for basic plan with no ads. 
---
For USA Residents: 
Please help our colleagues at Memorial Sloan Kettering Cancer Center, St. Jude Children's Research Hospital, and Children's Hospital of Philadelphia, USA by joining in their research study:


SUPPORT FOR BEREAVED PARENTS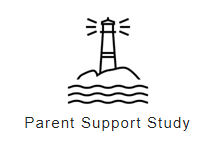 Losing a child to cancer is devastating, and there is a critical need to develop effective supports.
A federally-funded study in the United States (US) evaluating different types of support for bereaved parents is currently seeking participants. Parents residing in the US may be eligible if they lost a child diagnosed with cancer at least 6 months ago and live in one of the following states: NY, NJ, PA, CT, FL, or TN (other eligible states are being added, please complete the survey to check with us).
To find out if you may be eligible, please click here, visit our website at bereavedparentsupportstudy.com, or email us at parentstudy@mskcc.org.
---
Keep in touch with us: 
---
Sign up for our newsletter and receive:

"The 10 Most Important Things You Can Do
To Survive Your Grief And Get On With Life"
Our free downloadable and printable document "The 10 Most Important Things You Can Do To Survive Your Grief And Get On With Life" will help you to be positive day to day.  
The 10 points are laid out like a poem on two pretty pages which you can pin on your fridge door to help you every day! 
All you have to do to receive this free document is fill in your email address below. 
You will also receive our newsletter which we send out from time to time with our newest comforting and helpful information.   You can unsubscribe any time you like, and don't worry, your email address is totally safe with us. 
NEW BONUS - Also receive a copy of our short eBook - '99 Ways to Spot a Great Grief Counselor'.  Available for instant download as soon as you sign up. Never waste money on poor counseling again! 
---
Join us on Facebook for articles, support, discussion and more.  Click 'Like' below.

---