Grief Quotes for Comfort and Quiet Thought

Here we've put together a selection of our favourite grief quotes.  These are mainly literary ones.  Whether you use them as condolence quotes for sympathy cards, or just enjoy reading them as sympathy sayings for comfort and quiet moments, we hope that they will be moving and meaningful for you.  


We have lots more bereavement quotes, and words for expressing sympathy on this site.  Just click on the links at the bottom of the page.  
All the quotes on this page and many more are available in our book - "Sample Sympathy Messages and Quotes - Condolence Sentiments for Cards, Flowers and Funeral Tributes" - Click here for more information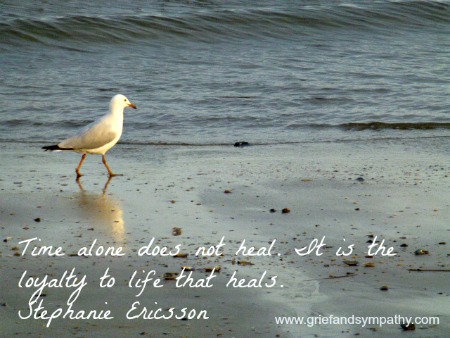 "Grief is the price we pay for love."  Queen Elizabeth II

"Even if happiness forgets you a little bit, never completely forget about it." Jacques Prevert

"When you are sorrowful look again in your heart, and you shall see that in truth you are weeping for that which has been your delight." Kahlil Gibran
"Unable are the loved to die. For love is immortality." Emily Dickinson

"To live in hearts we leave behind is not to die." Thomas Campbell

"As long as we live, they too will live; for they are now are a part of us; as we remember them." Jewish Prayer

"Count the garden by the flowers, never by the leaves that fall. Count your life with smiles and not the tears that roll." Anon

"Life is not measured by the number of breaths we take, but by the moments that take our breath away." Anon

"Mourning is the constant re-awakening that things are now different". Stephanie Ericsson

"Tears water our growth." Shakespeare
"The life given us by nature is short, but the memory of a life well spent is eternal." Cicero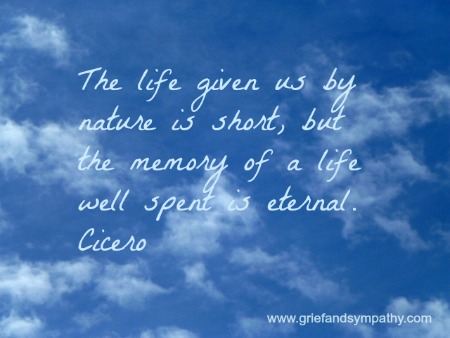 ---
The quotes by Stephanie Ericsson on this page are from Companion through the Darkness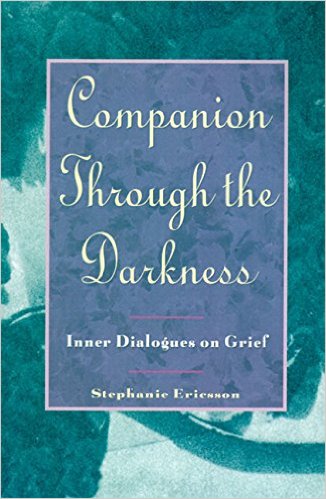 Click to read inside
---
More favourite grief quotes

"The greatest tribute to the dead is not grief but gratitude." Thornton Wilder

"Sympathy does not think. It acts. It acts to remove the ceaseless sufferings of the world" Sri Chinmoy

"What my tongue dares not that my heart shall say." William Shakespeare

"Sorrow was like the wind. It came in gusts." Marjorie Kinnan Rawlings

"A sympathetic heart is like a spring of pure water bursting forth from the mountain side." Anon

"As a well-spent day brings happy sleep, so a life well used brings happy death." Leonardo Da Vinci

"He that conceals his grief finds no remedy for it." Turkish Proverb

"You can clutch the past so tightly to your chest that it leaves your arms too full to embrace the future." Jan Glidewell

"Our death is not an end if we can live on in our children and the younger generation. For they are us, our bodies are only wilted leaves on the tree of life." Albert Einstein

"Our sorrows are like thunder clouds, which seem black in the distance, but grow lighter as they approach" Jean Paul Richter

"Though nothing can bring back the hour of splendour in the grass, of glory in the flower, we will grieve not, rather find strength in what remains behind." William Wordsworth

"Sorrow makes us all children again - destroys all differences of intellect. The wisest know nothing." Ralph Waldo Emerson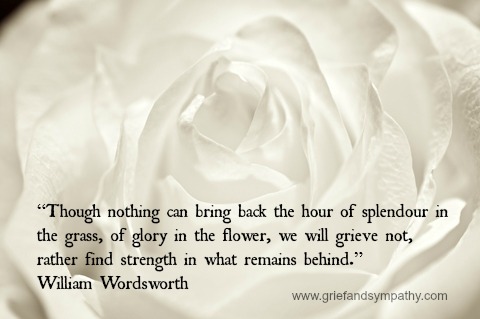 A few more lovely quotes to inspire healing

"Time alone does not heal. It is the loyalty to life that heals." Stephanie Ericsson

"The darkest hour is just before the dawn." Anon

"Heaven knows we need never be ashamed of our tears, for they are rain upon the blinding dust of earth, overlying our hard hearts." Charles Dickens

"Give sorrow words; the grief that does not speak whispers the o'er-fraught heart and bids it break." William Shakespeare

"Grief rolled across the space between us like a wash of salt water." Sue Grafton

"Everything I loved was taken away from me, and I did not die."  James Patterson

"Say not in grief 'he is no more' but in thankfulness that 'he was'." Hebrew Proverb

"The world breaks everyone, and afterward many are strong at the broken places." Ernest Hemingway

"I believe that imagination is stronger than knowledge. That myth is more potent than history. That dreams are more powerful than facts. That hope always triumphs over experience. That laughter is the only cure for grief. And I believe that love is stronger than death." Robert Fulghum

"The 'gift' of grief is that it presents us with the opportunity to heal and grow." Jewish Proverb

"Although it's difficult today to see beyond the sorrow, may looking back in memory help comfort you tomorrow." Anon

"Gone yet not forgotten, although we are apart, your spirit lives within me, forever in my heart." Anon

"No one ever told me that grief felt so like fear." C.S. Lewis

"He who has gone, so we but cherish his memory, abides with us, more potent, nay, more present than the living man." Antoine de Saint-Exupery
Check out our Range of Sympathy Cards with Beautiful Quotes
Wondering What to Write in a Card?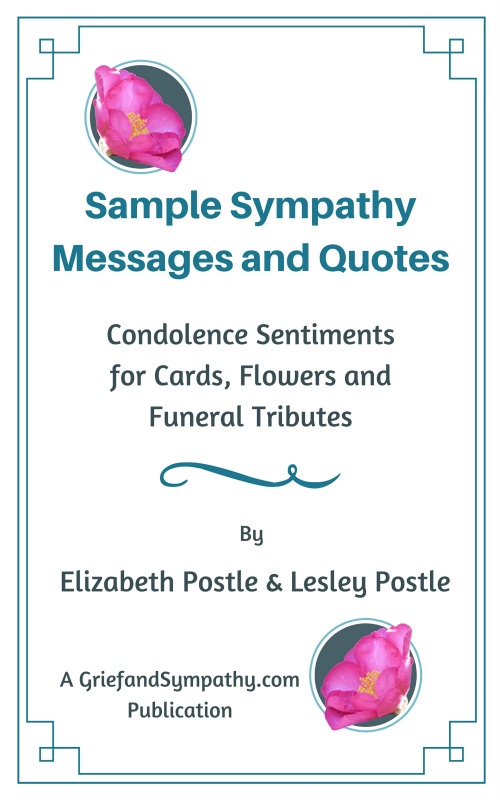 Click Here to Find Out More
Related Pages: 
---
Where to get help: 
---
Have You Considered One-on-One Online Grief Counseling? 
Get Expert and Effective Help in the Comfort of Your Own Home

The following information about online counseling is sponsored by 'Betterhelp' but all the opinions are our own. To be upfront, we do receive a commission when you sign up with 'Betterhelp', but we have total faith in their expertise and would never recommend something we didn't completely approve.  
Do you feel alone and sad with no support and no idea how to move forward?  It can be tough when you are stuck in grief to find the motivation to get the most out of your precious life. 
Online counseling can help by giving you that support so you don't feel so alone. You can have someone to talk to anytime you like, a kind and understanding person who will help you to find meaning in life again, to treasure the memories of your loved one without being overwhelmed and to enjoy your activities, family and friends again.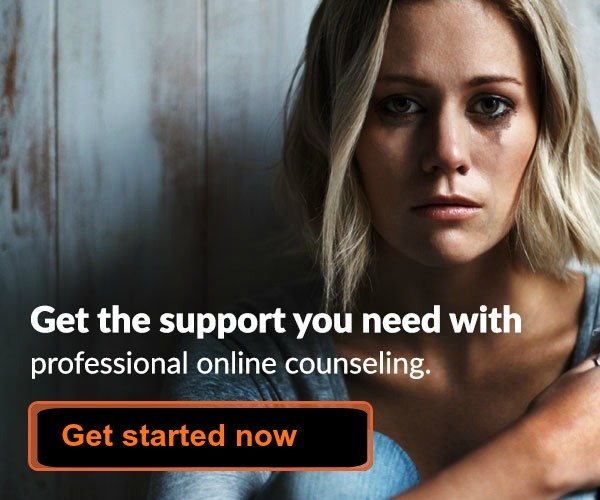 Click here to receive 20% off your first month. Exclusive to GriefandSympathy readers.
---
Sales from our pages result in a small commission to us which helps us to continue our work supporting the grieving.  

---
Hypnosis for Grief - 10 Ways It Can Help You
Try a gentle hypnotherapy track to relax the mind. Learn how self-hypnosis can help you cope with grief at any time of the day or night.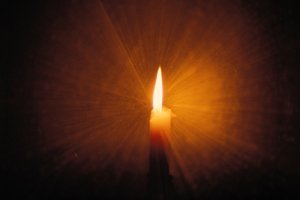 ---
---
For Remembrance: 
Sales from our pages result in a small commission to us which helps us to continue our work supporting the grieving.  
---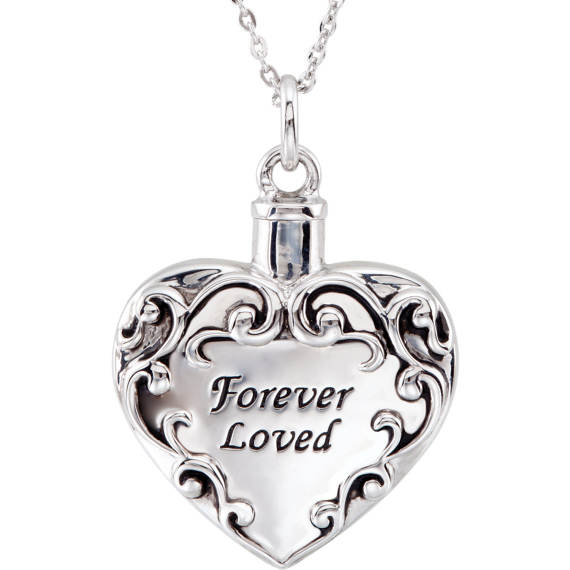 Memorial Jewelry to Honour a Loved One

Check out our lovely range of memorial jewelry for any lost loved one.  Pendants, necklaces, rings or bracelets, we have them all in all kinds of styles.  Choose for yourself or buy as a sympathy gift. 

---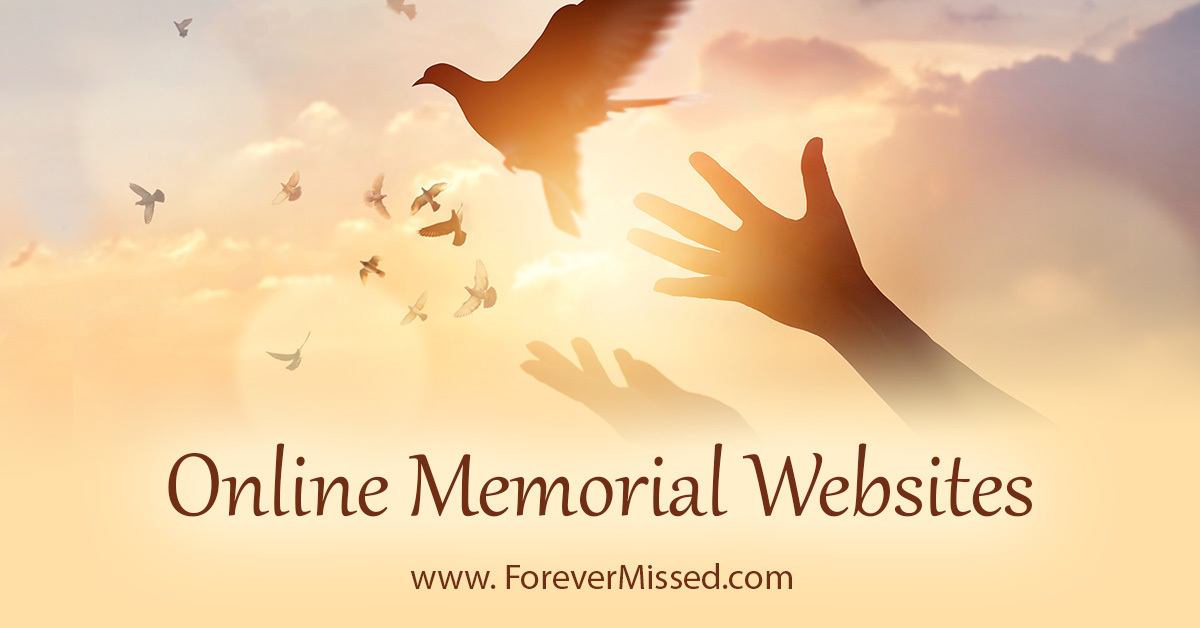 Create an Online Memorial Website
Honour your loved one with their own memorial website.  Share photos, videos, memories and more with your family and friends in a permanent online website.  Free for basic plan with no ads. 
---
For USA Residents: 
Please help our colleagues at Memorial Sloan Kettering Cancer Center, St. Jude Children's Research Hospital, and Children's Hospital of Philadelphia, USA by joining in their research study:


SUPPORT FOR BEREAVED PARENTS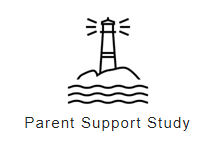 Losing a child to cancer is devastating, and there is a critical need to develop effective supports.
A federally-funded study in the United States (US) evaluating different types of support for bereaved parents is currently seeking participants. Parents residing in the US may be eligible if they lost a child diagnosed with cancer at least 6 months ago and live in one of the following states: NY, NJ, PA, CT, FL, or TN (other eligible states are being added, please complete the survey to check with us).
To find out if you may be eligible, please click here, visit our website at bereavedparentsupportstudy.com, or email us at parentstudy@mskcc.org.
---
Keep in touch with us: 
---
Sign up for our newsletter and receive:

"The 10 Most Important Things You Can Do
To Survive Your Grief And Get On With Life"
Our free downloadable and printable document "The 10 Most Important Things You Can Do To Survive Your Grief And Get On With Life" will help you to be positive day to day.  
The 10 points are laid out like a poem on two pretty pages which you can pin on your fridge door to help you every day! 
All you have to do to receive this free document is fill in your email address below. 
You will also receive our newsletter which we send out from time to time with our newest comforting and helpful information.   You can unsubscribe any time you like, and don't worry, your email address is totally safe with us. 
NEW BONUS - Also receive a copy of our short eBook - '99 Ways to Spot a Great Grief Counselor'.  Available for instant download as soon as you sign up. Never waste money on poor counseling again! 
---
Join us on Facebook for articles, support, discussion and more.  Click 'Like' below.

---