21 Comforting Quotes about Death
These uplifting quotes will help when trying to make sense of a death of a loved one and the grieving process.  Use them for comfort and solace.  We also have a range of sympathy cards with beautiful quotes.  See links below.  
If you are grieving there are many pages of advice on this website to help with grief for any type of loss.  

---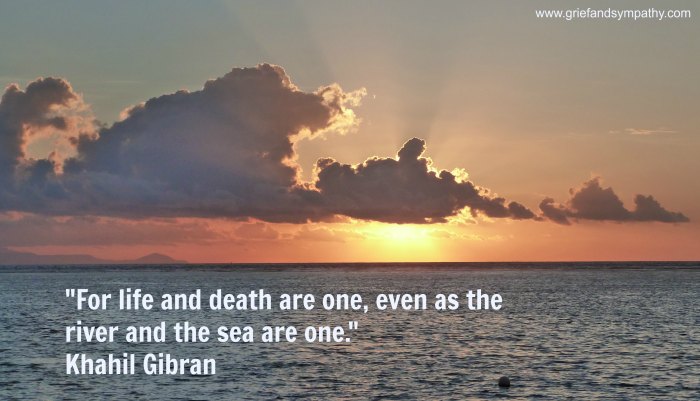 "For life and death are one, even as the river and the sea are one."
Khahil Gibran
"The fear of death follows from the fear of life. A man who lives fully is prepared to die at any time."
Mark Twain
"Death ends a life, not a relationship."
Mitch Albom
"Absence is a house so vast that inside you will pass through its walls and hang pictures on the air." 
Pablo Neruda
"All who have been touched by beauty are touched by sorrow at is passing."
Louise Cordana.
---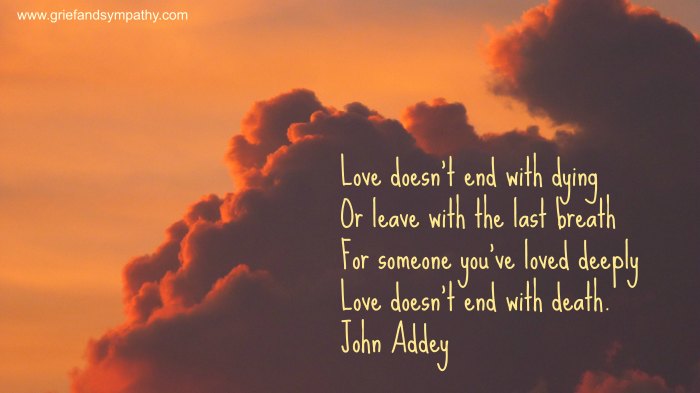 "Love doesn't end with dying
Or leave with the last breath 
For someone you've loved deeply 
Love doesn't end with death."
John Addey 
---
"Strength of a character isn't always about how much you can handle before you break. It's also about how much you can handle after you've been broken."
Robert Tew
"When something bad happens you have three choices, you can let it define you, you can let it destroy you, or you can let it strengthen you."
Dr Seuss
---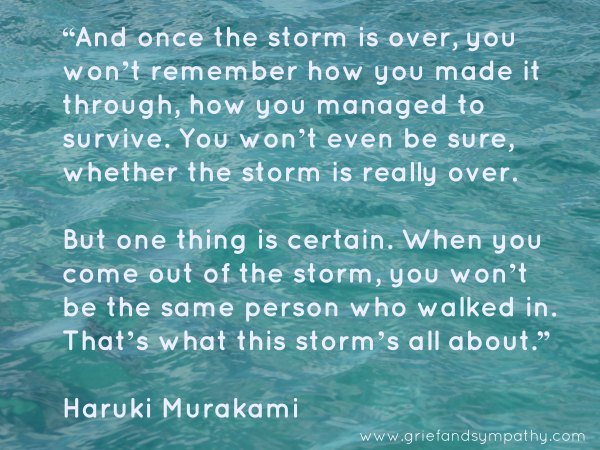 "And once the storm is over, you won't remember how you made it through, how you managed to survive. You won't even be sure, whether the storm is really over.
But one thing is certain. When you come out of the storm, you won't be the same person who walked in. That's what this storm's all about."
Haruki Murakami
---
"To live in hearts we leave behind is not to die."
Thomas Campbell
"Our dead are never dead to us, until we have forgotten them."
George Eliot
"Life is eternal, and love is immortal, and death is only a horizon; and a horizon is nothing save the limit of our sight."    
Rossiter Worthington Raymond
"Death is not the greatest loss in life.  The greatest loss is what dies inside us while we live."
Norman Cousins. 
---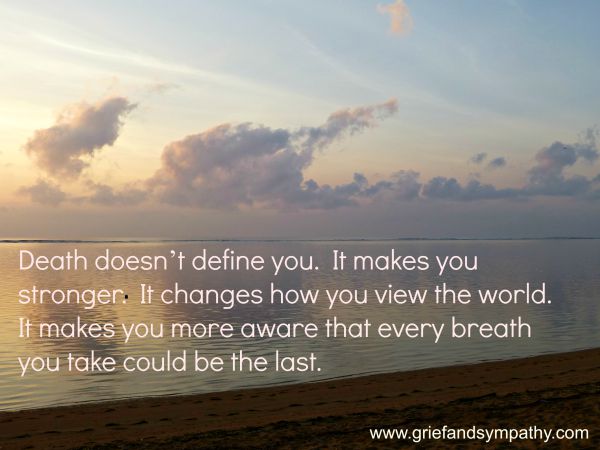 "Death doesn't define you.  It makes you stronger.  It changes how you view the world.  It makes you more aware that every breath you take could be the last."
Elizabeth Postle (Author of this website). 
---
"I believe that imagination is stronger than knowledge. That myth is more potent than history. That dreams are more powerful than facts. That hope always triumphs over experience. That laughter is the only cure for grief. And I believe that love is stronger than death." 
Robert Fulghum 
"Unable are the loved to die. For love is immortality." 
Emily Dickinson
"As a well-spent day brings happy sleep, so a life well used brings happy death." 
Leonardo Da Vinci
---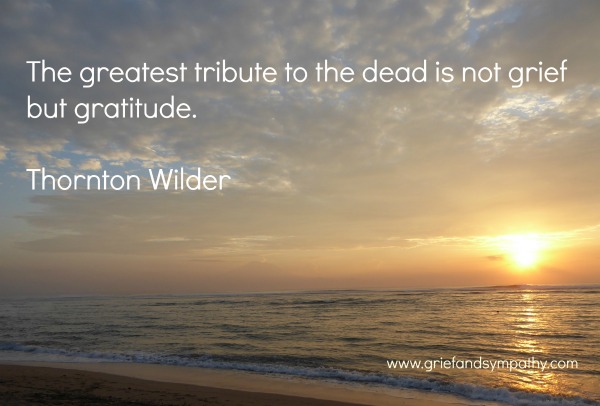 "The greatest tribute to the dead is not grief but gratitude." 
Thornton Wilder
---
"Life is for the living.  Death is for the dead.  Let life be like music.  And death a note unsaid."   
Langston Hughes
Our death is not an end if we can live on in our children and the younger generation.   For they are us; our bodies are only wilted leaves on the tree of life. 
Albert Einstein
---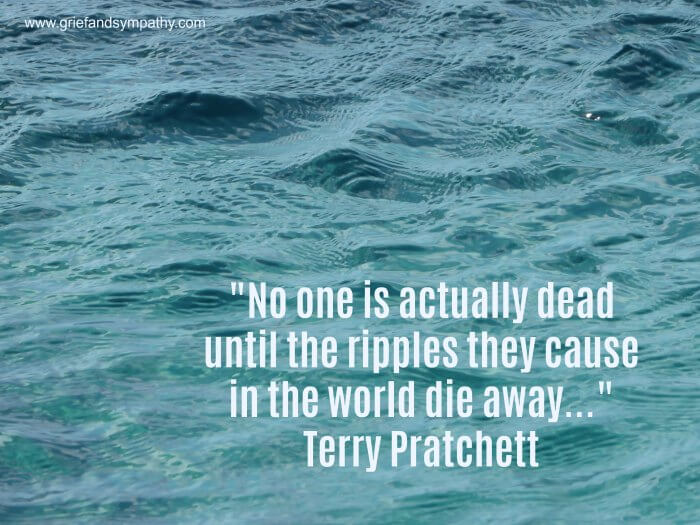 "No one is actually dead until the ripples they cause in the world die away..." 
Terry Pratchett  
---
Related Pages: 
Sympathy Cards with Comforting Quotes
---
Where to get help: 
---
Have You Considered One-on-One Online Grief Counseling? 
Get Expert and Effective Help in the Comfort of Your Own Home

The following information about online counseling is sponsored by 'Betterhelp' but all the opinions are our own. To be upfront, we do receive a commission when you sign up with 'Betterhelp', but we have total faith in their expertise and would never recommend something we didn't completely approve.  
Do you feel alone and sad with no support and no idea how to move forward?  It can be tough when you are stuck in grief to find the motivation to get the most out of your precious life. 
Online counseling can help by giving you that support so you don't feel so alone. You can have someone to talk to anytime you like, a kind and understanding person who will help you to find meaning in life again, to treasure the memories of your loved one without being overwhelmed and to enjoy your activities, family and friends again.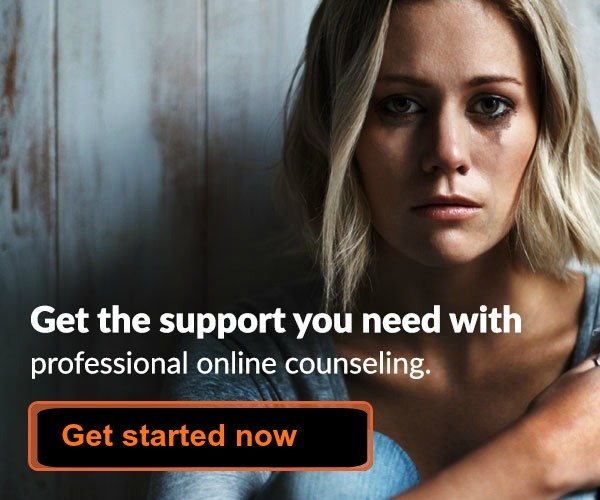 Click here to receive 20% off your first month. Exclusive to GriefandSympathy readers.
---
Sales from our pages result in a small commission to us which helps us to continue our work supporting the grieving.  

---
Hypnosis for Grief - 10 Ways It Can Help You
Try a gentle hypnotherapy track to relax the mind. Learn how self-hypnosis can help you cope with grief at any time of the day or night.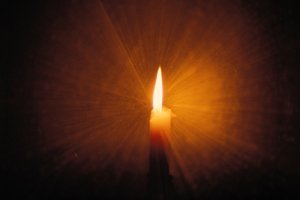 ---
---
For Remembrance: 
Sales from our pages result in a small commission to us which helps us to continue our work supporting the grieving.  
---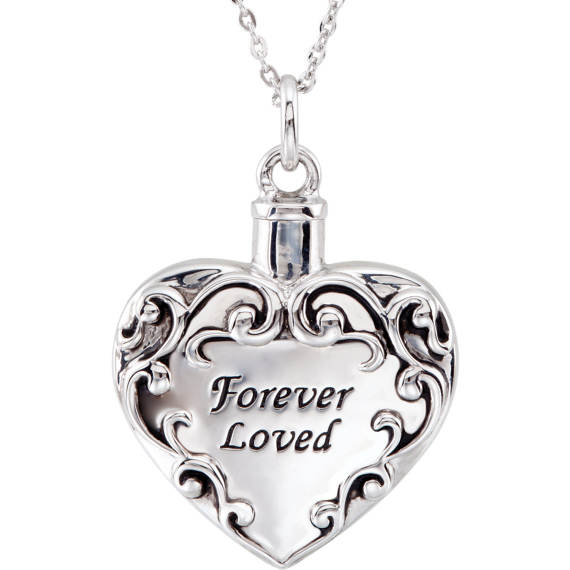 Memorial Jewelry to Honour a Loved One

Check out our lovely range of memorial jewelry for any lost loved one.  Pendants, necklaces, rings or bracelets, we have them all in all kinds of styles.  Choose for yourself or buy as a sympathy gift. 

---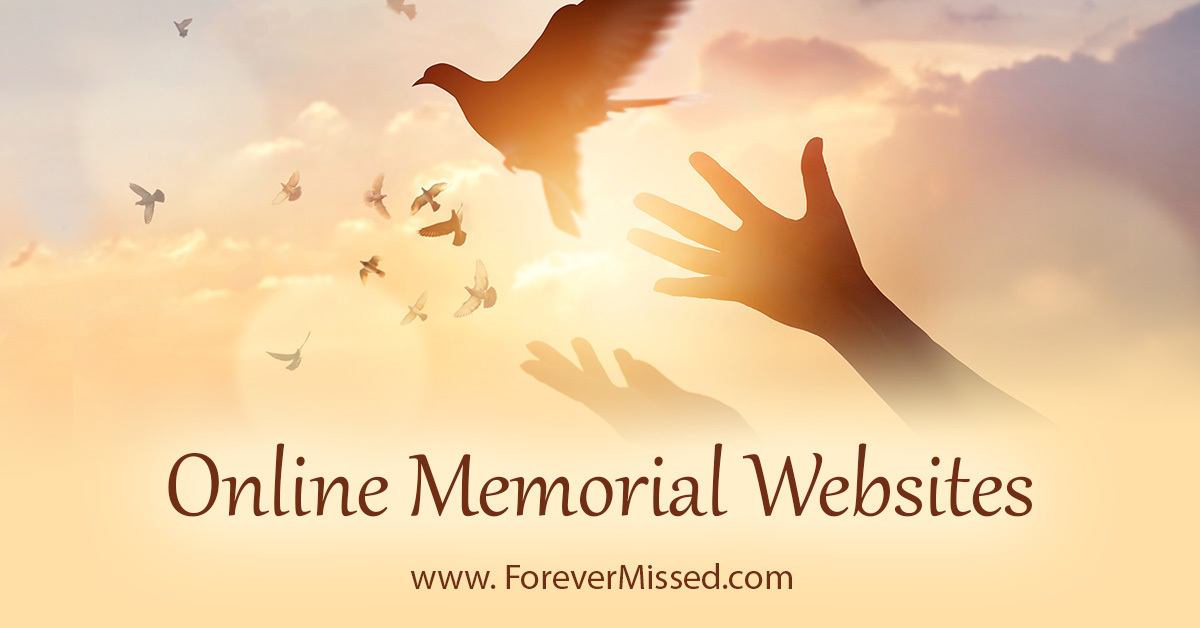 Create an Online Memorial Website
Honour your loved one with their own memorial website.  Share photos, videos, memories and more with your family and friends in a permanent online website.  Free for basic plan with no ads. 
---
For USA Residents: 
Please help our colleagues at Memorial Sloan Kettering Cancer Center, St. Jude Children's Research Hospital, and Children's Hospital of Philadelphia, USA by joining in their research study:


SUPPORT FOR BEREAVED PARENTS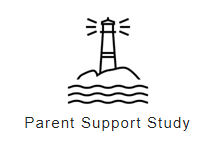 Losing a child to cancer is devastating, and there is a critical need to develop effective supports.
A federally-funded study in the United States (US) evaluating different types of support for bereaved parents is currently seeking participants. Parents residing in the US may be eligible if they lost a child diagnosed with cancer at least 6 months ago and live in one of the following states: NY, NJ, PA, CT, FL, or TN (other eligible states are being added, please complete the survey to check with us).
To find out if you may be eligible, please click here, visit our website at bereavedparentsupportstudy.com, or email us at parentstudy@mskcc.org.
---
Keep in touch with us: 
---
Sign up for our newsletter and receive:

"The 10 Most Important Things You Can Do
To Survive Your Grief And Get On With Life"
Our free downloadable and printable document "The 10 Most Important Things You Can Do To Survive Your Grief And Get On With Life" will help you to be positive day to day.  
The 10 points are laid out like a poem on two pretty pages which you can pin on your fridge door to help you every day! 
All you have to do to receive this free document is fill in your email address below. 
You will also receive our newsletter which we send out from time to time with our newest comforting and helpful information.   You can unsubscribe any time you like, and don't worry, your email address is totally safe with us. 
NEW BONUS - Also receive a copy of our short eBook - '99 Ways to Spot a Great Grief Counselor'.  Available for instant download as soon as you sign up. Never waste money on poor counseling again! 
---
Join us on Facebook for articles, support, discussion and more.  Click 'Like' below.

---