Condolence Phrases for Sympathy Cards and Flowers

These condolence phrases and sympathy wishes should help you to write a comforting message.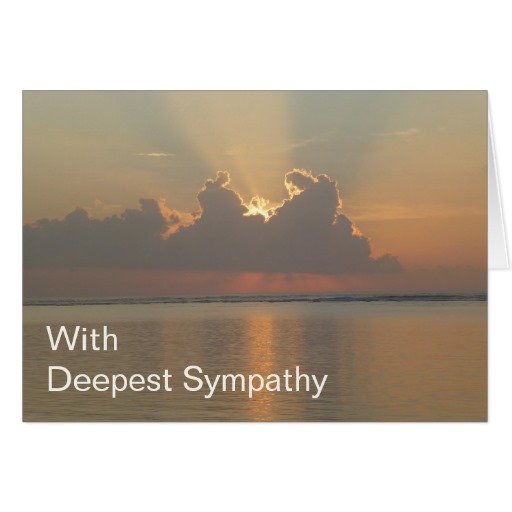 Click to Buy Card
One of the most difficult things is trying to find the right words to express sympathy when someone dear to you loses a loved one. It's so hard to find words of condolence that are meaningful, but not too sentimental, or which don't sound contrived.

The most important thing when writing condolence notes, is to be honest and write from the heart. Say what you are feeling. Make it personal. Don't worry that you are going to upset the person when they get it. They are upset anyway, and they will be greatly comforted by the fact that you are thinking about them whatever you write.
Here are some sample condolences and sympathy phrases to give you inspiration. Just pick one, and perhaps add something like a personal memory or thought of your own. Even if you just write that you are thinking of your friend, or family member, it is enough.
All our messages and many more are available in our book - "Sample Sympathy Messages and Quotes - Condolence Sentiments for Cards, Flowers and Funeral Tributes" - Click here for more information

Condolence phrases for sympathy cards, notes to go with flowers, or even to put in an email or text.

Our thoughts are with you and your family at this sad time. 

We send you our heartfelt sympathy and wish you comfort and peace in the coming months.  

Our hearts are saddened to hear of your loss. 

May your heart and soul find peace and comfort.

Words cannot express our feelings of sorrow on hearing of the passing of your dear husband/wife/friend.

. . .  was a very special person and we will all miss him/her. 

I'm sure you will have lots of happy memories to treasure into the future.

We will treasure our happy memories of the times we spent with ....
Our thoughts go out to you at this very sad time, our comfort is that you are such a close family and will all be there for each other.

Sent with love and remembrance.

With our warmest condolences.

We are deeply sorry to hear of the death of ... .

We wish you peace and courage at this difficult time. 

May .... rest in peace.  It is a comfort to know that .... is no longer suffering.

We wish we could be there with you to share in your sorrow and give you comfort. 

May the love of your family and friends help you in your time of sadness. 

We are sending you hope and peace in our thoughts. 

We hope you will take comfort from the happy memories that you have of .....

He/she had a wonderful, well-lived life and will be remembered fondly. 

Someone so special will never be forgotten. 

Time may dull the pain, but we will never forget. . .

He/She touched so many lives.

May the peace that comes from the memories of love shared, comfort you now and in the days ahead.

Sending hugs and best wishes to you all.

---
We designed our Sympathy Cards ourselves from our own photos to raise funds to keep this site going, and to support those who are grieving.  Click on any of the images below to get to the store. 
Click here to see the complete range of cards
---
Buy Our Book: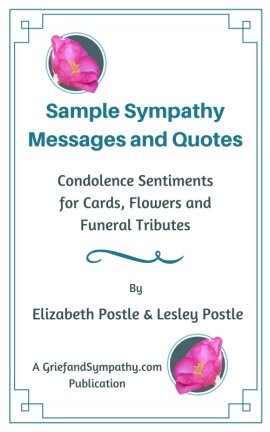 Click to Read a Sample and Order
---

Send a Sympathy Gift Too
Related Pages: 
Funeral Condolences to Be Read in a Service
Grief and Sympathy Home
>
Words of Sympathy
> Condolence Phrases
---
Get Private and Confidential Help in the Privacy of Your Own Home

Do you feel alone and sad with no support and no idea how to move forward?  It can be tough when you are stuck in grief to find the motivation to get the most out of your precious life. 
Online counseling can help by giving you that support so you don't feel so alone. You can have someone to talk to anytime you like, a kind and understanding person who will help you to find meaning in life again, to treasure the memories of your loved one without being overwhelmed and to enjoy your activities, family and friends again.

Simply fill out the online questionnaire and you will be assigned the expert grief counselor most suitable for you.  It only takes a few minutes and you don't even have to use your name.  
Pay an affordable FLAT FEE FOR UNLIMITED SESSIONS.  
Contact your counselor whenever you like by chat, messaging, video or phone. 
You can change counselor at any time if you wish.
Or read more about how online counseling works here.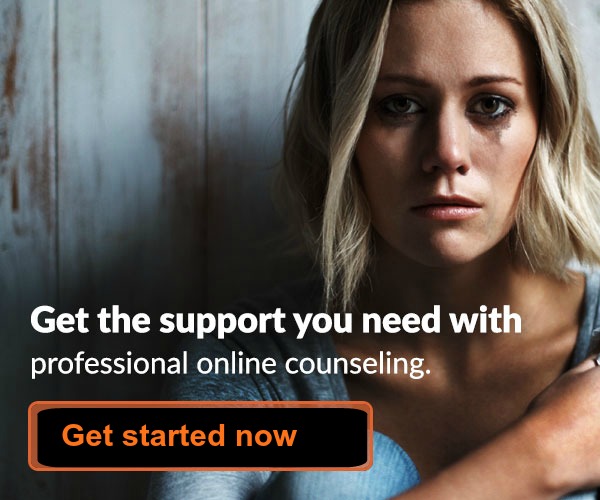 ---
Sales from our pages result in a small commission to us which helps us to continue our work supporting the grieving.  
---
Self-Help Hypnosis Downloads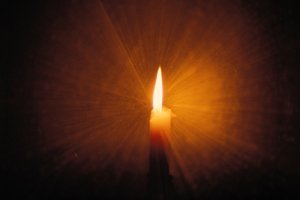 ---
Seeds of Life Memory Tree - Oak Tree Kit


Make sure there is plenty of space to plant this majestic oak tree.  They can grow to 70 feet tall.  But what a memorial it would be for a loved one. 
One of the most popular trees of all time, they will grow for hundreds of years making a beautiful living monument to the deceased. 

---
Memorial Pendant for Cremation Ashes
Keep the ashes of your loved one close to your heart with this sterling silver engraved pendant.  
---
Join us on Facebook for articles, support, discussion and more.  Click 'Like' below.

---
Sign up for our newsletter and receive:

"The 10 Most Important Things You Can Do
To Survive Your Grief And Get On With Life"
Our free downloadable and printable document "The 10 Most Important Things You Can Do To Survive Your Grief And Get On With Life" will help you to be positive day to day.  
The 10 points are laid out like a poem on two pretty pages which you can pin on your fridge door to help you every day! 
All you have to do to receive this free document is fill in your email address below. 
You will also receive our newsletter which we send out from time to time with our newest comforting and helpful information.   You can unsubscribe any time you like, and don't worry, your email address is totally safe with us. 
---