Moving Example of a Eulogy for a Grandfather 
Writing a eulogy for a beloved grandfather can be a daunting challenge at a very emotional time in your life. Reading through an example of what someone else has written can be a good way to start to get some ideas and inspiration.
We have many sample eulogies on our site which are written by real people, for real people.
We also have advice on how to write eulogy, along with a free template. See the links at the bottom of the page. But first, here is a lovely eulogy for her 'Lolo' written for us by Pamela.
(Note: "Lolo" means Grandfather in Filipino)

Grateful for Lolo by Pamela Corazon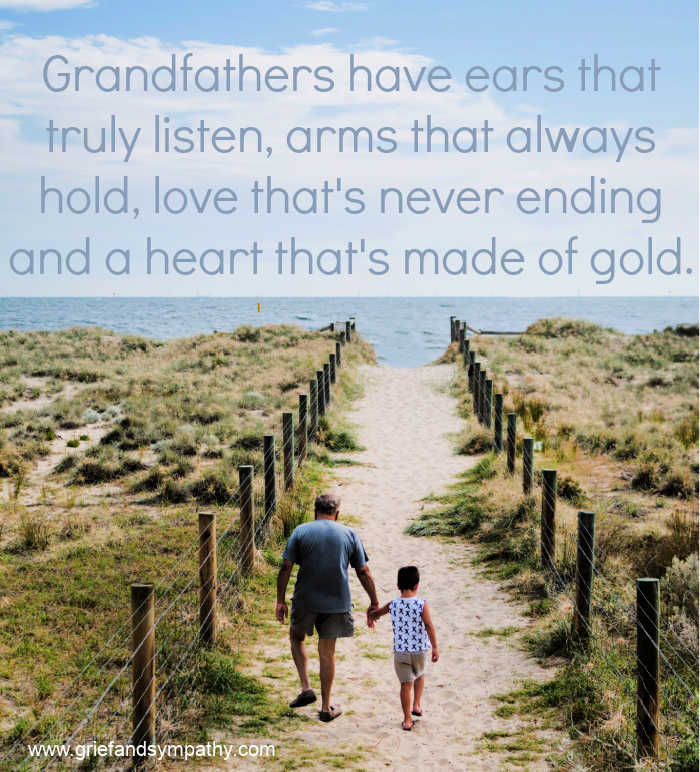 Thank you all for being with us today.
We wish to celebrate a man whose entire life has been dedicated to his family, his community, and God. A devoted husband to one, a wonderful father to nine, a loving grandfather to 23, great grandfather to six, and a leader to many - what a truly extraordinary life Lolo had. Today, I wish to share some words about the man who has been an integral part of my life.
To say that I am lucky to be one of his grandchildren is an understatement. It is a blessing that I am truly grateful for and will be for the rest of my life. It is a challenge to speak today, to put into words the many things that I would like to say about him.
Lolo loved to share his life experiences. What an amazing memory he had - ask him anything about his childhood and he would be able to tell each story with the most vivid details.
Hearing him talk about the challenges he had to face, growing up in a time of war, losing his father while attending college, having to leave school to take the reigns in taking care of the family's affairs, his mother and younger siblings, it was like hearing something out of a movie. I asked him once, how did you do it? His answer, "I just had to be brave."
---
---
Out of all the stories about his life though, my favourites will always be the ones about how he met Lola, and how they nurtured and reared all of their nine children.
He always said it was only through the grace of God that they seemed to always have enough. Enough food to eat, even a little extra to help out friends and neighbours, enough to send the kids to school.
For many years, grandfather had fish ponds to provide for his family. Everything went well, until the time their youngest child finished school. He said it was as if the Lord knew that their obligation to give their nine kids the education they needed was completed. That was when he said the fish just "stopped coming". That was one special thing about Lolo, he was a man of great faith.

He always said that his greatest treasure was his family. I remember the very first morning of Lolo's abrupt confusion because of the many medications he was taking. I received a call from the hospital because he fell on the floor which resulted in a minor cut and bruising on his left arm.
With no memory of why he was in the hospital, the Neurology team conducted an assessment and asked him a lot of questions: what were his name, date of birth, and other details about his confinement.
I was nervous because he could not answer most of the questions, even his exact date of birth - when he suddenly blurted out numbers which we all thought were random. But then I realised their meaning - he was reciting the years of birth of his children! With tears in my eyes, I told the doctors about the significance of the numbers. I could not believe it. Even in his confused cognitive state, his family was still etched in his core being.
As a grandfather, Lolo was a rockstar. From being an awesome playmate and secret keeper when I was small to the confidante and rock as I grew older, he was everything and more. I will miss our conversations. An excellent listener, he was someone with whom I could speak about anything without being afraid of being judged. There were times that he would offer me pieces of advice or even scold me, but he always did so lovingly.
With him, I felt like I could do anything. Lolo had an uncanny ability to make people feel special, there were no "small wins" with him. Each achievement was celebrated like a huge victory. To him, just passing a school quiz in third grade merited a tub of ice cream.
He has taught me so many lessons about life. Lessons which I will remember, and hopefully, live by. During the latter part of his life, Lolo always said that having lived well into his 80s was already a great blessing and that each extra day he was given felt like winning the jackpot. What a lover of life!
It did not matter that he was no longer able to enjoy the daily activities that he used to do, or that he already needed assistance just to sit and eat his meals - his mindset was always all about gratitude.
During his last hospital confinement, he was already inviting the doctors, nurses, and all the hospital staff to his home for his 90th birthday! It's too bad that he left us only a mere month before his 90th, but we will celebrate it anyway, and he will be present in our hearts.
Thank you for your love, Lolo. My daughter is one year old now and she sees your picture every day, which I have displayed on our bookcase. I will tell her stories about you, her great grandfather. You two would have gone along very well, just like us.
There is never a day that goes by that I don't think of you. Can you please visit me in my dreams? I love you. I hope I will make you proud.
Related Pages:
---
For Remembrance: 
Sales from our pages result in a small commission to us which helps us to continue our work supporting the grieving.  
---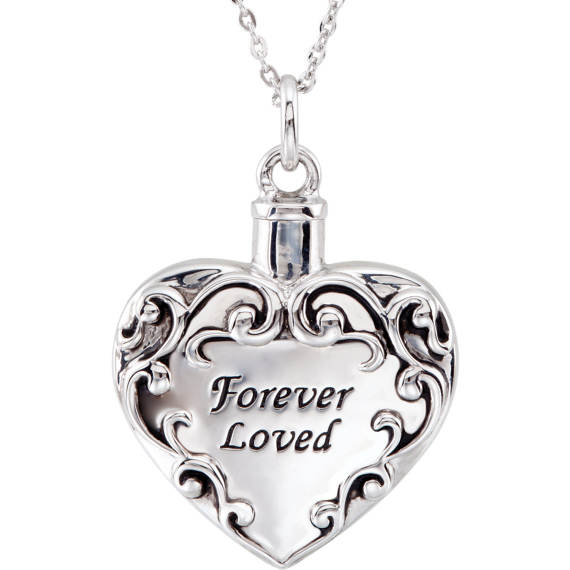 Memorial Jewelry to Honour a Loved One

Check out our lovely range of memorial jewelry for any lost loved one.  Pendants, necklaces, rings or bracelets, we have them all in all kinds of styles.  Choose for yourself or buy as a sympathy gift. 

---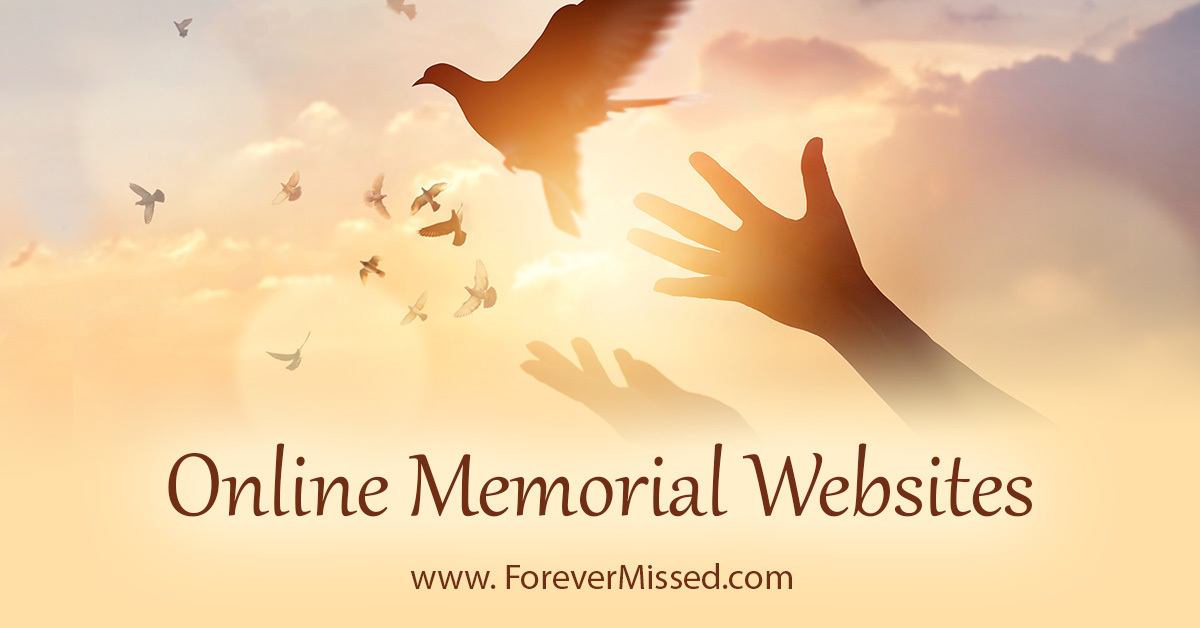 Create an Online Memorial Website
Honour your loved one with their own memorial website.  Share photos, videos, memories and more with your family and friends in a permanent online website.  Free for basic plan with no ads. 
---
Keep in touch with us: 
---
Sign up for our newsletter and receive:

"The 10 Most Important Things You Can Do
To Survive Your Grief And Get On With Life"
Our free downloadable and printable document "The 10 Most Important Things You Can Do To Survive Your Grief And Get On With Life" will help you to be positive day to day.  
The 10 points are laid out like a poem on two pretty pages which you can pin on your fridge door to help you every day! 
All you have to do to receive this free document is fill in your email address below. 
You will also receive our newsletter which we send out from time to time with our newest comforting and helpful information.   You can unsubscribe any time you like, and don't worry, your email address is totally safe with us. 
NEW BONUS - Also receive a copy of our short eBook - '99 Ways to Spot a Great Grief Counselor'.  Available for instant download as soon as you sign up. Never waste money on poor counseling again! 
---
Join us on Facebook for articles, support, discussion and more.  Click 'Like' below.

---