10 Tips to Help Children with the Death of a Pet Cat

Deborah Barnes, author of 'Purr Prints of the Heart – A Cat's Tale of Life, Death, and Beyond' helps us to guide our children following the death of a pet cat. 
For those families with a pet cat, they know the love and joy the cat can bring to the household. But cats also live a relatively short lifespan in the scheme of a human's life, so for those with children, at some point a parent or caretaker could be faced with the difficult task of having to help the child cope with the death of a pet cat. 
For many children this will be their first experience with death and while it might seem kinder to shield them from the reality of the pain, in actuality, by including the child in the end-of-life process, not only will it help them to cope with other inevitable losses throughout life, it will teach them invaluable lessons about empathy and compassionately caring for others. How much involvement depends on the child's age, maturity, and life experience, along with the circumstances surrounding the death of the pet. 
Here are 10 tips to help make grieving the death of a pet cat as healthy and manageable as possible: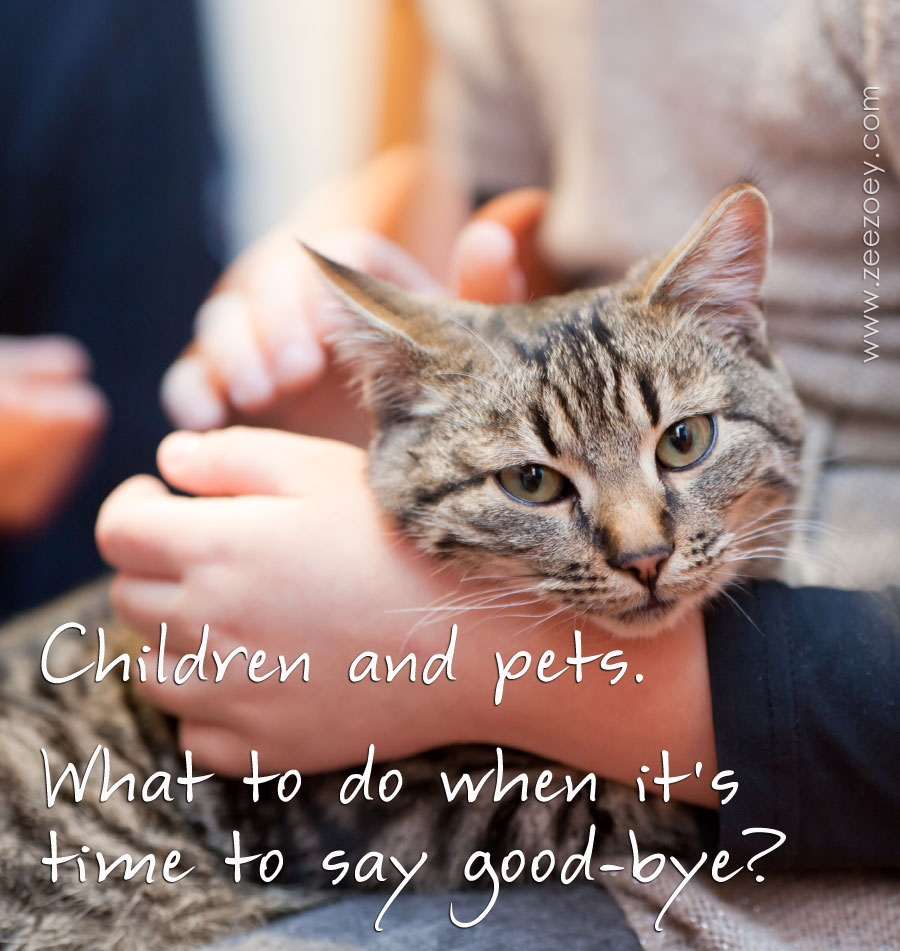 Photo Courtesy of Zeezoey.com
1. If the cat has been ill for some time or is elderly and nearing end-of-life, a discussion with the child should take place to explain what to expect during the different stages of the cat's end-of-life. Convey that kitty has feelings and needs, just like people do, and that special care will need to be taken to insure kitty lives her remaining days as loved and comfortable as possible.
2. Assign certain responsibilities to the child, such as keeping the cat's water dish full of fresh water so the child feels personally vested in the care of their pet. Encourage the child to interact with the pet by talking about how happy the pet made them feel and what they will miss about their time together. Cats understand the loving tone of a voice and it is important for a child to have a chance to say goodbye to their furry friend.
3. Sometimes euthanasia will be necessary to ease the suffering of a pet - if so, discuss it with the child based on age-appropriateness. Managing how the pet dies can be comforting - some children might want to be with their pet during the final moments, and for others, it will be too difficult to handle. It is important to relay the pet will no longer be in pain and helping to let them go is a humane act.
4. After the cat has passed it is important to implement quality time to honor the beloved pet. Ceremonies or funerals are particularly helpful – if the cat is going to be buried, let the child help find a special spot in the yard and have them write a poem or love letter, draw a picture, or pick out something of meaning, such as a collar or a favorite toy to bury with the cat. If the cat has been cremated, the child could decorate the urn and help decide where to place it. (See our beautiful selection of cat cremation urns). Consider reading a prayer during the ceremony and have attendees share special memories about the cat.
5. Engage in special projects and activities as a family to provide a healthy outlet for the child to express their feelings, such as making a scrapbook of pictures and artwork. Or plant a tree or flowering bush where the child can go to pay respects to the memory of the pet. 
6. For younger children who might not understand what happened to their pet cat, read them an age-appropriate children's book about end-of-life to encourage conversation. Children at this age can feel responsible for the pet's death and it is important to let them talk about their feelings. Honesty is important - pretending the pet "went to sleep"  can leave a child feeling confused or frightened – kids can be very literal and develop misconceptions about people (and other pets) going to sleep and not waking up.
Photo - Dan Power
7. Allow kids to cry and express their emotions in an open and positive environment. They might be struggling with complex emotions like anger, denial and guilt, so it's important to keep the channels of communication open, be patient, give lots of love and reassurance, share happy memories of the pet, and keep active with the daily routine of life as best as possible.
8. Depending on circumstances, notify teachers, friends, family members, caretakers, etc. that the child's pet cat has died. A child could become despondent, angry, depressed, withdrawn and more, so those people close to the child should be aware so they can react appropriately to the child's moods and needs.
9. Regardless of age, let the child see the people around them grieve, as they are missing the pet, too. Children learn from the behaviors of others and it is important for them to understand it is a natural, normal process to feel sad or upset. 
10. If the decision is made to adopt again, go to a shelter and let the child help pick out the pet. Perhaps they could suggest names and help get the house ready by picking out special toys, bedding, and more.  Sometimes bringing a new pet into the household can raise feelings of guilt so it is important to help the child understand that by adopting another cat, they are saving a life, with an opportunity to create new and different memories and that the new furry family member is not a replacement for the pet that died. 
It's not always easy and it can be a long road to recovery, but by helping a child manage their grief for the death of a pet cat, the vast majority of them will adjust in a normal, healthy way to the loss and will be all the more compassionate and emphatic toward others as a result of it.
Encourage the child to remember their cat and reassure them while the pet is gone in the physical sense, the happy memories of the pet will always remain in their heart.
About the author - Deborah Barnes: 
Award-winning author, Deborah Barnes, has shared her life with an assortment of pet dogs, cats, rabbits, guinea pigs and more. No matter how many times she's had to say goodbye, letting go was never easy. It was through the relationship she shared with her beloved Ragdoll cat, Mr. Jazz, that Deborah learned some invaluable lessons from him about life, love, and saying goodbye when she had to face the painful and difficult decision of helping to let him go at the age of 15.
Knowing others could benefit from the lessons Mr. Jazz taught her, Purr Prints of the Heart – A Cat's Tale of Life, Death, and Beyond was born. Taking the unique approach of writing from the perspective of the pet, Purr Prints is written in the wise voice of Mr. Jazz as he shares his story, from his early days as a kitten to his final moments of life, to help people deal with pet loss in a real-life format, rather than a clinical self-help approach. Despite the sad nature, Purr Prints is a charming, inspirational, and even humorous story that includes an invaluable "Coping With Pet Loss" section to help readers on all levels - emotionally, mentally, spiritually, and even physically to empower themselves with ways to positively honor the journey of the pet lost as well as ways to find the strength to heal and mend a broken heart.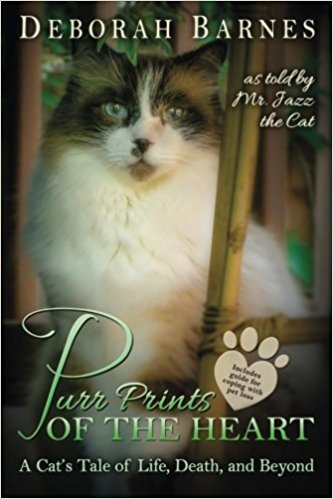 Click to Read a Sample and to Order
Related Pages: 
How to Cope with the Loss of a Cat
Self-Help Hypnosis Download - Death of a Pet
---
Where to get help: 
---
Have You Considered One-on-One Online Grief Counseling? 
Get Expert and Effective Help in the Comfort of Your Own Home

The following information about online counseling is sponsored by 'Betterhelp' but all the opinions are our own. To be upfront, we do receive a commission when you sign up with 'Betterhelp', but we have total faith in their expertise and would never recommend something we didn't completely approve.  
Do you feel alone and sad with no support and no idea how to move forward?  It can be tough when you are stuck in grief to find the motivation to get the most out of your precious life. 
Online counseling can help by giving you that support so you don't feel so alone. You can have someone to talk to anytime you like, a kind and understanding person who will help you to find meaning in life again, to treasure the memories of your loved one without being overwhelmed and to enjoy your activities, family and friends again.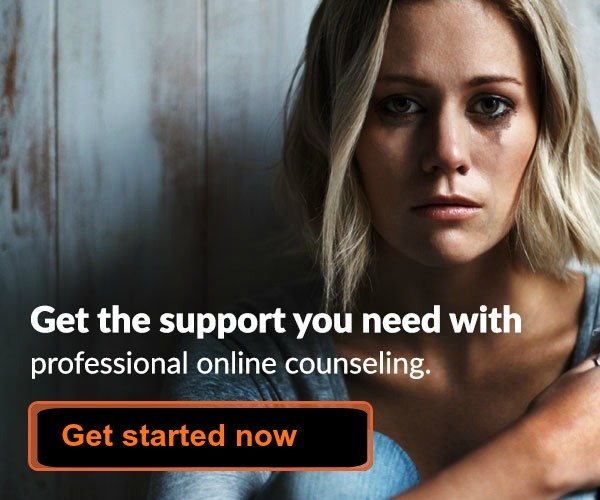 Click here to receive 20% off your first month. Exclusive to GriefandSympathy readers.
---
Sales from our pages result in a small commission to us which helps us to continue our work supporting the grieving.  

Help Other Men with their Grief in this Brief Survey

Grief and Growth Survey for Men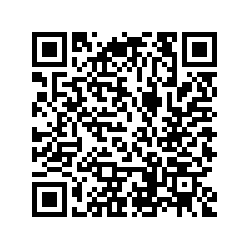 This survey by Stuart, a Master's student at Viterbo University, is focused on the relationship between resilience and grief among men who have lost a loved one within the last 30 years, are at least 18 years old, and use he/him/his pronouns.
---
Hypnosis for Grief - 10 Ways It Can Help You
Try a gentle hypnotherapy track to relax the mind. Learn how self-hypnosis can help you cope with grief at any time of the day or night.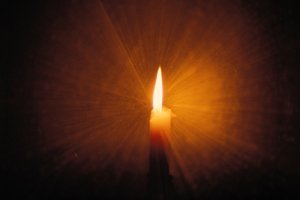 ---
---
Keep in touch with us: 
---
Sign up for our newsletter and receive:

"The 10 Most Important Things You Can Do
To Survive Your Grief And Get On With Life"
Our free downloadable and printable document "The 10 Most Important Things You Can Do To Survive Your Grief And Get On With Life" will help you to be positive day to day.  
The 10 points are laid out like a poem on two pretty pages which you can pin on your fridge door to help you every day! 
All you have to do to receive this free document is fill in your email address below. 
You will also receive our newsletter which we send out from time to time with our newest comforting and helpful information.   You can unsubscribe any time you like, and don't worry, your email address is totally safe with us. 
NEW BONUS - Also receive a copy of our short eBook - '99 Ways to Spot a Great Grief Counselor'.  Available for instant download as soon as you sign up. Never waste money on poor counseling again! 
---
Join us on Facebook for articles, support, discussion and more.  Click 'Like' below.

---