7 Purr-fect Pet Cremation Urns for your Feline Fur Babies

Choose from our hand-picked selection of precious pet cremation urns for cats.  We know what a terrible loss it can be when a beloved kitty dies.  They can be with us for as many as 20 years and are such an important member of the family.  
We have selected some really special urns for you to treasure the remains of your beloved fur baby.  Keep them with you for ever and honour their memory with a lovely keepsake.  Some can be engraved with your cat's name, and others have an inbuilt photo frame. All are beautiful ornaments for you to treasure. 

We wish you every sympathy for your loss.  If you are having difficulties with your grief, read our page about grieving for the loss of a pet. 
---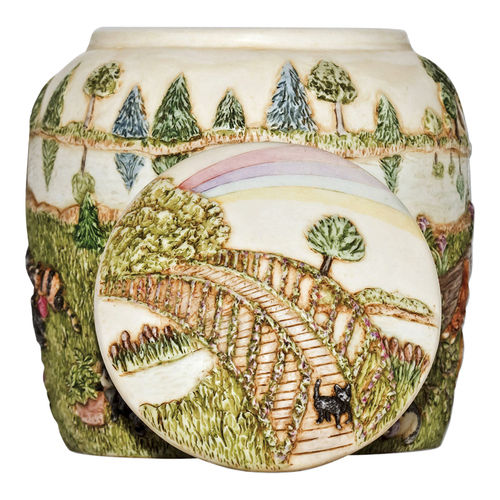 Marble Rainbow Bridge Cat Cremation Urn

This pretty urn depicts the well-known Rainbow Bridge from the poem.  It is made from crushed marble and resin.  A wonderful way to commemorate your feline friend. 
Click here to order this precious urn
---
Pet Cremation Photo Urn for Cats

This stylish urn can be used for keepsakes or ashes.  It has a space for a photo of your beloved kitty. 
Click to see details of size and measurements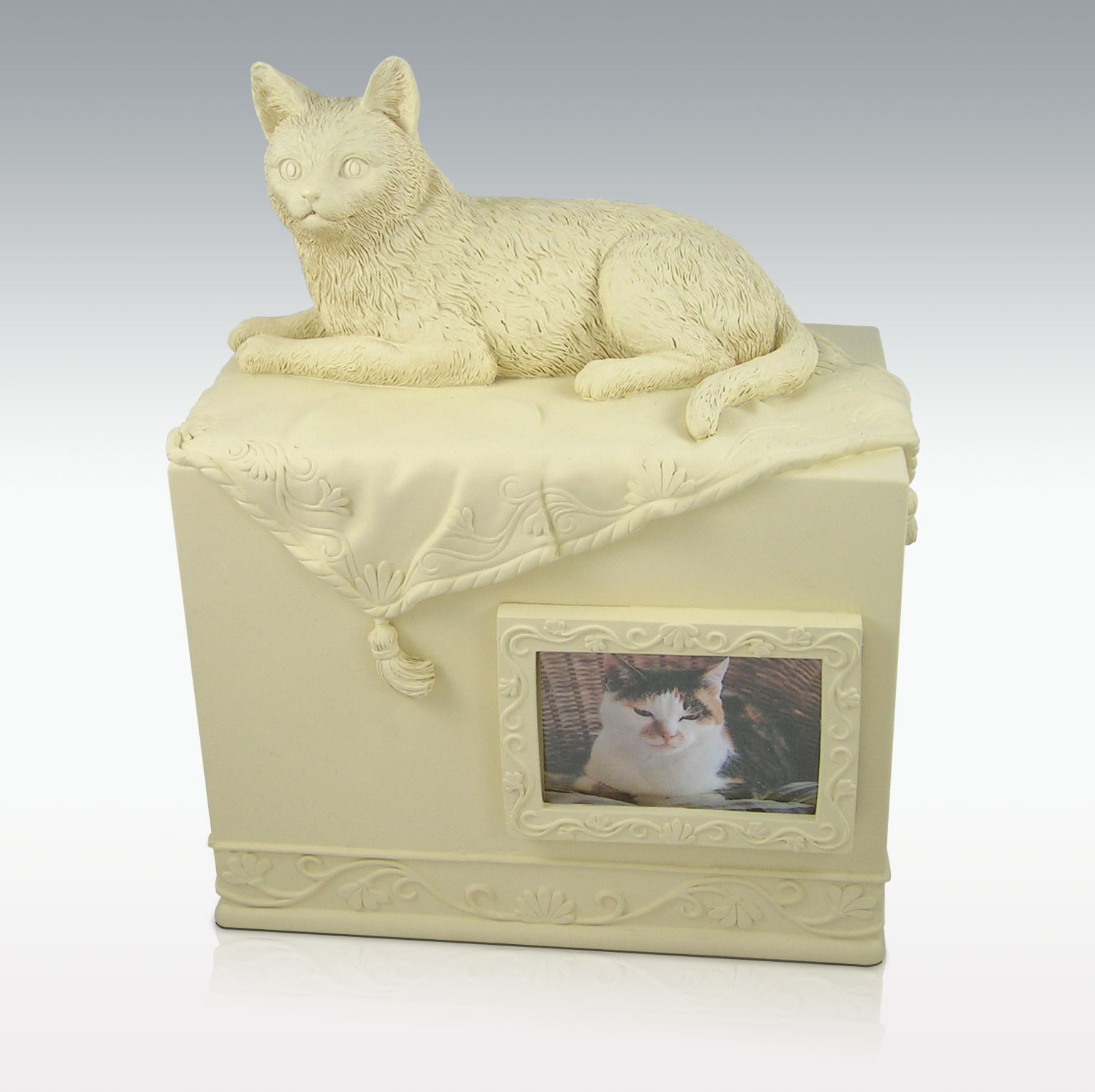 ---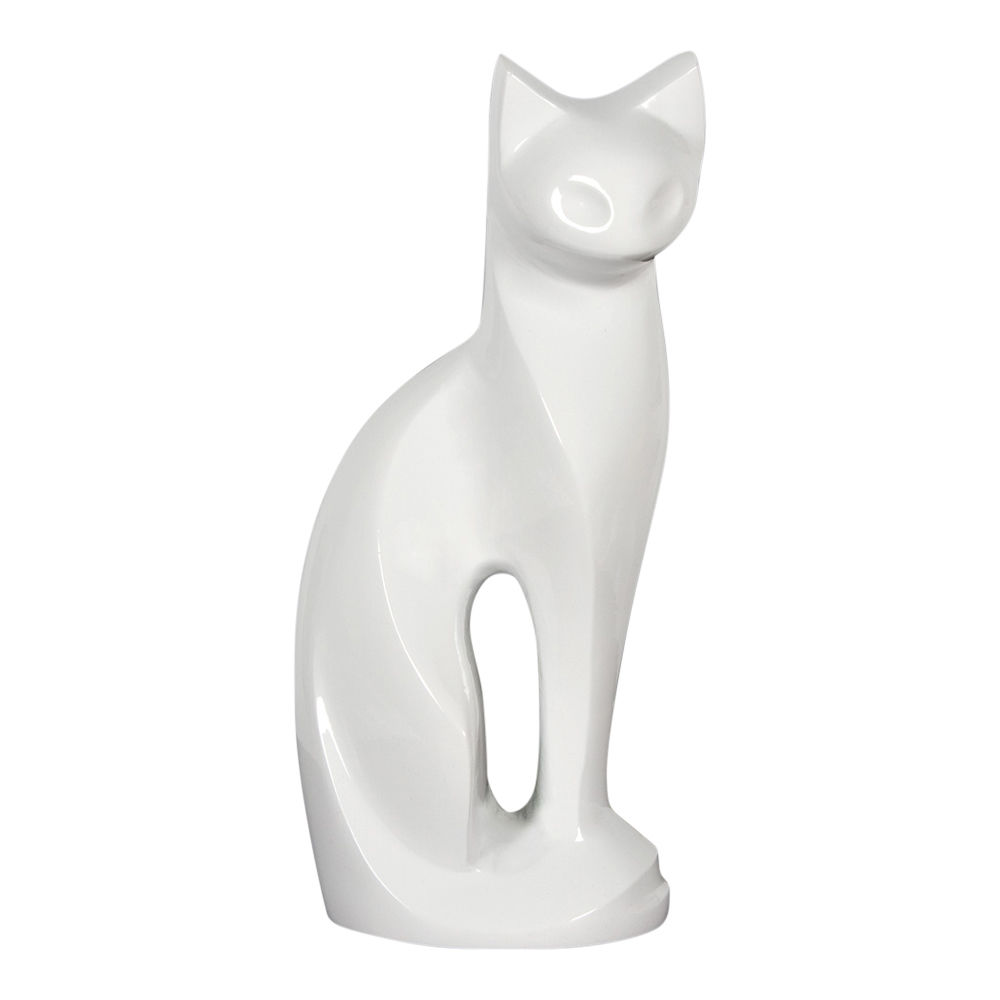 Contemporary Cat Urn

A stylish modern urn which will enhance a minimalist interior.  This cat has a vintage or deco look.  It is made of solid brass with a white finish.  Quality which will last. 
Order this stylish modern piece now
---
Cats Leave Pawprints on your Heart Urn

A stone urn with the text "Cats leave pawprints on your heart forever. . . "
There is room for a photo of your favourite pet for remembrance. 
Click to fall in love with this keepsake now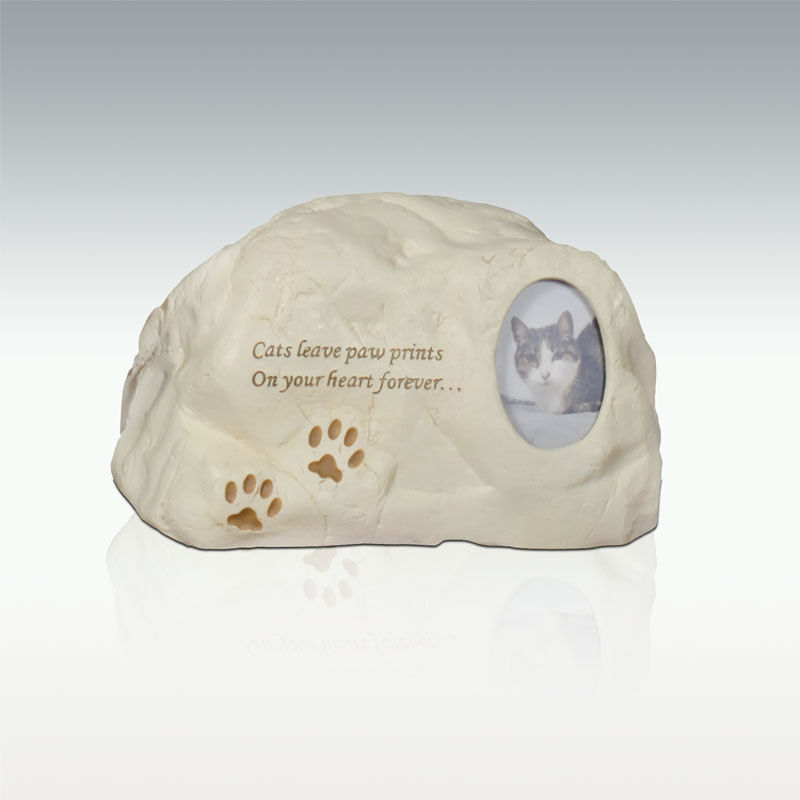 ---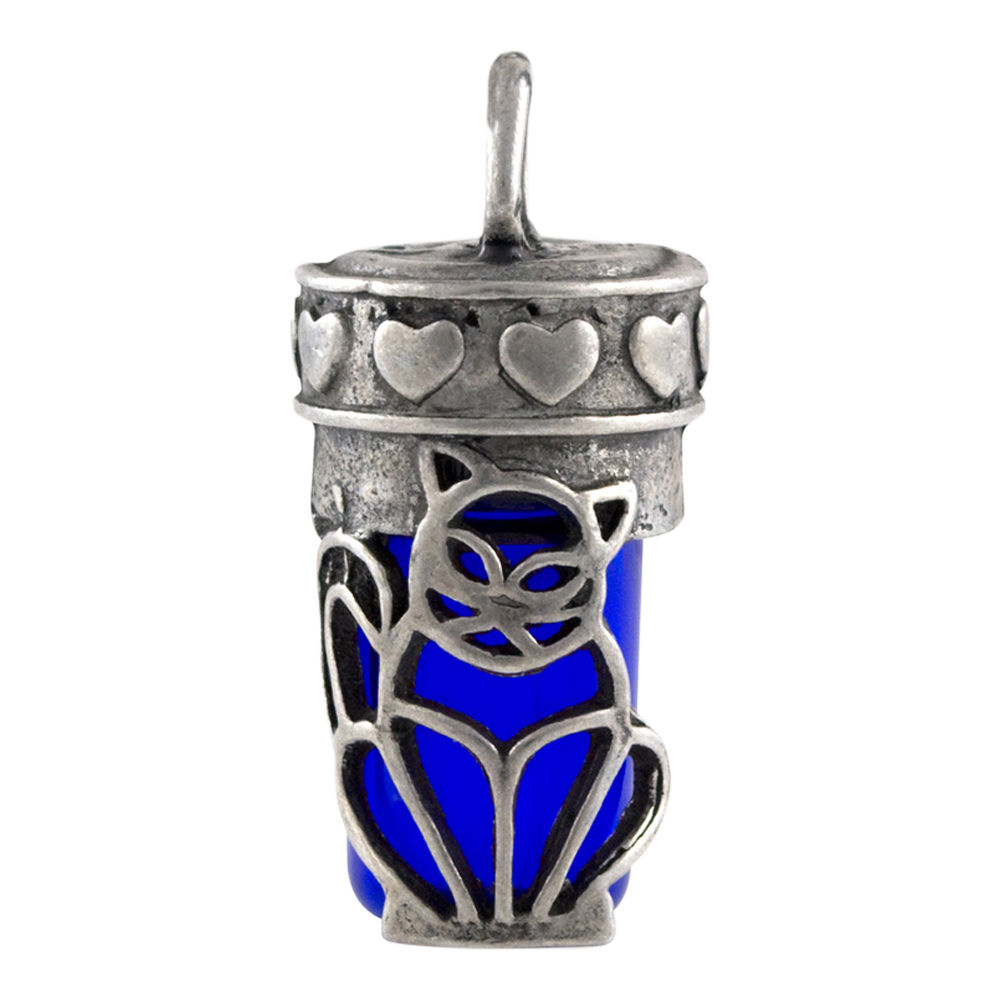 Blue Kitty Cremation Pendant

Perfect Memorials also does a beautiful range of cat cremation jewelry.  Click through to their store from this item page to see the full range of designs and colours. 
Wear a pinch of your fur babies ashes close to your heart. 

Buy this to wear next to your heart
---
Silver and Gold Metal Kitty with Ball of Wool Urns

You can buy these cute urns with or without the wooden base.  Some might not want everyone to know it is an urn, but just a beautiful ornament.  Others like to have the name of their precious kitty engraved on the base.  Whatever you choose these will be with you for ever. 
---
Selection of Pet Cremation Urns for Cats from Amazon


Amazon always have a great variety of pet cremation urns to choose from.  These are just a few.  You'll see more when you click through. 
If you're in the UK, click here for Amazon UK's selection. 
Also see our range of cat memorial jewelry here

For help with your grief, click here to read about coping with pet bereavement
Grief and Sympathy Home
>
Grief for Pets
> Cat Cremation Urns
---
Join us on Facebook for articles, support, discussion and more.  Click 'Like' below.

---
Sign up for our newsletter and receive:

"The 10 Most Important Things You Can Do
To Survive Your Grief And Get On With Life"
Our free downloadable and printable document "The 10 Most Important Things You Can Do To Survive Your Grief And Get On With Life" will help you to be positive day to day.  
The 10 points are laid out like a poem on two pretty pages which you can pin on your fridge door to help you every day! 
All you have to do to receive this free document is fill in your email address below. 
You will also receive our newsletter which we send out from time to time with our newest comforting and helpful information.   You can unsubscribe any time you like, and don't worry, your email address is totally safe with us. 
---