Funeral Poems for a Child or Baby
We hope you will find a poem for your child's funeral that speaks to you and honours your child as you would like to remember them.  We wish you our most heartfelt sympathies for your loss. You will find many pages of advice to help you cope with your grief on our website.  
Several of these poems have been written specially for us and so are new and unique to our site.  Please feel free to use them for your funeral or ceremony and for sending messages of condolence but please respect the copyright of those poems marked and do not publish elsewhere without our permission.  
Rouleau by Locke W. Jones

You rolled into the universe
Rolled in the womb
Rolled in my arms
As we rolled down hills.
Your laughter rolled through our home
Your snores rolled with the sun
We rolled you with love
Our rolling happy love.
Where did you roll off too?
I can't help but wonder
As the seasons roll by
The ache rolls like thunder.
No hills
No arms
No womb
No universe
Will ever weigh the same
The day my love rolled away.
© Copyright GriefandSympathy.com

---
For Ben - Anon


Eyes that twinkle sunshine
A face that breaks your heart
That special look of innocence
Remains while we're apart.
We had you for a short while, 
But you brought so many joys, 
Now play in peace our baby,
Enjoy your angel toys.  
Time will bring us comfort
While waiting for the day
When we will be together again
Not just a whisper away.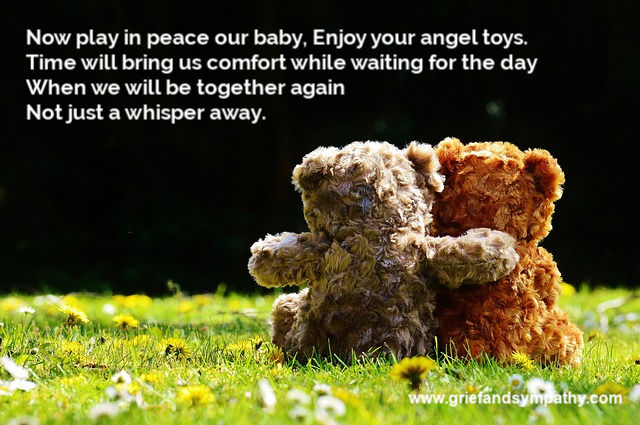 ---
Epitaph on a child by Thomas Gray(1716 - 1771)

Here, freed from pain, secure from misery, lies
A child, the darling of his parents' eyes:
A gentler lamb n'er sported on the plain,
A fairer flower will never bloom again:
Few were the days allotted to his breath;
Now let him sleep in peace his night of death.
---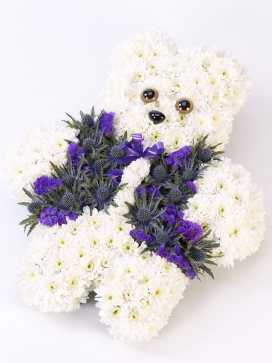 Choose Funeral Flowers for a Child
---
A Child Loaned - Anon - First Published in a newspaper circa 1930


I will lend you, for a little time,
A child of mine, He said.
For you to love the while he lives,
And mourn for when he's dead.
It may be six or seven years,
Or twenty-two or three.
But will you, till I call him back,
Take care of him for Me?
He'll bring his charms to gladden you,
And should his stay be brief.
You'll have his lovely memories,
As solace for your grief.
I cannot promise he will stay,
Since all from earth return.
But there are lessons taught down there,
I want this child to learn.
I've looked the wide world over,
In search for teachers true.
And from the throngs that crowd life's lanes,
I have selected you.
Now will you give him all your love,
Nor think the labour vain.
Nor hate me when I come
To take him home again?
I fancied that I heard them say,
'Dear Lord, Thy will be done!'
For all the joys Thy child shall bring,
The risk of grief we'll run.
We'll shelter him with tenderness,
We'll love him while we may,
And for the happiness we've known,
Forever grateful stay.
But should the angels call for him,
Much sooner than we've planned.
We'll brave the bitter grief that comes,
And try to understand.


---
Epitaph Upon A Child That by Died Robert Herrick

Here she lies, a pretty bud, 
Lately made of flesh and blood: 
Who as soon as fell fast asleep 
As her little eyes did peep. 
Give her strewings, but not stir 
The earth that lightly covers her.
---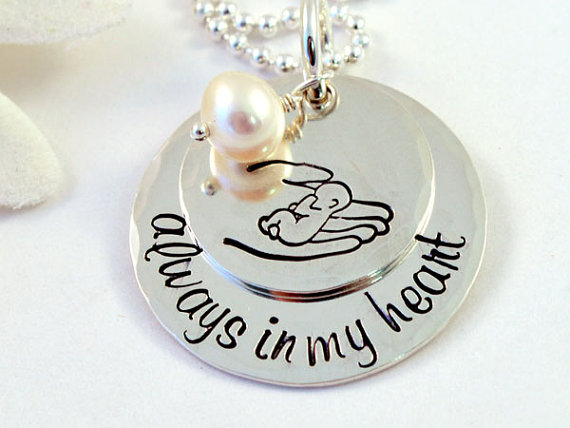 Choose a beautiful keepsake to honour your child
More Remembrance Poems for Children Commissioned Just for this Site
Lil One by Aneela Ahmed

My dear baby as I bury you today
With you die my dreams, the night forever stays.
It's not that I want to
I never knew I could
But life makes you do things
You never knew you could.
I'll cling to your memories
Your pillow I'll hug to sleep
Dressed in white oh lil one
Today your mom weeps.
You took away with you
My reason to smile
I would give my all
To make you stay a while
But some things just happen
And helpless we are
Lil one I miss you
My bright lil star.
© Copyright GriefandSympathy.com


---
The Loss of Innocence By Amelia Vandergast 

From the echo of your first cry
I felt as though my heart started to exist outside of me. 
Now that you're gone, you live inside every candle I light.
You're in the horizon of every sunrise and sunset 
glowing like the fire you set inside of me. 
I'll never stop asking why your time was cut too short,
perhaps you were too innocent for this world.
I know I'll never find an answer 
it can be hard to swallow the anger 
but I know you'd want me to keep on pushing 
so you can live forever in the garden of my memory. 
I'll water you every day 
in the hope that you're still blossoming 
you may be far from me
but I'll never admit I've lost you forever even though every day I can still feel you tearing away. 
© Copyright GriefandSympathy.com
---
I'll Hear You in My Heart by Helena Bester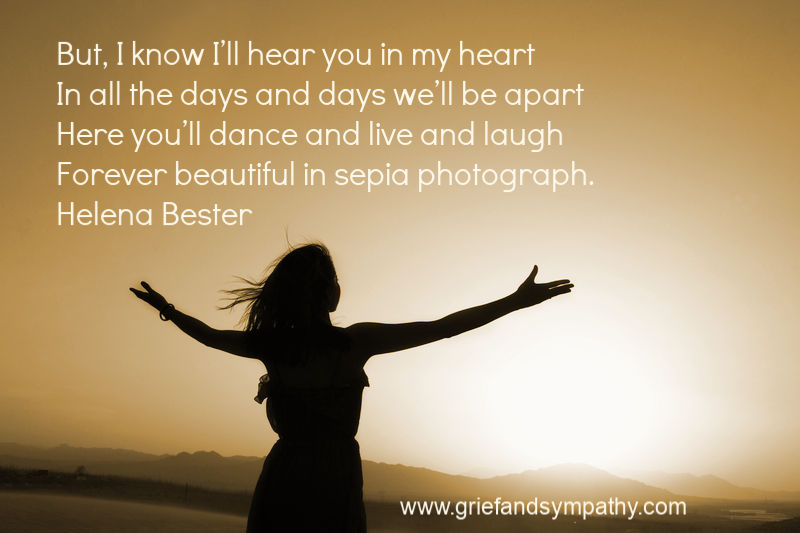 I hope to hear you in the wind
In all the days that remain
I hope to see you on the swings
Hear your laugh and feel you there again
Oh, if just for a moment I could touch the softness of your hand
Hear your excited whisper about the things we've planned
But, I know I'll hear you in my heart
In all the days and days we'll be apart
Here you'll dance and live and laugh
Forever beautiful in sepia photograph
© Copyright GriefandSympathy.com


---
Where to get help: 
---
Have You Considered One-on-One Online Grief Counseling? 
Get Expert and Effective Help in the Comfort of Your Own Home

The following information about online counseling is sponsored by 'Betterhelp' but all the opinions are our own. To be upfront, we do receive a commission when you sign up with 'Betterhelp', but we have total faith in their expertise and would never recommend something we didn't completely approve.  
Do you feel alone and sad with no support and no idea how to move forward?  It can be tough when you are stuck in grief to find the motivation to get the most out of your precious life. 
Online counseling can help by giving you that support so you don't feel so alone. You can have someone to talk to anytime you like, a kind and understanding person who will help you to find meaning in life again, to treasure the memories of your loved one without being overwhelmed and to enjoy your activities, family and friends again.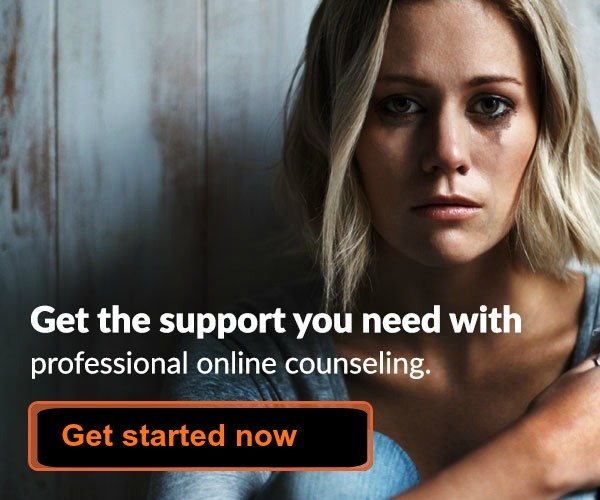 Click here to receive 20% off your first month. Exclusive to GriefandSympathy readers.
---
Sales from our pages result in a small commission to us which helps us to continue our work supporting the grieving.  

Help Other Men with their Grief in this Brief Survey

Grief and Growth Survey for Men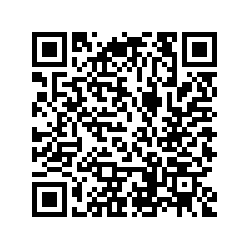 This survey by Stuart, a Master's student at Viterbo University, is focused on the relationship between resilience and grief among men who have lost a loved one within the last 30 years, are at least 18 years old, and use he/him/his pronouns.
---
Hypnosis for Grief - 10 Ways It Can Help You
Try a gentle hypnotherapy track to relax the mind. Learn how self-hypnosis can help you cope with grief at any time of the day or night.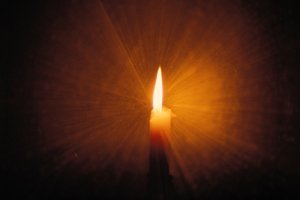 ---
---
For Remembrance: 
Sales from our pages result in a small commission to us which helps us to continue our work supporting the grieving.  
---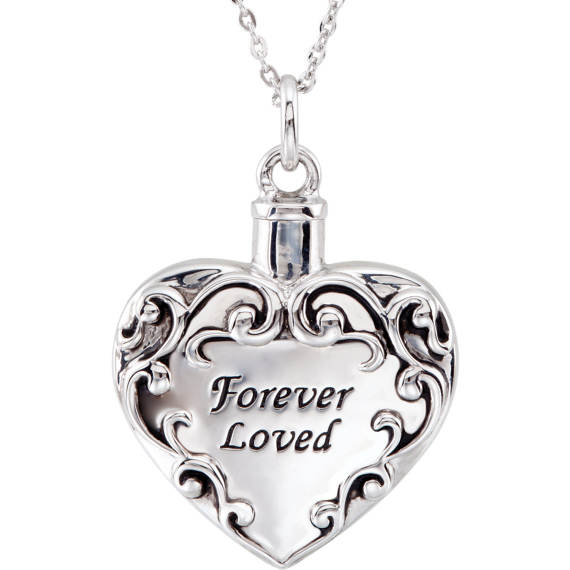 Memorial Jewelry to Honour a Loved One

Check out our lovely range of memorial jewelry for any lost loved one.  Pendants, necklaces, rings or bracelets, we have them all in all kinds of styles.  Choose for yourself or buy as a sympathy gift. 

---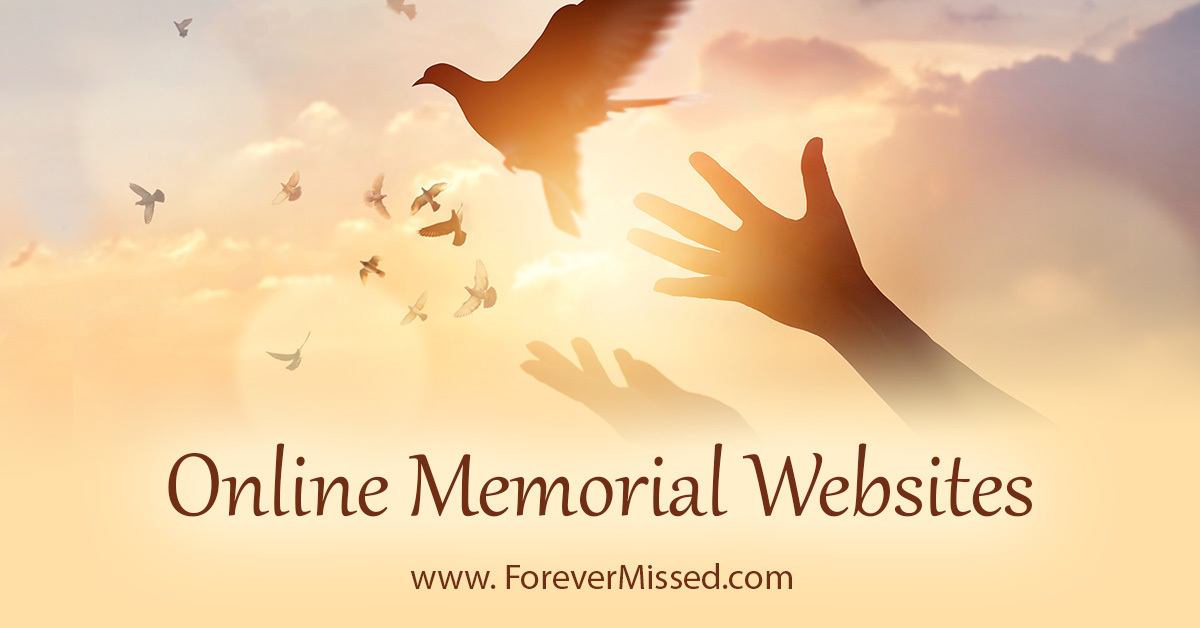 Create an Online Memorial Website
Honour your loved one with their own memorial website.  Share photos, videos, memories and more with your family and friends in a permanent online website.  Free for basic plan with no ads. 
---
Keep in touch with us: 
---
Sign up for our newsletter and receive:

"The 10 Most Important Things You Can Do
To Survive Your Grief And Get On With Life"
Our free downloadable and printable document "The 10 Most Important Things You Can Do To Survive Your Grief And Get On With Life" will help you to be positive day to day.  
The 10 points are laid out like a poem on two pretty pages which you can pin on your fridge door to help you every day! 
All you have to do to receive this free document is fill in your email address below. 
You will also receive our newsletter which we send out from time to time with our newest comforting and helpful information.   You can unsubscribe any time you like, and don't worry, your email address is totally safe with us. 
NEW BONUS - Also receive a copy of our short eBook - '99 Ways to Spot a Great Grief Counselor'.  Available for instant download as soon as you sign up. Never waste money on poor counseling again! 
---
Join us on Facebook for articles, support, discussion and more.  Click 'Like' below.

---