Alzheimer's Final Stages, What to Expect and How to Cope

Elizabeth Postle, author of "A Healing Hug for Alzheimer's Caregivers" explains what to expect in the final stages of Alzheimer's disease and how to manage the care of someone at this stage of life.

Unfortunately it is very hard to predict exactly what to expect when your loved one enters the final stages of Alzheimer's Disease.  Everyone is different, and often it is not the dementia which is life threatening, but other risks. 
Some people with Alzheimer's will be mobile right until the end, while others may be bedridden and unable to do anything for themselves.  The cause of death of many with Alzheimer's may be related to other health issues such as high blood pressure leading to strokes or chronic heart or lung conditions.  Those who have lost the ability to walk have other risks due to poor circulation from inactivity are often more prone to chest and or urine infections.
Elderly people may have several medical problems. Another aspect is the loved ones mobility. The active very mobile ones are more likely to have falls and other accidents as their judgment is diminished. Broken bones and surgery add further life threatening risks.
Specific Alzheimer's Final Stage Symptoms
If someone has not died of other causes, in the final stages of Alzheimer's they may no longer recognize people or know who you are.  They may not be able to control their bladder or their bowels and they may not be able to eat.
Advice from professional carers about changes in care plans will provide the information you need as all individuals need specific detailed care for them.
Most people will be in a care home by this stage.  If you are still caring at home, seek professional guidance, and read my book below for advice on looking after yourself too and coping with the grief.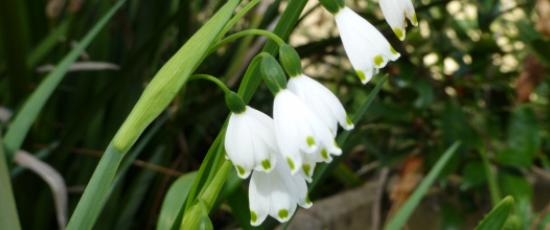 Advice for caring in Alzheimer's final stages
When any of us have a debilitating chronic illness there can still be a quality of life.  My three major considerations for all my guests over many years were:
Have they still got a good appetite and eating well?
Are they sleeping well?
Very important - are they pain free?
Always ask these questions and if not, why not?

Dietary requirements are an important element of care, can the loved one continue to feed themselves, or do they have to be fed, is the intake of food and fluids being monitored? Is the daily intake adequate if they are not supervised when given food? 
Prevention of pressure sores is essential by moving or turning the bed ridden regularly.

Pain can be controlled.

Dietitians can give advice.

Not sleeping well may be due to simple things like being too hot or cold, hungry, or needing to go to the toilet.  A comforting word or teddy to cuddle may be all that is needed, try simple remedies before resorting to medication.

Many people with dementia have the need to wander night or day then have short cat naps. Care teams may decide that this is the safe option in a controlled environment. Read also my page on Sundowning.

All carers will have ongoing evidence of changes in patterns of behavior and should have a support team in place to discuss new care needs. It is always good to discuss concerns and pool advice on day to day issues whether in a residential or own home setting.

The caring role is not an easy one at times, many challenges are faced on an hourly basis, you can only do your best and never be shy at asking for help and advice. If you accept your own limitations and don't get too tired the role can be a very satisfying one.

For more help, and advice coping with the grief of losing a loved one gradually to dementia, my new book will provide comfort and practical support.  You can find out more about what's in the book by clicking on the image.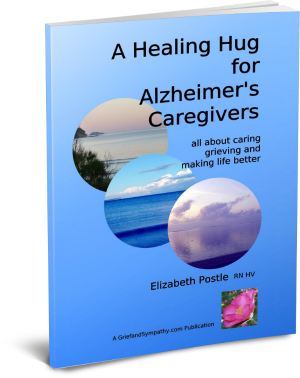 Click here to see contents
---
Related Pages: 
7 Warning Signs You Have Alzheimer's Spouse Grief
Why is Caregiver Grief after Death Such a Shock? 
---
Please Support this Site with a Donation

If you have found our site helpful, please consider a small donation towards our running costs.  It is expensive in time and money to maintain the site and we try to keep it as ad free as we can! 
If everyone were to donate just one dollar, it would cover our costs.  A little more will help us to expand and reach even more people. 

Please note we are not a not-for-profit organisation, so you won't be able to claim this donation against your tax!  But we do need to eat and pay the phone bill!
You can use your paypal account but you don't need to belong to paypal to use this secure payment button, it accepts all major debit and credit cards. We do not collect any of your personal information when you make a payment. 

We thank you and all our readers thank you for whatever you can afford. 
---
For USA Residents: 
Please help our colleagues at Memorial Sloan Kettering Cancer Center, St. Jude Children's Research Hospital, and Children's Hospital of Philadelphia, USA by joining in their research study:


SUPPORT FOR BEREAVED PARENTS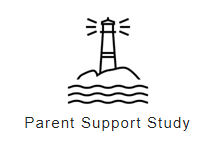 Losing a child to cancer is devastating, and there is a critical need to develop effective supports.
A federally-funded study in the United States (US) evaluating different types of support for bereaved parents is currently seeking participants. Parents residing in the US may be eligible if they lost a child diagnosed with cancer at least 6 months ago and live in one of the following states: NY, NJ, PA, CT, FL, or TN (other eligible states are being added, please complete the survey to check with us).
To find out if you may be eligible, please click here, visit our website at bereavedparentsupportstudy.com, or email us at parentstudy@mskcc.org.
---
Keep in touch with us: 
---
Sign up for our newsletter and receive:

"The 10 Most Important Things You Can Do
To Survive Your Grief And Get On With Life"
Our free downloadable and printable document "The 10 Most Important Things You Can Do To Survive Your Grief And Get On With Life" will help you to be positive day to day.  
The 10 points are laid out like a poem on two pretty pages which you can pin on your fridge door to help you every day! 
All you have to do to receive this free document is fill in your email address below. 
You will also receive our newsletter which we send out from time to time with our newest comforting and helpful information.   You can unsubscribe any time you like, and don't worry, your email address is totally safe with us. 
NEW BONUS - Also receive a copy of our short eBook - '99 Ways to Spot a Great Grief Counselor'.  Available for instant download as soon as you sign up. Never waste money on poor counseling again! 
---
Join us on Facebook for articles, support, discussion and more.  Click 'Like' below.

---