A Heartfelt Eulogy for a Brother
By Samrah Kapadia
This moving eulogy for a brother was written especially for us about a real person as an example to inspire you to write your own.  We hope that it will be of help.  There are links to more eulogies and funeral speech writing guidelines at the bottom of the page. 
---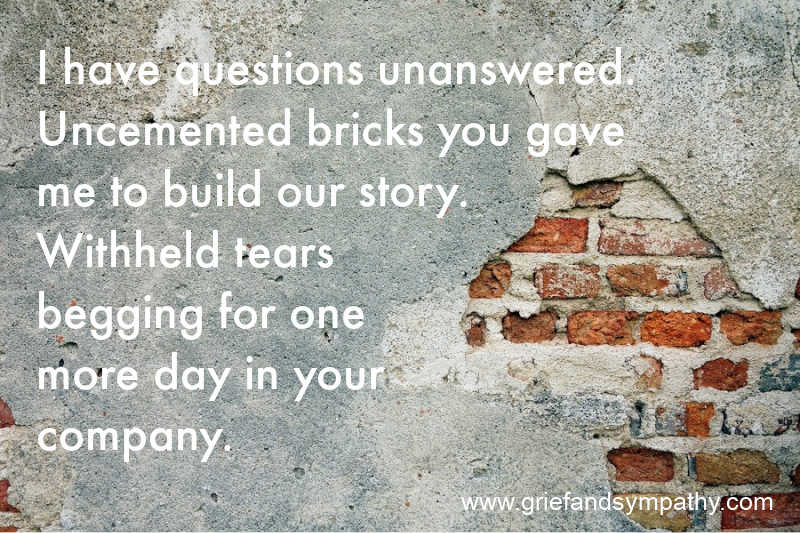 "I'd like to thank you all sincerely for coming today—for sharing, and listening, to the voice of an aching heart.
My name is Scarlet, and I am John's younger sister. If I were to think out loud, I'd say what makes a brother-sister relationship one of a kind is the way each one remembers the other when they are no longer in the same realm.
Life changes. Radically.
But memories? They don't.
And for that, I am eternally grateful.
It was just the two of us. Having lost both our parents when I was 10 while he was 16, my traumatized-self had leaned on him for everything—from the little things (e.g. I WANT to eat ice cream and I WANT to eat it RIGHT NOW!) to the slightly bigger ones (e.g. I could use some extra pocket money this month). For the biggest (e.g. we need to move to a smaller house to be able to cut back on rent); he did not let me lean on him.
Instead, he carried around my burden as though it was his. As I turn the pages of our lives together, I realize he was my strength in more ways than I had thought. He was my cozy blanket in a very lonely place. He was always saving me. Every time I skinned my knee, I'd go running to him with our grandma's first-aid kit in my hand. 
---
---
Oh, John. Thank you for being my brother. You were something else—forever leading by example, maintaining dignity, duty and decency: a combination of qualities hard to find in people today.
You taught me how to ride a bicycle. You taught me how to fix it. And through this you exemplified the very principle of a successful life – 'Keep riding; if there's a hiccup, do something about it. If you can't, start walking. Just don't ever stop."
"Life is like a bicycle in motion," you'd say, "that was always meant to cover great lengths to achieve great dreams, no matter the pitfalls."
Brothers make you who you are. The rough and tumble takes your edges off. Their slightly hidden love is plain to see.
You helped me ace my Math exams: every single time. I was one of those who never got the right solution to a complex integration calculation because I had calculated two plus two equals five.
Every morning when you dropped me to school, you'd tell me I was beautiful and that you believed in me. It was sweet, especially when you'd say it while you were upset with me—WITHOUT looking at me, simply staring into space.
You were a bit of an introvert. Stealing the limelight would have put you out of your comfort zone. But you still managed to be an outstanding, action-packed accomplisher. As if this wasn't angelic enough, during times of victory you would share the credit—during times of defeat, you would shoulder the blame.
Your one true love was the computer. Whenever I saw you in your 'once-upon-a-time-bedroom' (without regret converted into an office) toying with those plastic frames and aluminum chips and screws of all sizes and types along with screwdrivers of all sizes and types.  OK, I'm getting carried away now, but whenever I saw you tangled up like that I was forced to think you were the craziest kind of crazy. Until ASUS reached out to you and offered to pay you thousands of dollars for being crazy. That's just crazy, right?
I have questions unanswered. Uncemented bricks you gave me to build our story. With held tears begging for one more day in your company.
I have your belongings — sold by no stores. Your pictures where you look flawlessly nerdy. Your favorite worn out sneakers; I tried to put them on hoping they'd somehow fit me somehow so I do not have to give them away. Your rather old-fashioned spectacles; I've decided to keep them on the console for display.
I do realize nothing in life is a coincidence; or so I choose to believe. But would it be too much to ask, if for once, I could think otherwise? Only because it'd make grieving that much easier. I could be wrong; but how am I supposed to know for sure since you're not here?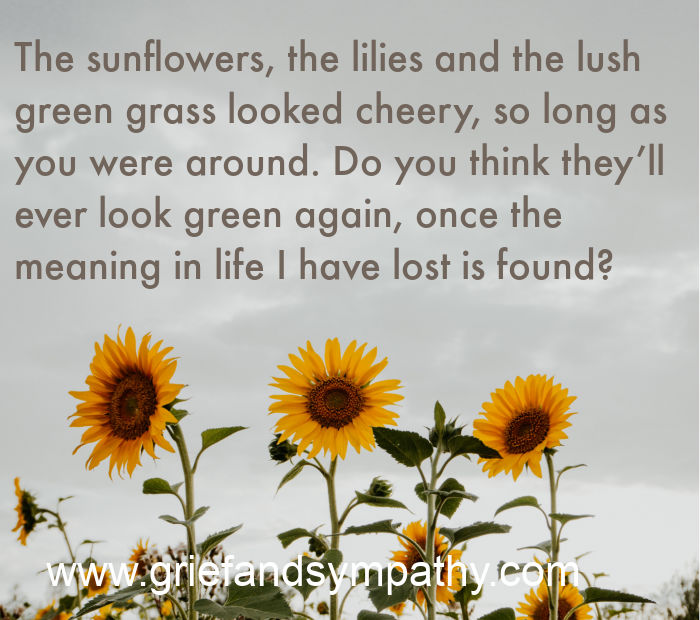 The sunflowers, the lilies and the lush green grass looked cheery, so long as you were around.
Do you think they'll ever look green again, once the meaning in life I have lost is found?"
Related Pages: 
More Funeral Speech Examples and Guidelines
---
For Remembrance: 
Sales from our pages result in a small commission to us which helps us to continue our work supporting the grieving.  
---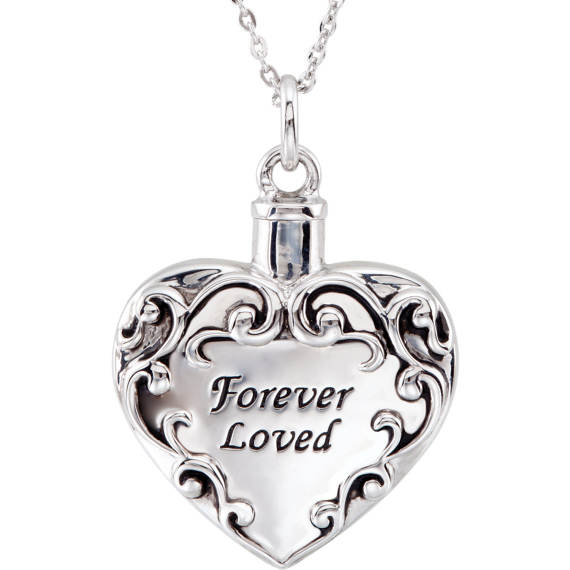 Memorial Jewelry to Honour a Loved One

Check out our lovely range of memorial jewelry for any lost loved one.  Pendants, necklaces, rings or bracelets, we have them all in all kinds of styles.  Choose for yourself or buy as a sympathy gift. 

---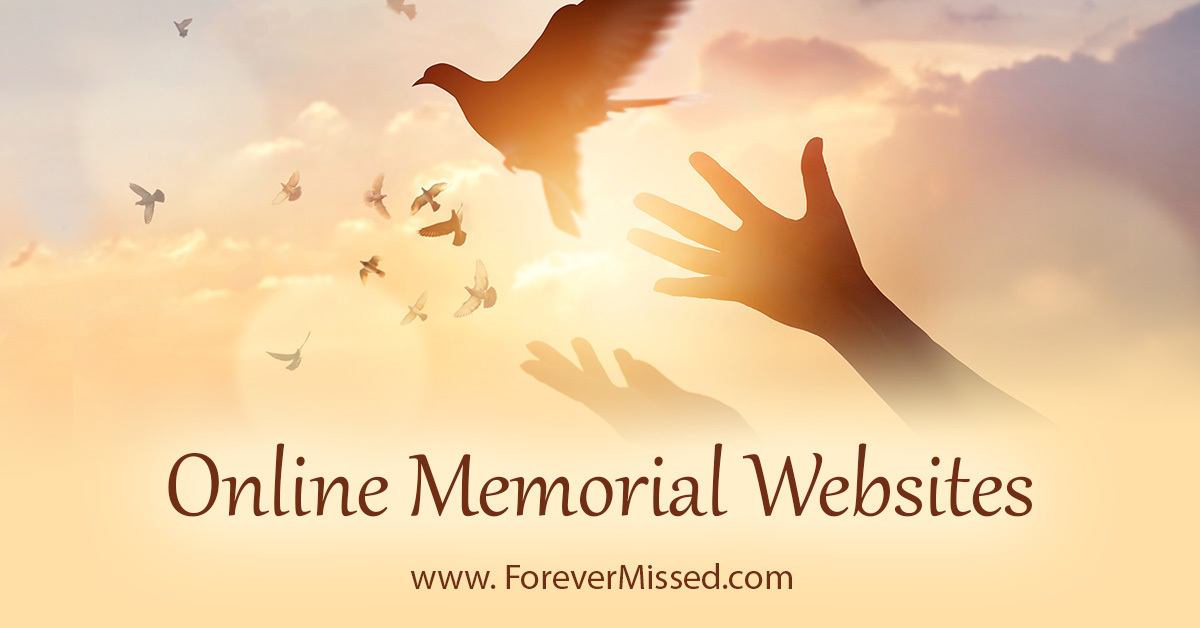 Create an Online Memorial Website
Honour your loved one with their own memorial website.  Share photos, videos, memories and more with your family and friends in a permanent online website.  Free for basic plan with no ads. 
---
Keep in touch with us: 
---
Sign up for our newsletter and receive:

"The 10 Most Important Things You Can Do
To Survive Your Grief And Get On With Life"
Our free downloadable and printable document "The 10 Most Important Things You Can Do To Survive Your Grief And Get On With Life" will help you to be positive day to day.  
The 10 points are laid out like a poem on two pretty pages which you can pin on your fridge door to help you every day! 
All you have to do to receive this free document is fill in your email address below. 
You will also receive our newsletter which we send out from time to time with our newest comforting and helpful information.   You can unsubscribe any time you like, and don't worry, your email address is totally safe with us. 
NEW BONUS - Also receive a copy of our short eBook - '99 Ways to Spot a Great Grief Counselor'.  Available for instant download as soon as you sign up. Never waste money on poor counseling again! 
---
Join us on Facebook for articles, support, discussion and more.  Click 'Like' below.

---