Eulogy for a Dearly Beloved Aunt

All of our sample eulogies are written for us about real people.  This one is by Daisy about her lovely Aunt Brenda. Scroll down to the end for links to more examples and free templates for writing your own.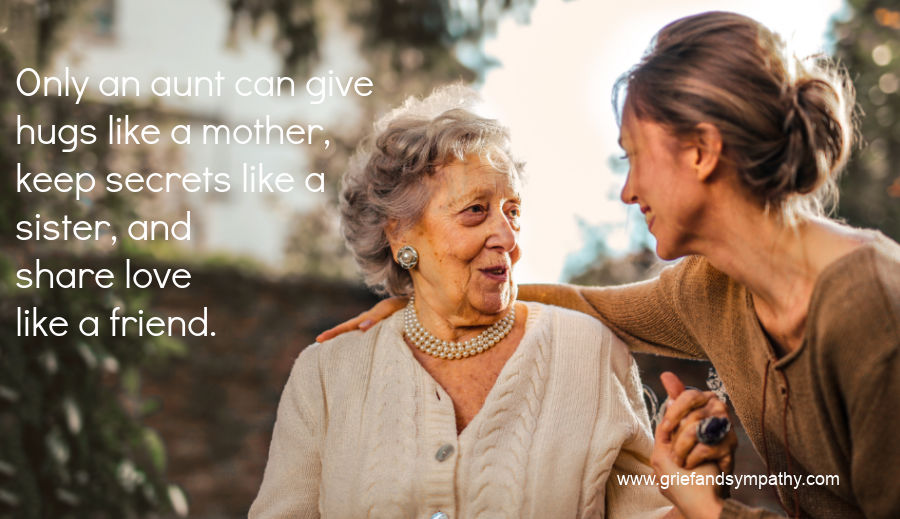 Only an aunt can give hugs like a mother, keep secrets like a sister, and share love like a friend.
It's lovely to see so many friends and family here today to celebrate Aunt Brenda's life. So many have come with flowers and pictures and stories. Although I think she may have been surprised by how many people are here, I am not in the slightest. She was the sweetest person I know and touched all those she met with her easy smile and welcoming generous ways. 
This is a time for us all to remember her never ending smile, her cheeky laugh, her cheerful and loving ways, and the good times we shared with her – whether over a meal, in her back garden, playing gin rummy, on holiday, or a chance meeting on the street.

Brenda was born in London, England on October 22, 1933 to Anne and Cyril Havelock.
She enjoyed playing the elder sister to my mum, Ethel, possibly a bit too much, though she never admitted it. In reality they were not just sisters, but best friends and could often be found giggling together, with a glint of mischievousness in their eyes!
I have so many photos of Brenda's sleek blond hair pressed against my mother's dark curls.
Although she had ambitions to become a teacher, the money for school never did quite come together. Instead Brenda found a job clerking and went to night school to learn shorthand and typing. She found a natural talent in it, and ended up, at age 22 as secretary to the head of the Bristol Aeroplane company, with full security clearance.
She had such impeccable taste in fashion and made many of her own clothes. She used to buy a copy of each newspaper so she could be sure to get the 'whole story'.

It was during this time that she met her first husband James, an handsome RAF helicopter pilot. For Brenda and James, it was love at first sight. Their courtship was brief and within the year they were married. Unfortunately it was not to last and a few years later, James was killed in action in Borneo.
It wasn't until ten years after James' death, that she met her second husband, Norman. It took him some time for him to pluck up the courage to ask her out and when he did, she turned him down flat.
Norman and Brenda had a long courtship but as he used to tell us, it was in that moment of haughty rejection he became determined to marry her one day.
In her final weeks, Aunt Brenda talked a lot about Uncle Norman and the love she had for him – through the good times and the challenging. Theirs was a ship that would withstand the roughest seas but that would take them far in love and life.
While perhaps not an overtly affectionate couple, the discrete looks and touches that I witnessed between them were always so powerful. True team players, they were always there for each other providing support when the other needed it the most.
The last few years have been tough. She lost her best mate in Norman 3 years ago, and then was diagnosed with cancer. It's a lot to take in 10 months. Every time she gathered momentum to get her life back on track something else got thrown at her.
Nonetheless, during this time she continued to travel, play gin rummy and host long talks with me in her back garden.
As a child, I remember her reading books to me while I played with my dolls at the lake. Watching old reruns of Perry Mason and Mash with me when my parents needed a sitter. As soon as she found out what my favourite dish was she would make sure to have it the next time I visited.
I remember watching Crufts with her every spring on television, each of us rooting for our favourite dog and trash talking the rest.
As I got older we'd have long talks in the back garden with her tortoise Poppy, munching on some fresh strawberries, and us enjoying a bottle of wine or cup of coffee. I remember she had named all the hedgehogs she left cat food out for  – funny what we remember!
Somehow she managed to impart her values and standards to me in a subtle way, helping me grow into the person I am today.
While she may not have realised it due to our many differences – I've never understood the need to iron jeans – she was a true role model for me and I hope to be able to continue to grow and exhibit the lessons she taught me as I continue on my own journey in life.
Aunt Brenda, I will miss your guidance and your laughter. I will hold you in my heart forever. Rest in Peace. 
Related Pages:
Funeral Speech Examples and Guidelines for Writing Your Own
Eulogy for Aunt From Niece
---
For Remembrance: 
Sales from our pages result in a small commission to us which helps us to continue our work supporting the grieving.  
---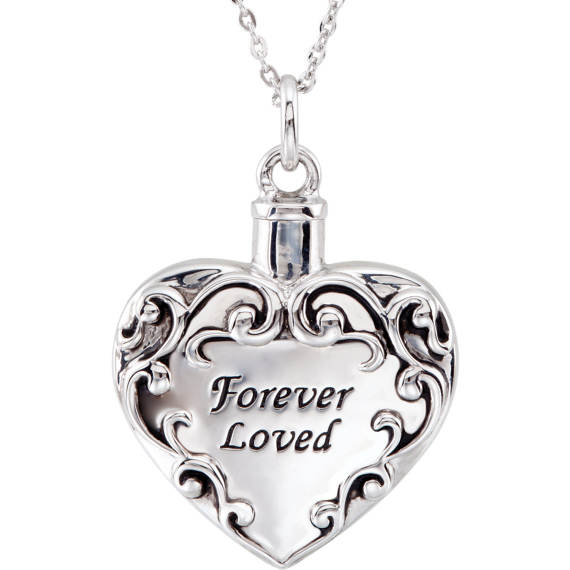 Memorial Jewelry to Honour a Loved One

Check out our lovely range of memorial jewelry for any lost loved one.  Pendants, necklaces, rings or bracelets, we have them all in all kinds of styles.  Choose for yourself or buy as a sympathy gift. 

---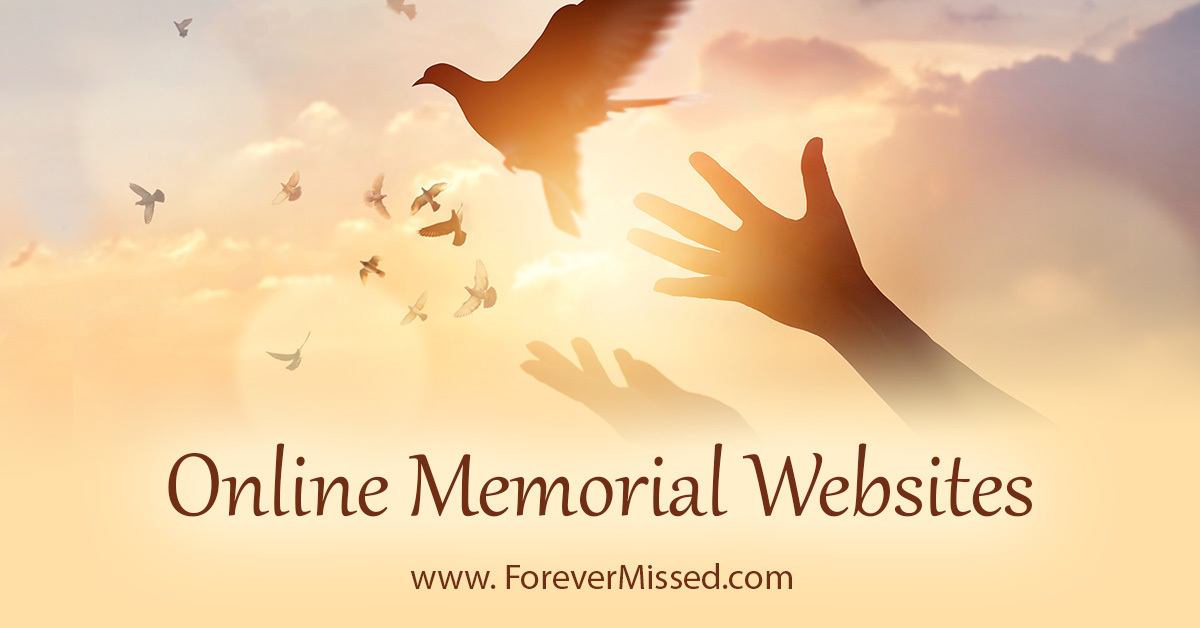 Create an Online Memorial Website
Honour your loved one with their own memorial website.  Share photos, videos, memories and more with your family and friends in a permanent online website.  Free for basic plan with no ads. 
---
For USA Residents: 
Please help our colleagues at Memorial Sloan Kettering Cancer Center, St. Jude Children's Research Hospital, and Children's Hospital of Philadelphia, USA by joining in their research study:


SUPPORT FOR BEREAVED PARENTS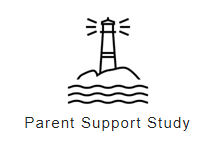 Losing a child to cancer is devastating, and there is a critical need to develop effective supports.
A federally-funded study in the United States (US) evaluating different types of support for bereaved parents is currently seeking participants. Parents residing in the US may be eligible if they lost a child diagnosed with cancer at least 6 months ago and live in one of the following states: NY, NJ, PA, CT, FL, or TN (other eligible states are being added, please complete the survey to check with us).
To find out if you may be eligible, please click here, visit our website at bereavedparentsupportstudy.com, or email us at parentstudy@mskcc.org.
---
Keep in touch with us: 
---
Sign up for our newsletter and receive:

"The 10 Most Important Things You Can Do
To Survive Your Grief And Get On With Life"
Our free downloadable and printable document "The 10 Most Important Things You Can Do To Survive Your Grief And Get On With Life" will help you to be positive day to day.  
The 10 points are laid out like a poem on two pretty pages which you can pin on your fridge door to help you every day! 
All you have to do to receive this free document is fill in your email address below. 
You will also receive our newsletter which we send out from time to time with our newest comforting and helpful information.   You can unsubscribe any time you like, and don't worry, your email address is totally safe with us. 
NEW BONUS - Also receive a copy of our short eBook - '99 Ways to Spot a Great Grief Counselor'.  Available for instant download as soon as you sign up. Never waste money on poor counseling again! 
---
Join us on Facebook for articles, support, discussion and more.  Click 'Like' below.

---