Sympathy Messages for Loss of a Wife
If you're trying to express your sympathy to someone on the loss of their wife, you're in the right place.  We have put together lots of condolences on the loss of a wife which have been written for real people.
Take inspiration from these ideas. You can take bits from any of the messages and mix them together to make them specific to what you want to say. Add in a personal memory and you have the perfect sympathy note to put in a card or letter. 
Buy your sympathy cards from our own designs here. 
You can choose the perfect sympathy gift here too.
---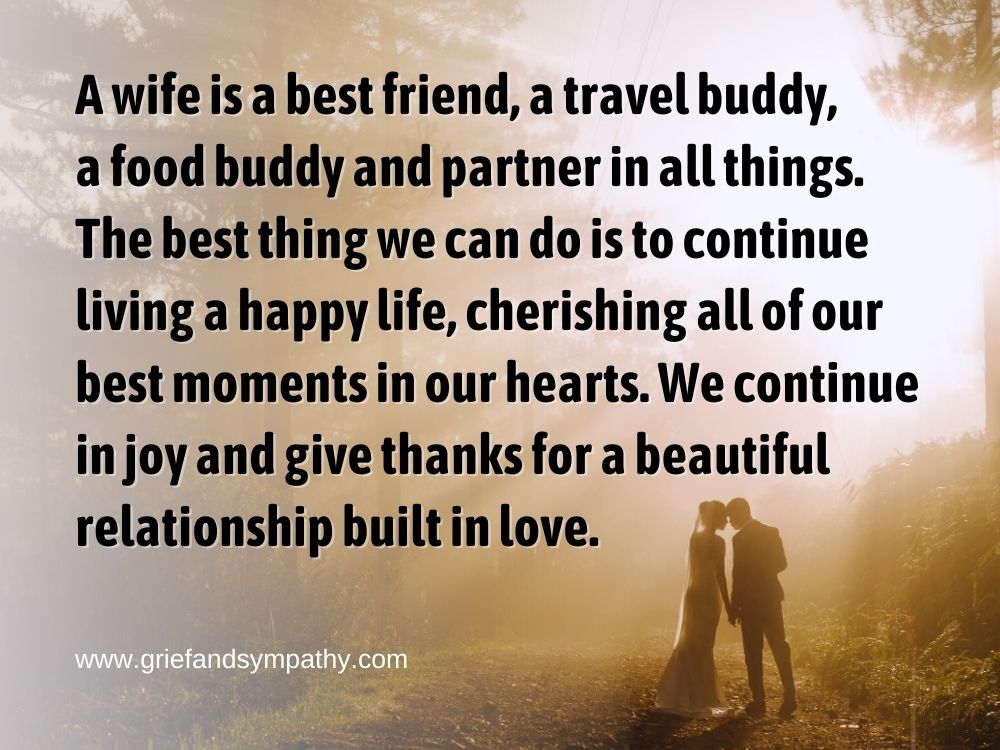 Your wife was one of the most incredible people I've met in my life. She was always known to uplift the people around her and I am privileged enough to be one of those.
She will never be forgotten and I will truly miss her dearly.
The two of you shared so much of life together. Your relationship was definitely one of a kind. I was witness to how she was your best friend, travel buddy, and partner in everything.
I know that this change will be overwhelming and difficult at times but know that she is always in our hearts.
I will surely cherish all of our best moments. Please take care and call me if you need anything.
---
I was so sorry to hear about your wife and wish to express my deepest sorrow at this time.
I saw how she was your strength and confidante during tough times. I know she was with you in the sunshine and the storms. She was always so bubbly and always thinking positively.
She never said anything bad about anyone and was always looking at the glass half full. You both are so lucky to have had each other.
I know the love you feel for her will always remain. The memories we have of her will continue.
I hope you find comfort in those around you. Do not feel like you are alone through this. I am just one phone call away if you need someone to talk to. I'm here with you through this
---
Dear Jonah
It's painful to lose your spouse, your companion. It's such a dark cloud of sorrow and grief for all of us.
Your wife was so dear to us. Sadly, death has snatched her from us. We will always remember her. Send my hugs to the children. I am here for you.
Emy
---
"Your darling wife, your better half, the one you always kissed.
Was wonderful in every way and will be forever missed
I know the words upon this page will never ever do, but we mean them and just want to say we're always here for you."
---
Dear Gary
The death of your wife is so painful. She had such a fine personality and was a loving person to be with.
We are deeply hurt. We lost a beautiful soul.
Please take heart, and may her beautiful memories comfort you and your family.
We send our love and hugs to you all.
Emily and Gabriel
---
I feel deep sorrow after hearing the news of your wife's passing away.
'Till death do us apart' - you fulfilled your vows.
I hope you find strength and courage in this dark hour. And I wish that at the end of the day you come out stronger and more resilient.
---
I am so sorry for your loss. I hope with all my heart that you gain the strength and patience to bear this grief. The words of consolation may not seem to register right now. But one day they will make sense.
Stay put together till then.
---
My heart goes out to you and your family during this time of sorrow. As you learn to cope with the loss of your wife, take all the time you need to heal from your pain and grief.
We remember her with the highest regard and hold her loving memories forever in our hearts.
I hope one day you'll find comfort in the little things you both enjoyed most and that you'll take everything one day at a time. On your most painful days, remember that what you're going through is tough, but you are tougher.
---
I cannot imagine the heartache you feel at this time or the sadness you are experiencing, but I'd like to extend my sincerest condolences to you and your family on the passing of your wife. May you never forget her kind spirit or the ways she made each day brighter. The joy she brought to your life and the warmth of her hugs.
Stay strong and remember how many people care about you.
---
No words can ever express the sympathy and empathy we feel for you at this time, but just know this: that she was loved by many.
We share the smallest part of your grief and feel your pain in our hearts.
---
I'm sending my deepest, deepest condolences for the passing of your wife. There are no words that can fully convey how sorry I am.
I'm here for you with whatever you may need: a shoulder to cry on, fresh meals, or errands, don't hesitate to call at any time.
---
I'm utterly devastated by your wife's passing. She was one of the most thoughtful people I've ever met, and she touched the lives of those around her. I won't forget how welcoming she was when we first moved into the neighborhood. I was so nervous meeting everyone at that first cookout, but she made me feel so at home with her warm personality.
I wish you strength and comfort at this sad time.
Sympathy for Loss of Wife
---
For Remembrance: 
Sales from our pages result in a small commission to us which helps us to continue our work supporting the grieving.  
---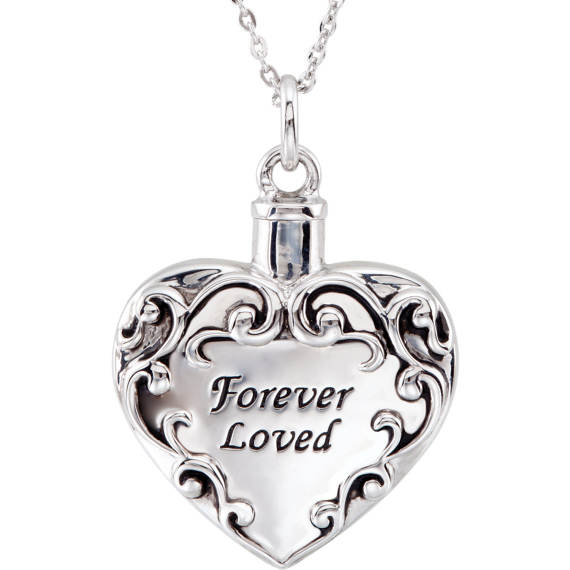 Memorial Jewelry to Honour a Loved One

Check out our lovely range of memorial jewelry for any lost loved one.  Pendants, necklaces, rings or bracelets, we have them all in all kinds of styles.  Choose for yourself or buy as a sympathy gift. 

---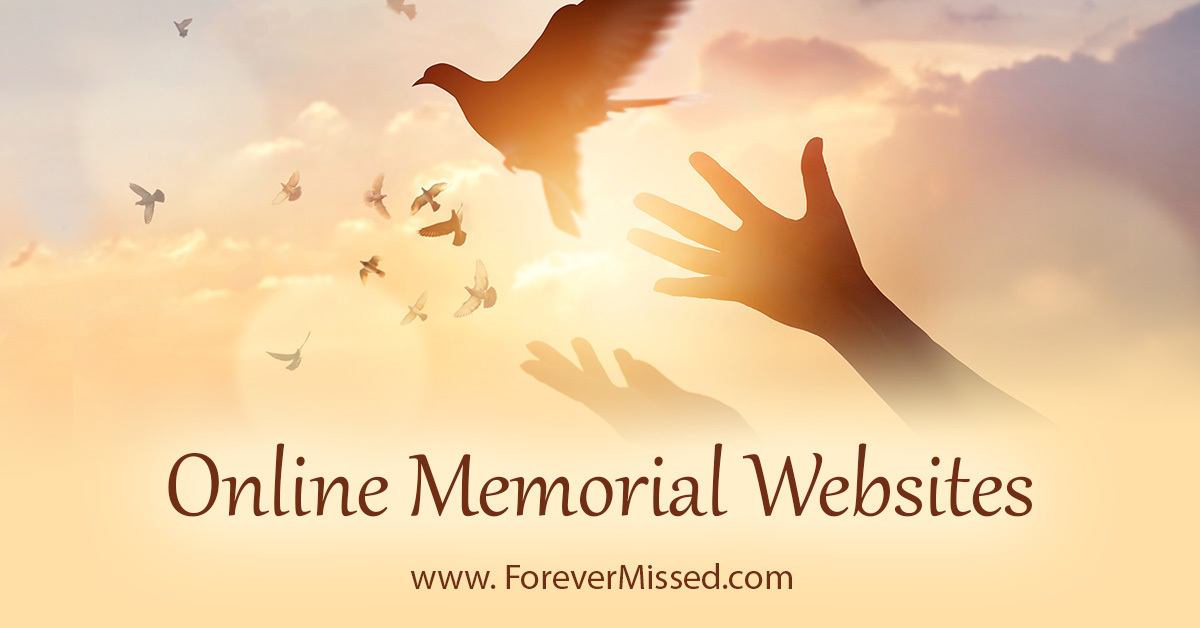 Create an Online Memorial Website
Honour your loved one with their own memorial website.  Share photos, videos, memories and more with your family and friends in a permanent online website.  Free for basic plan with no ads. 
---
For USA Residents: 
Please help our colleagues at Memorial Sloan Kettering Cancer Center, St. Jude Children's Research Hospital, and Children's Hospital of Philadelphia, USA by joining in their research study:


SUPPORT FOR BEREAVED PARENTS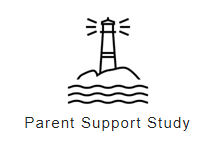 Losing a child to cancer is devastating, and there is a critical need to develop effective supports.
A federally-funded study in the United States (US) evaluating different types of support for bereaved parents is currently seeking participants. Parents residing in the US may be eligible if they lost a child diagnosed with cancer at least 6 months ago and live in one of the following states: NY, NJ, PA, CT, FL, or TN (other eligible states are being added, please complete the survey to check with us).
To find out if you may be eligible, please click here, visit our website at bereavedparentsupportstudy.com, or email us at parentstudy@mskcc.org.
---
Keep in touch with us: 
---
Sign up for our newsletter and receive:

"The 10 Most Important Things You Can Do
To Survive Your Grief And Get On With Life"
Our free downloadable and printable document "The 10 Most Important Things You Can Do To Survive Your Grief And Get On With Life" will help you to be positive day to day.  
The 10 points are laid out like a poem on two pretty pages which you can pin on your fridge door to help you every day! 
All you have to do to receive this free document is fill in your email address below. 
You will also receive our newsletter which we send out from time to time with our newest comforting and helpful information.   You can unsubscribe any time you like, and don't worry, your email address is totally safe with us. 
NEW BONUS - Also receive a copy of our short eBook - '99 Ways to Spot a Great Grief Counselor'.  Available for instant download as soon as you sign up. Never waste money on poor counseling again! 
---
Join us on Facebook for articles, support, discussion and more.  Click 'Like' below.

---