Grief books for widows, widowers and those who have lost a partner, spouse, fiance, boyfriend or girlfriend

On this page we recommend some of the best books on grief and loss for widows or widowers and those who have lost a partner, but they will be of help to anyone suffering the loss of a loved one.  
Often they are written by men or women while they were living through the pain and confusion of grief.  But we will only recommend those books we feel are positive and will help with your journey along the pathways of grief.

---
Companion through the Darkness – Inner dialogues on grief, Stephanie Ericsson
One of the best books exploring the feelings and experiences of grief is by Stephanie Ericsson who lost her husband suddenly when she was pregnant with their first child.
"Companion through the Darkness" is the only book recommended by the specialist widows website.  This is no surprise, as it is such a beautifully expressed diary of many of the taboo feelings that those experiencing grief find it hard to talk about.  Many of the subjects explored will be relevant to you whether you have lost a partner or any other family member or friend.   Stephanie doesn't shy away from the pain of grief, but shows how she works through her feelings to come out finally with a positive outlook for the future.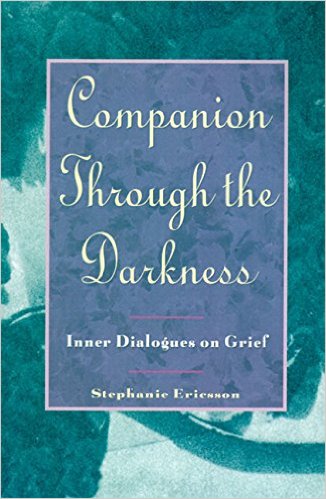 Click through to read a sample and reviews on Amazon
---
Widows Wear Stilettos: A Practical and Emotional Guide for the Young Widow
by Carole Brody Fleet and Syd Harriet
This book is what is says in the title.  Aimed at younger widows, it doesn't shy away from humour and facing life head on.  It has mostly excellent reviews, though not everyone can appreciate Carole Brody Fleet's sense of humour and style. 

From a practical point of view it is full of useful information, and it is an easy read.  Have a look inside the book by clicking on the image, and make up your own mind.  You can read several pages of the book before deciding to buy, and you can soon see whether you like the style.  Probably not a book for the boys though!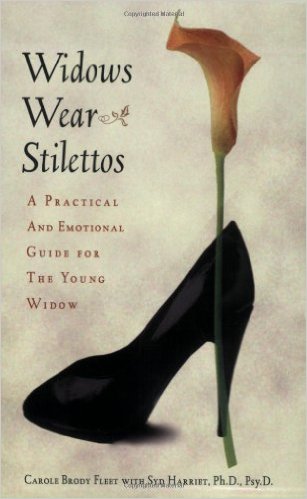 Click to see inside
---
The Young Widow's Book of Home Improvement by Virginia Lloyd
"in attempting to write about grief, and about love, I suspect some experiences are beyond language"
Written by a woman who loses her husband of less than a year to bone cancer, this book tells of their journey through his disease. She writes about their feelings, hopes and fears, as well as the joy they shared as newly weds and how they managed to deal with the loss. She describes coping with the knowledge that he was going to die and how she lived through his death and her grief. Virginia Lloyd and her husband John come across as an extremely brave couple who made the most of every day that their short marriage gave them. Although at times excruciatingly painful, both emotionally and physically, they managed to find much beauty, humour and love in their short time together
The home improvement in the title refers to the fact that Virginia was left with a home falling apart with rising damp when her husband died. They hadn't had the chance to tackle it while he was still alive due to the daily demands of coping with his disabilities. Virginia throws herself into saving her home as her way of surviving her grief and keeping herself occupied. She finds comfort in colour, and music and art.
Sometimes it is risky to read of other people's grief when coping with your own, but this book doesn't wallow in self-pity. It is uplifting at times and beautifully expressed, but it is also realistic, down to earth and has lots of practical ideas for how to deal with the loss of a husband or indeed any loved one.
It may help some people to feel that they are not alone, and that someone else has been through a similar experience.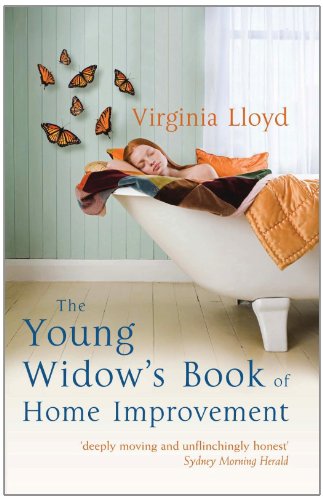 Click to order now
---
A Grief Observed by C. S. Lewis
These words about this classic grief book were sent to us by Elaine Mansfield  (Burdett, NY USA)
"This memoir was first published in 1961. There's a reason it's still available. Lewis did not tell me how to get my act together in a practical sense. Instead, he helped me open my eyes in the new untethered world where I found myself. He helped me feel the terrain and depth of my grief. His reflections normalized my experience and helped me find meaning.

The book was written after his wife's death as a way of surviving the madness he felt when his faith was shaken to the core. A Grief Observed is an honest, deeply moving inward search for understanding and hope.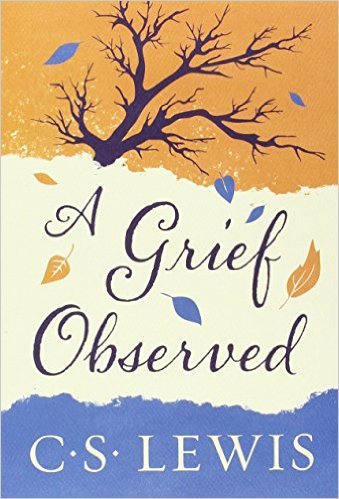 Click here to own this classic book
---
Leaning into Love: A Spiritual Journey Through Grief by Elaine Mansfield
Elaine Mansfield, who wrote the comments about the book above, has written her own book about her journey after losing her beloved husband.  We have been reading Elaine's articles and blog for a long time, and we are always touched by the way she finds beauty in tragedy and in everything around her. 
Elaine is definitely an inspirational writer who really gets to the heart of grief, what it means and how it helps us to grow.  Click on the book to read the wonderful reviews this book has received.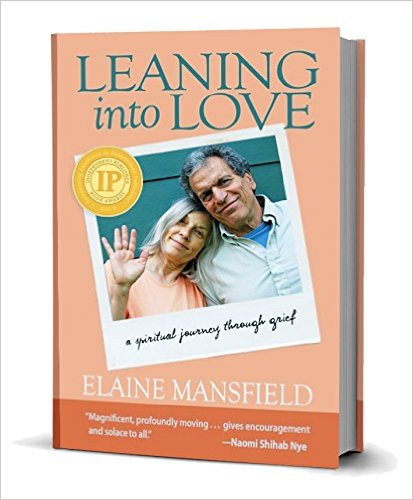 Click to read her wonderful reviews
---
Listen for the Whispers by Kim Kluxen Meredith
Learning to cope with tragedy while at the same time bringing up her two young children, Kim K Meredith brings a strength of character and hope to her grief from which we can all learn.  
What we like about this book is that she doesn't stop with just telling her story, but adds chapters at the end giving advice which is easy to follow, practical and very helpful.  The imagery of the whispers chimes well with the idea of grieving mindfully rather than closing off one's mind to avoid facing painful emotions.  Kim's warmth, compassion and positivity are a great help to those facing their own journey to creating a new life worth living after loss.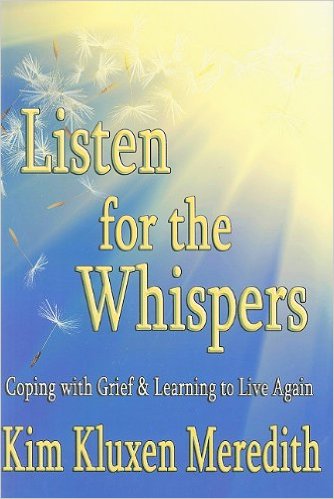 Read the reviews of this helpful book
---
Loving Grief by Paul Bennett
This is an inspirational book written from the heart, following the death of a much loved wife Bonnie.  In it Paul Bennett takes us along his overwhelming pathways of sadness after his loved one died.  He describes how grief is the other side of love, how exhausting our daily routines become following a loss and his eventual walk along new pathways to peace.

Anyone suffering loss will find solace in these pages.  You will weep with him but also find comfort and a reason to go on.  A superbly written book.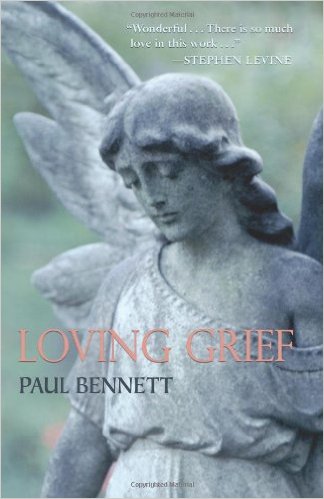 Click to read a sample and reviews
---
Do you have a book on grief to recommend?
If you have read a book which has given you comfort or helped you in your grief, we'd love to hear about it. If it was specially for those who have lost a partner or spouse why not tell us about it here? If it's a different kind of grief book, see our other pages of grief books for the right section. Don't forget to give us the full title and author of the book and tell us why you found it useful. Many thanks for sharing with us.
What Other Visitors Have Said
Click below to see contributions from other visitors to this page...

A Time to Grieve by Carol Staudacher
It has a grieving process that is written for any age. This book has meditations that speak to you and helps you through your worst and most painful moments...It …
Discover More Comforting Books on Grief

For help from this site with coping with the loss of a husband or wife 
Grief Books for Widows and Widowers
---
Where to get help: 
---
Have You Considered One-on-One Online Grief Counseling? 
Get Expert and Effective Help in the Comfort of Your Own Home

The following information about online counseling is sponsored by 'Betterhelp' but all the opinions are our own. To be upfront, we do receive a commission when you sign up with 'Betterhelp', but we have total faith in their expertise and would never recommend something we didn't completely approve.  
Do you feel alone and sad with no support and no idea how to move forward?  It can be tough when you are stuck in grief to find the motivation to get the most out of your precious life. 
Online counseling can help by giving you that support so you don't feel so alone. You can have someone to talk to anytime you like, a kind and understanding person who will help you to find meaning in life again, to treasure the memories of your loved one without being overwhelmed and to enjoy your activities, family and friends again.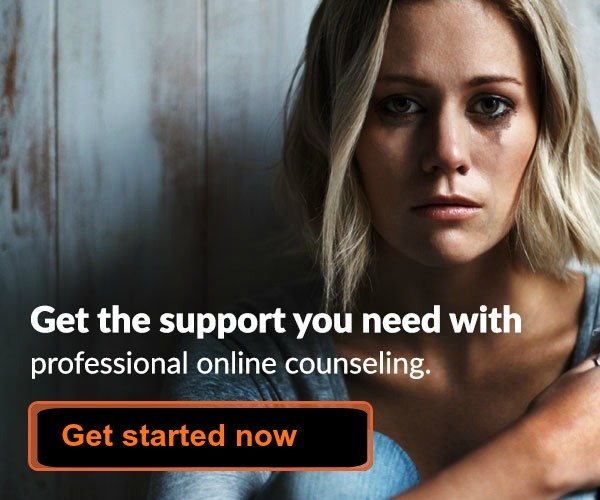 Click here to receive 20% off your first month. Exclusive to GriefandSympathy readers.
---
Sales from our pages result in a small commission to us which helps us to continue our work supporting the grieving.  

Help Other Men with their Grief in this Brief Survey

Grief and Growth Survey for Men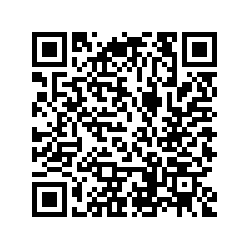 This survey by Stuart, a Master's student at Viterbo University, is focused on the relationship between resilience and grief among men who have lost a loved one within the last 30 years, are at least 18 years old, and use he/him/his pronouns.
---
Hypnosis for Grief - 10 Ways It Can Help You
Try a gentle hypnotherapy track to relax the mind. Learn how self-hypnosis can help you cope with grief at any time of the day or night.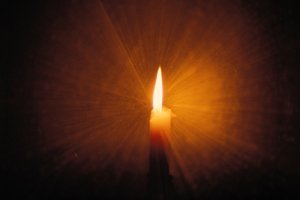 ---
---
For Remembrance: 
Sales from our pages result in a small commission to us which helps us to continue our work supporting the grieving.  
---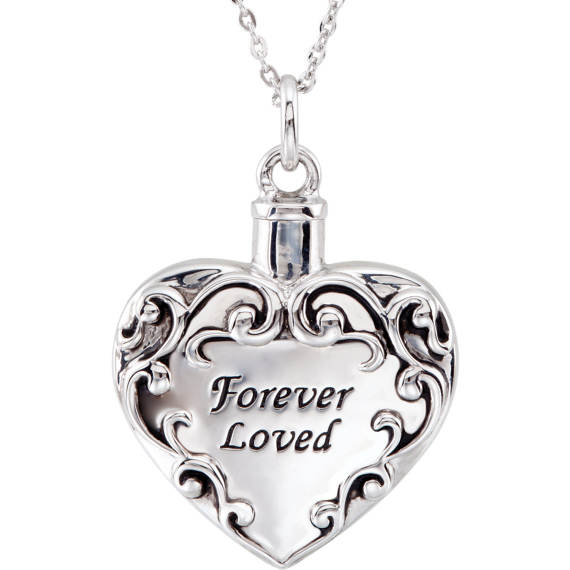 Memorial Jewelry to Honour a Loved One

Check out our lovely range of memorial jewelry for any lost loved one.  Pendants, necklaces, rings or bracelets, we have them all in all kinds of styles.  Choose for yourself or buy as a sympathy gift. 

---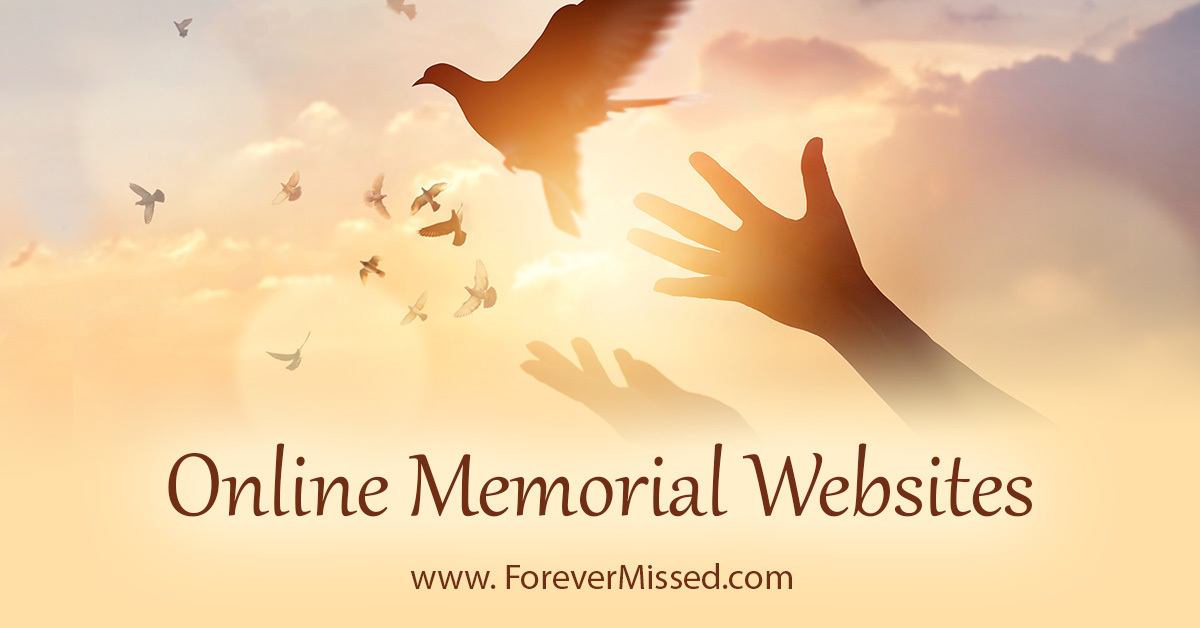 Create an Online Memorial Website
Honour your loved one with their own memorial website.  Share photos, videos, memories and more with your family and friends in a permanent online website.  Free for basic plan with no ads. 
---
Keep in touch with us: 
---
Sign up for our newsletter and receive:

"The 10 Most Important Things You Can Do
To Survive Your Grief And Get On With Life"
Our free downloadable and printable document "The 10 Most Important Things You Can Do To Survive Your Grief And Get On With Life" will help you to be positive day to day.  
The 10 points are laid out like a poem on two pretty pages which you can pin on your fridge door to help you every day! 
All you have to do to receive this free document is fill in your email address below. 
You will also receive our newsletter which we send out from time to time with our newest comforting and helpful information.   You can unsubscribe any time you like, and don't worry, your email address is totally safe with us. 
NEW BONUS - Also receive a copy of our short eBook - '99 Ways to Spot a Great Grief Counselor'.  Available for instant download as soon as you sign up. Never waste money on poor counseling again! 
---
Join us on Facebook for articles, support, discussion and more.  Click 'Like' below.

---