10 Funeral Poems for Dads
"A father is a son's first best friend, and a daughter's first love."
Along with some old favourites we have commissioned a few brand new funeral poems for Dads so you can read out something really special to honour your father.
One of the poems is actually a song too which you can listen to on a video. 

1. Happy the Man by John Dryden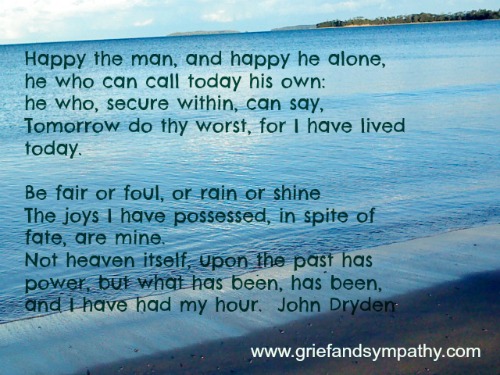 Happy the man, and happy he alone,
He who can call today his own:
He who, secure within, can say,
Tomorrow do thy worst, for I have lived today.
Be fair or foul or rain or shine
The joys I have possessed, in spite of fate, are mine.
Not Heaven itself upon the past has power,
But what has been, has been, and I have had my hour.

---
2. Not How Did He Die by Summer Sandercox


Not how did he die, but how did he live?

Not what did he gain, but what did he give?

These are the units to measure the worth

Of a man as a man, regardless of birth.

Not, what was his church, nor what was his creed?

But had he befriended those really in need?

Was he ever ready, with word of good cheer,

To bring back a smile, to banish a tear?

Not what did the sketch in the newspaper say,

But how many were sorry when he passed away.

---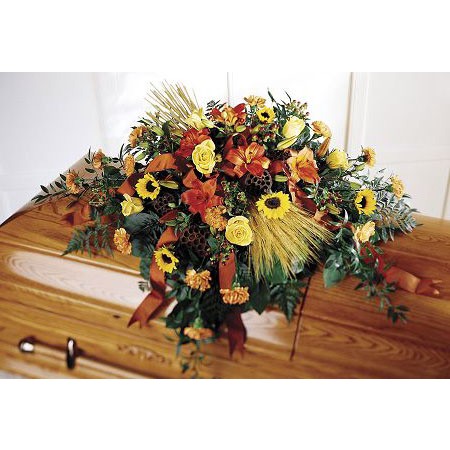 Choose from Our Selected Funeral Flowers for Men
---
3. He is Gone - David Harkins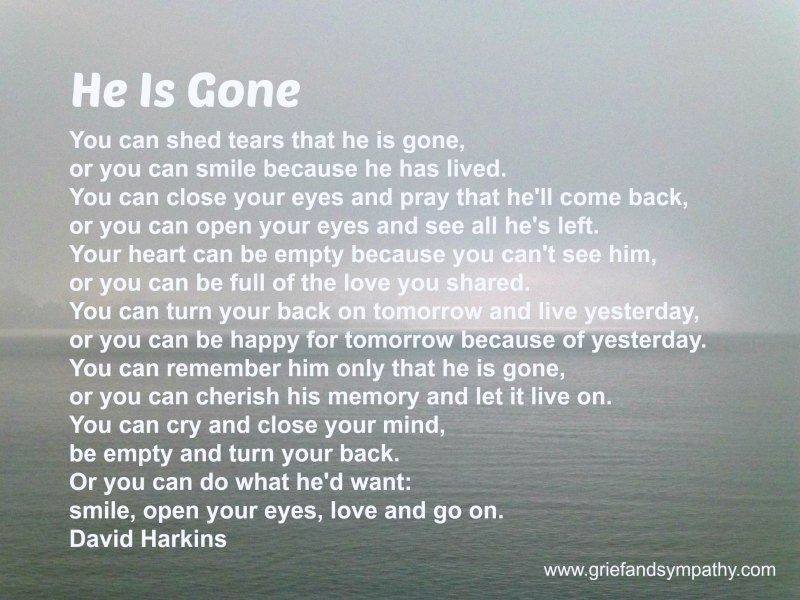 You can shed tears that he is gone,
or you can smile because he has lived.
You can close your eyes and pray that he'll come back,
or you can open your eyes and see all he's left.
Your heart can be empty because you can't see him,
or you can be full of the love you shared.
You can turn your back on tomorrow and live yesterday,
or you can be happy for tomorrow because of yesterday.
You can remember him only that he is gone,
or you can cherish his memory and let it live on.
You can cry and close your mind,
be empty and turn your back.
Or you can do what he'd want:
smile, open your eyes, love and go on.

---
4.  Epitaph on a Friend - Robert Burns (1759 - 1796)
An honest man here lies at rest,
The friend of man, the friend of truth;
The friend of age, and guide of youth:
Few hearts like his, with virtue warm'd,
Few heads with knowledge so inform'd:
If there's another world, he lives in bliss;
If there is none, he made the best of this.

---
5. Old Men Forget - Stanley of Alderley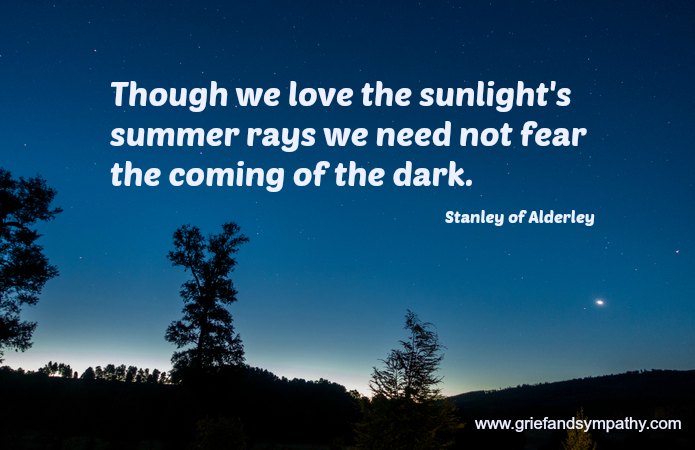 'Old men forget!' aye it may well be so.
But youth remembers all the magic spun
and woven in the warm fraternal glow
of your companionship.  Your day is done?
It is not true.  You know you left behind
a memory of courage which the years
can but increase.  And we, your heirs, will find
that in good truth there's nothing here for tears.
So be it.  This your legacy to youth -
to make the best of all your days
and finally to recognise the truth
and you have shown us, silhouetted, stark
that though we love the sunlight's summer rays
we need not fear the coming of the dark.


---
6. That Man is a Success by Robert Louis Stevenson
That man is a success
who has lived well,
laughed often and loved much;
who has gained the respect of intelligent men and women
and the love of children;
who has filled his niche and accomplished his task;
who leaves the world better than he found it,
who has never lacked appreciation of Earth's beauty
or failed to express it;
who looked for the best in others,
and gave the best he had.

---
7.  If by Rudyard Kipling

If you can keep your head when all about you
Are losing theirs and blaming it on you;
If you can trust yourself when all men doubt you,
But make allowance for their doubting too:
If you can wait and not be tired by waiting,
Or, being lied about, don't deal in lies,
Or being hated don't give way to hating,
And yet don't look too good, nor talk too wise;

If you can dream---and not make dreams your master;
If you can think---and not make thoughts your aim,
If you can meet with Triumph and Disaster
And treat those two impostors just the same:.
If you can bear to hear the truth you've spoken
Twisted by knaves to make a trap for fools,
Or watch the things you gave your life to, broken,
And stoop and build'em up with worn-out tools;

If you can make one heap of all your winnings
And risk it on one turn of pitch-and-toss,
And lose, and start again at your beginnings,
And never breathe a word about your loss:
If you can force your heart and nerve and sinew
To serve your turn long after they are gone,
And so hold on when there is nothing in you
Except the Will which says to them: "Hold on!"

If you can talk with crowds and keep your virtue,
Or walk with Kings---nor lose the common touch,
If neither foes nor loving friends can hurt you,
If all men count with you, but none too much:
If you can fill the unforgiving minute
With sixty seconds' worth of distance run,
Yours is the Earth and everything that's in it,
And---which is more---you'll be a Man, my son!

---
8. Song - Daddy's Hands by Holly Dunn
I remember Daddy´s hands, folded silently in prayer.
And reaching out to hold me, when I had a nightmare.
You could read quite a story, in the calluses and lines.
Years of work and worry had left their mark behind.
I remember Daddy´s hands, how they held my Mama tight,
And patted my back, for something done right.
There are things that I´ve forgotten, that I loved about the man,
But I´ll always remember the love in Daddy´s hands.
Daddy's hands were soft and kind when I was cryin´.
Daddy´s hands, were hard as steel when I´d done wrong.
Daddy´s hands, weren´t always gentle But I´ve come to understand.
There was always love in Daddy´s hands.
I remember Daddy´s hands, working 'til they bled.
Sacrificed unselfishly, just to keep us all fed.
If I could do things over, I´d live my life again.
And never take for granted the love in Daddy´s hands.
Daddy's hands were soft and kind when I was cryin´.
Daddy´s hands, were hard as steel when I´d done wrong.
Daddy´s hands, weren´t always gentle But I´ve come to understand.
There was always love in Daddy´s hands.
Song and Lyrics by Holly Dunn

---
9. Mirror - A Poem for Dad by J. Allen Shaw


Dad, I am often told I am just like you.
I am honored beyond measure if that is true.
You were the best example of what a man should be.
I am overwhelmed that someone would say that of me.

I never told you enough, how proud I am to be called your son,
Now that you are gone, I want to tell everyone.
You gave me much more than a name,
Someday, I hope my son says the same.

---
10.  As We Look Back - Unknown Author
As we look back over time
We find ourselves wondering. . .
Did we remember to thank you enough
For all you have done for us?
For all the times you were by our sides
To help and support us,
To celebrate our successes,
To understand our problems,
And accept our defeats?
Or for teaching us by your example,
The value of hard work, good judgment,
Courage and integrity?
We wonder if we ever thanked you
For the sacrifices you made
To let us have the very best?
And for the simple things
Like laughter, smiles and times we shared?
If we have forgotten to show our
Gratitude enough for all the things you did,
We're thanking you now.
And we are hoping you knew all along,
How much you meant to us.

---
For Remembrance: 
Sales from our pages result in a small commission to us which helps us to continue our work supporting the grieving.  
---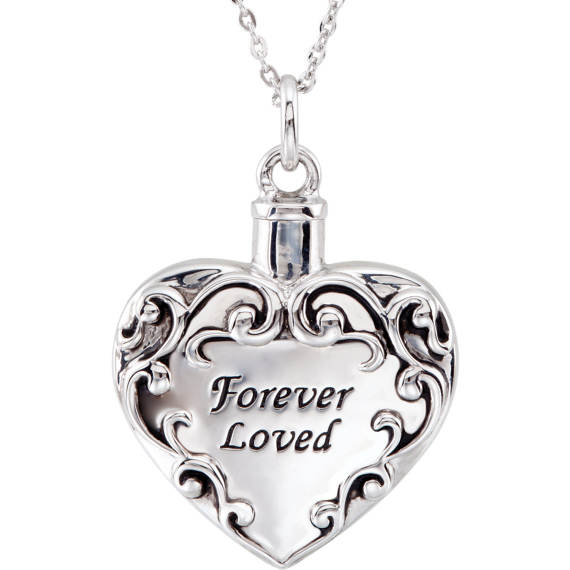 Memorial Jewelry to Honour a Loved One

Check out our lovely range of memorial jewelry for any lost loved one.  Pendants, necklaces, rings or bracelets, we have them all in all kinds of styles.  Choose for yourself or buy as a sympathy gift. 

---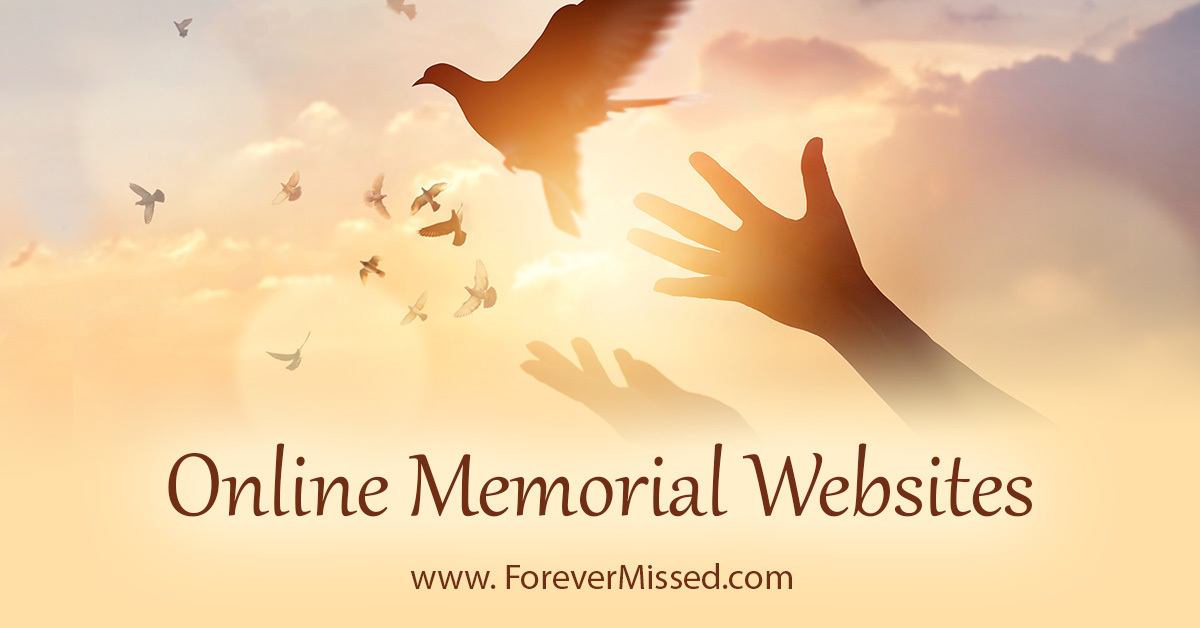 Create an Online Memorial Website
Honour your loved one with their own memorial website.  Share photos, videos, memories and more with your family and friends in a permanent online website.  Free for basic plan with no ads. 
---
Keep in touch with us: 
---
Sign up for our newsletter and receive:

"The 10 Most Important Things You Can Do
To Survive Your Grief And Get On With Life"
Our free downloadable and printable document "The 10 Most Important Things You Can Do To Survive Your Grief And Get On With Life" will help you to be positive day to day.  
The 10 points are laid out like a poem on two pretty pages which you can pin on your fridge door to help you every day! 
All you have to do to receive this free document is fill in your email address below. 
You will also receive our newsletter which we send out from time to time with our newest comforting and helpful information.   You can unsubscribe any time you like, and don't worry, your email address is totally safe with us. 
NEW BONUS - Also receive a copy of our short eBook - '99 Ways to Spot a Great Grief Counselor'.  Available for instant download as soon as you sign up. Never waste money on poor counseling again! 
---
Join us on Facebook for articles, support, discussion and more.  Click 'Like' below.

---