Solving Grief Sleep Problems
- how to sleep better and reduce stress

Grief sleep problems are very common after a loss.  Our bodies are in shock and we are often suffering from anxiety too. 

When you are suffering from insomnia, whether it is because you have had a bereavement or due to another of life's stresses or an illness, it can make life even more challenging.  These relaxation techniques will help you to sleep better which will enable you to cope during the day.

One of the most important things to remember is that being awake in the middle of the night is not the end of the world.  If you can't sleep, instead of lying there fretting and worrying about it, why not get up and do something.  Most of this website was written between the hours of 2am – 4am!  If you have a lot of thoughts or ideas going around your head, it can be really helpful to write them all down.  Once they are out of your mind and on the paper, you can then settle back to sleep.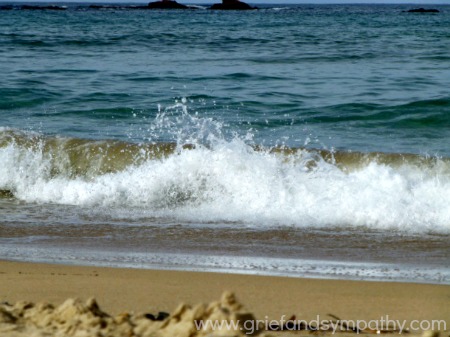 Our tips for solving grief sleep problems are: 

Make sure your bed is comfortable, and not too hot or too cold.  Sleep in a well ventilated room, and keep your bedroom for sleeping only. 

Do some physical exercise during the day.  It's easier to sleep if you are physically tired. 

Don't watch television or use the computer for an hour or two before going to bed. 

Listen to some relaxing music or read a calming book. 

---
---

Don't eat a large meal in the evening too close to bedtime. 

Don't have any caffeine (coffee, cola, chocolate, strong tea) after about lunchtime. Try chamomile tea instead especially before bed. 

Lavender bags in the bedroom or lavender oil in a relaxing bath can help.

Try having a glass of milk and a banana before bed, they are good for helping you to sleep.

Have a massage.  Or give yourself a massage.  Massaging your hands or your feet can be very relaxing. 

Don't get anxious about not being able to sleep.  If you can't sleep, why not get up and write down your thoughts. 

Imagine yourself in a beautiful place, where you are happy.  Take your mind to places you love. 

Focus on happy memories and things which make you smile. 
Do some relaxation or meditation. See our page on meditation for grief here.

Try getting up a little earlier in the morning and forego your midday nap, so that you are more tired when you go to bed. 

Some final tips:

If you are still having trouble sleeping, you could try acupuncture which relaxes the body and mind, and consider seeing your doctor to rule out any medical causes. 
If your insomnia is caused by grief, loss or a bereavement, have a look at the pages on this site which will help you to cope.  Coming to terms with your loss will help to calm your mind and help you to sleep better.  Some pages you might find useful are: 


Coping with Grief Anxiety
Activities for Socialising and Relaxation

Or have a look at our index of contents. 
Grief and Sympathy Home
>
How to Deal with Grief
> Grief Sleep Problems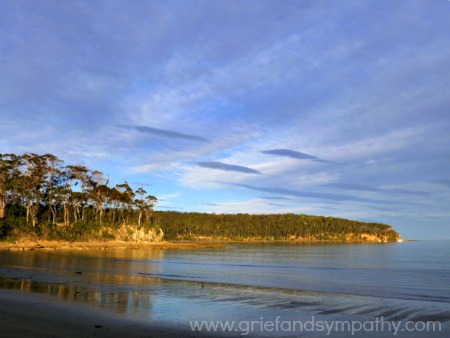 Sales from our pages result in a small commission to us which helps us to continue our work supporting the grieving.  
---
---
Memorial Magnolia Tree

The Magnolia is one of the earth's oldest plants, with a spectacular flower which dates back 95 million years.  What a beautiful specimen to commemorate a life. 
These trees are grown by the foremost magnolia nursery in the country and they will send a variety most suited to the recipient's climate. 
The flowers in spring will bring joy to the bereaved and help to heal their heart.



---
Please Support this Site with a Donation

If you have found our site helpful, please consider a small donation towards our running costs.  It is expensive in time and money to maintain the site and we try to keep it as ad free as we can! 
If everyone were to donate just one dollar, it would cover our costs.  A little more will help us to expand and reach even more people. 

Please note we are not a not-for-profit organisation, so you won't be able to claim this donation against your tax!  But we do need to eat and pay the phone bill!
You can use your paypal account but you don't need to belong to paypal to use this secure payment button, it accepts all major debit and credit cards. We do not collect any of your personal information when you make a payment. 

We thank you and all our readers thank you for whatever you can afford. 
---
Join us on Facebook for articles, support, discussion and more.  Click 'Like' below.

---
Sign up for our newsletter and receive:

"The 10 Most Important Things You Can Do
To Survive Your Grief And Get On With Life"
Our free downloadable and printable document "The 10 Most Important Things You Can Do To Survive Your Grief And Get On With Life" will help you to be positive day to day.  
The 10 points are laid out like a poem on two pretty pages which you can pin on your fridge door to help you every day! 
All you have to do to receive this free document is fill in your email address below. 
You will also receive our newsletter which we send out from time to time with our newest comforting and helpful information.   You can unsubscribe any time you like, and don't worry, your email address is totally safe with us. 
---