How to Build Your Own Casket 
There is nothing like the love that goes into building your own handmade casket for a family member who has recently departed.  You can also help out your family by building your own coffin. 
The guy in this video was rightfully so proud of his work and the love and joy that went into it.  It gave him great comfort that he had made his father's wishes come true.  It also brings people together in a common project which is a wonderful thing in times of sorrow and loss. 
There are many more videos available on YouTube about How to Make a Coffin.  You can get a lot of ideas and inspiration from them.  
Casket and Coffin Plans 
Choose what sort of design you want, whether a casket (rectangular) or a coffin (six sided). 
You can find free casket plans or coffin plans on the internet.  Here are a few that we found: 
Traditional Shaped Coffin Plans
Rectangular Plywood Coffin Plans
Where to Find Casket Hardware 
Casket hardware can be found online easily.  There are often beautiful antique ones available on eBay, along with crosses and other adornments.  Have a look at the listings we have found for you below: 
Good luck with your project and we are sure you will make a casket or coffin which embeds all the love you have to give within it.  It will be a source of immense pride for you. 
Recommended Reading: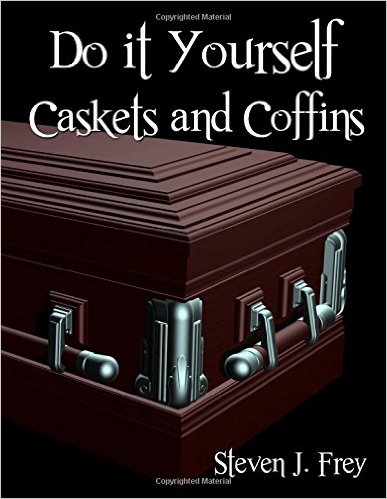 Click to Read a Sample and Order
Related Pages: 
Biodegradable Caskets and Coffins
Environmentally Friendly Cardboard Coffins
Biodegradable Cremation Ashes Containers
Grief and Sympathy Home
>
Funeral Caskets Urns
> Build Your Own Casket
---
Sales from our pages result in a small commission to us which helps us to continue our work supporting the grieving.  
---
---
Memorial Magnolia Tree

The Magnolia is one of the earth's oldest plants, with a spectacular flower which dates back 95 million years.  What a beautiful specimen to commemorate a life. 
These trees are grown by the foremost magnolia nursery in the country and they will send a variety most suited to the recipient's climate. 
The flowers in spring will bring joy to the bereaved and help to heal their heart.



---
Please Support this Site with a Donation

If you have found our site helpful, please consider a small donation towards our running costs.  It is expensive in time and money to maintain the site and we try to keep it as ad free as we can! 
If everyone were to donate just one dollar, it would cover our costs.  A little more will help us to expand and reach even more people. 

Please note we are not a not-for-profit organisation, so you won't be able to claim this donation against your tax!  But we do need to eat and pay the phone bill!
You can use your paypal account but you don't need to belong to paypal to use this secure payment button, it accepts all major debit and credit cards. We do not collect any of your personal information when you make a payment. 

We thank you and all our readers thank you for whatever you can afford. 
---
Join us on Facebook for articles, support, discussion and more.  Click 'Like' below.

---
Sign up for our newsletter and receive:

"The 10 Most Important Things You Can Do
To Survive Your Grief And Get On With Life"
Our free downloadable and printable document "The 10 Most Important Things You Can Do To Survive Your Grief And Get On With Life" will help you to be positive day to day.  
The 10 points are laid out like a poem on two pretty pages which you can pin on your fridge door to help you every day! 
All you have to do to receive this free document is fill in your email address below. 
You will also receive our newsletter which we send out from time to time with our newest comforting and helpful information.   You can unsubscribe any time you like, and don't worry, your email address is totally safe with us. 
---