Express Your Loved One's Personality with Our Unique Funeral Flower Arrangements 
Choose from our unique funeral flower arrangements to help you create a memorable and special farewell for your loved one.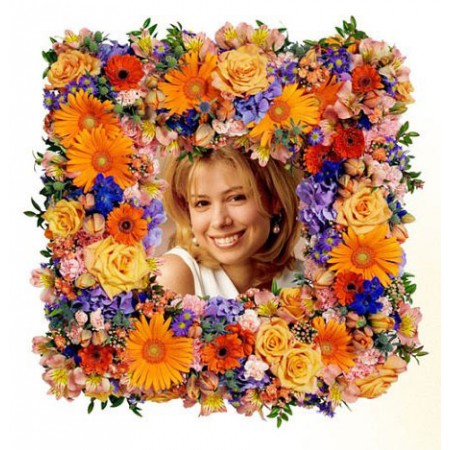 Square Photo Wreath from Kremp Florists USA
Funerals are such sad and stressful events and they are over in a flash and a state of shock.  So why go to the bother of choosing something special?  
To us, the focal point of the service for my Dad was the music.  We sang, we played and we chose his favourite songs.  For others, it might be the poetry, and for many it will be the flowers.  
How often do you hear comments after a funeral about how beautiful the flowers were?  They are a source of beauty and inspiration which people enjoy to take their minds off the sadness and emotion.  
So it is worthwhile selecting something special to honour your loved one and you'll find the flowers you choose will be remembered for years to come.  
We have chosen some of the most unique and unusual funeral arrangements we could find.  
They include themed arrangements based around:
hobbies and passions,
rustic or rural displays,
unusual blanket and pillow flower designs
animals,
religious beliefs
initials and custom made sprays
causes and charity support
Use these to get ideas or order direct online from the links on this page.  We have partnered with flower companies in the USA and the UK to bring you the most unusual and unique funeral flowers available.  
If you are in the USA, Kremp Florists will create any custom design for you, so you can send them a photo of anything on this page or your own funeral flower ideas and they will make it for you.  Click here for more details and to order your bespoke design.  
We receive a small commission from sales on this page, which enable us to continue supporting the grieving through this website.  
---
Unique Themed Funeral Flower Displays
Funeral Flowers for Football, Rugby and Baseball Fans
---
Unique Funeral Flower Arrangements For Animal Lovers
See also our beautiful funeral flowers for children and babies
---
Funeral Flowers For Those Who Loved Speed!
Order a similar display within the USA
---
Funeral Flower Arrangements with Names and Initials
To order similar displays from the USA, click here to order any custom design from Kremp Florists.  
---
Unusual Ribbon Tributes to Support Your Favourite Cause - Available in Any Colour
The unique pink ribbon funeral tribute shown here is for breast cancer awareness.  Kremp Florists will make a ribbon in any colour to support your most heartfelt cause.  Examples are yellow or a flag ribbon to support the troops, black for mourning, white for purity, a rainbow ribbon for gay pride.
Click through here to see the complete list of colours and meanings and to order your special funeral ribbon display.  
Choose Your Ribbon Colour Here from Kremp Florists USA
---
Comforting Blanket and Pillow Shaped Flowers 
---
Unique Religious Funeral Flower Arrangements
Rustic and Rural Style Funeral Wreaths for Lovers of the Countryside
Custom Funeral Flowers to Your Own Design
Kremp Florists in the USA will create a bespoke arrangement made to your own design.  Send them a photo, idea, sketch, initials or name and they will make a unique display to your own specifications.  
Prices vary.  Click here to find out more details and order.  Kremp Florists deliver throughout the USA as well as Puerto Rico and Guam.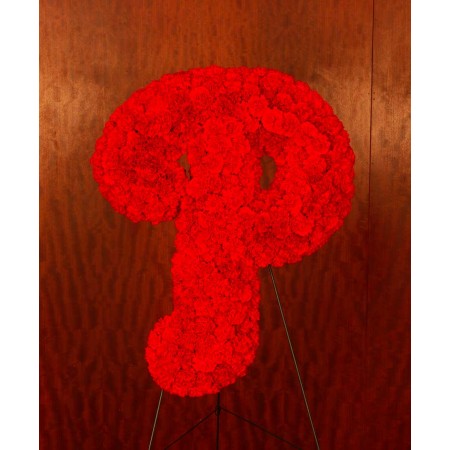 Custom Design Flowers by Kremp Florists USA. Click for Information
Related Pages: 
Patriotic and Military Themed Flowers
Funeral Flowers for Children and Babies
Grief and Sympathy Home
>
Order Funeral Flowers Online
> Unique Funeral Flower Arrangements
Sales from our pages result in a small commission to us which helps us to continue our work supporting the grieving.  
---
---
Memorial Magnolia Tree

The Magnolia is one of the earth's oldest plants, with a spectacular flower which dates back 95 million years.  What a beautiful specimen to commemorate a life. 
These trees are grown by the foremost magnolia nursery in the country and they will send a variety most suited to the recipient's climate. 
The flowers in spring will bring joy to the bereaved and help to heal their heart.



---
Please Support this Site with a Donation

If you have found our site helpful, please consider a small donation towards our running costs.  It is expensive in time and money to maintain the site and we try to keep it as ad free as we can! 
If everyone were to donate just one dollar, it would cover our costs.  A little more will help us to expand and reach even more people. 

Please note we are not a not-for-profit organisation, so you won't be able to claim this donation against your tax!  But we do need to eat and pay the phone bill!
You can use your paypal account but you don't need to belong to paypal to use this secure payment button, it accepts all major debit and credit cards. We do not collect any of your personal information when you make a payment. 

We thank you and all our readers thank you for whatever you can afford. 
---
Join us on Facebook for articles, support, discussion and more.  Click 'Like' below.

---
Sign up for our newsletter and receive:

"The 10 Most Important Things You Can Do
To Survive Your Grief And Get On With Life"
Our free downloadable and printable document "The 10 Most Important Things You Can Do To Survive Your Grief And Get On With Life" will help you to be positive day to day.  
The 10 points are laid out like a poem on two pretty pages which you can pin on your fridge door to help you every day! 
All you have to do to receive this free document is fill in your email address below. 
You will also receive our newsletter which we send out from time to time with our newest comforting and helpful information.   You can unsubscribe any time you like, and don't worry, your email address is totally safe with us. 
---