Types of Coffins and Caskets Explained
Whether you are choosing a coffin for a beloved departed family member, or thinking about your own, it can be very confusing.  There are so many types of coffins and caskets around these days, and a huge range of prices.  We have explained what is available on the market. 
Why not choose your own and save your family a lot of angst and expense.  It can be very hard for families to come to an agreement when buying the casket for a funeral.  Some may feel that if you don't buy the most expensive one you didn't care enough, while others think that it is a waste of money.  At the very least, make your wishes known in your will.  
Learn about the different types of coffins you can choose and where to buy them.
First of all, what is the difference between a coffin and a casket? 

It's in the shape.  

A coffin is six sided and is the traditional shape we all think about immediately and the one celebrated in vampire films and Halloween.  

A casket is rectangular in shape and is the most common shape used in the USA.  

In the UK the traditional coffin shape is still widely used, but the more American casket shape is becoming as popular. 
Different Types of Coffins and Caskets
Wooden Coffins and Caskets
Coffins and caskets were traditionally made of wood.  They are usually available in a wide range of woods from the very expensive hardwoods such as mahogany, cherry, and oak, to the cheaper pine.  
Metal Coffins and Caskets
These days, there are a lot of metals also being used to construct coffins and caskets.  These include copper and steel, but they are only suitable for burial.  
Check out our recommendations for luxury caskets in the USA
Picture Cardboard Coffin by The Coffin Company UK
Personalised Coffins
These days there are several companies who make coffins with your own choice of images and pictures. 
Cardboard Coffins 
Used mainly for cremation, cardboard coffins are an economical choice and are also better for the environment. These days you can get them in all kinds of colours and covered with beautiful images of gardens, flowers, sunrises and more.  Plain ones can be decorated yourself for a more personal touch. 
Types of Environmentally Friendly Coffins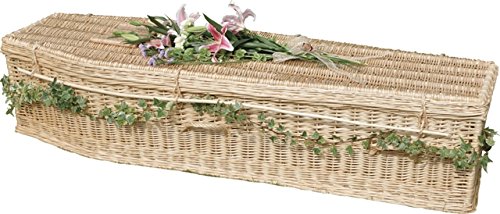 Nowadays, it is becoming more common to think about the environment when choosing a coffin. There are lots of different types of green coffins.  They can be made of cardboard as above, but also of bamboo, willow, wicker, paper and even wool.  
Related Pages: 
Eco-friendly Coffins from the UK. 

Grief and Sympathy Home
>
Funeral Caskets Urns
> Types of Coffins
---
Sales from our pages result in a small commission to us which helps us to continue our work supporting the grieving.  
---
---
Memorial Magnolia Tree

The Magnolia is one of the earth's oldest plants, with a spectacular flower which dates back 95 million years.  What a beautiful specimen to commemorate a life. 
These trees are grown by the foremost magnolia nursery in the country and they will send a variety most suited to the recipient's climate. 
The flowers in spring will bring joy to the bereaved and help to heal their heart.



---
Please Support this Site with a Donation

If you have found our site helpful, please consider a small donation towards our running costs.  It is expensive in time and money to maintain the site and we try to keep it as ad free as we can! 
If everyone were to donate just one dollar, it would cover our costs.  A little more will help us to expand and reach even more people. 

Please note we are not a not-for-profit organisation, so you won't be able to claim this donation against your tax!  But we do need to eat and pay the phone bill!
You can use your paypal account but you don't need to belong to paypal to use this secure payment button, it accepts all major debit and credit cards. We do not collect any of your personal information when you make a payment. 

We thank you and all our readers thank you for whatever you can afford. 
---
Join us on Facebook for articles, support, discussion and more.  Click 'Like' below.

---
Sign up for our newsletter and receive:

"The 10 Most Important Things You Can Do
To Survive Your Grief And Get On With Life"
Our free downloadable and printable document "The 10 Most Important Things You Can Do To Survive Your Grief And Get On With Life" will help you to be positive day to day.  
The 10 points are laid out like a poem on two pretty pages which you can pin on your fridge door to help you every day! 
All you have to do to receive this free document is fill in your email address below. 
You will also receive our newsletter which we send out from time to time with our newest comforting and helpful information.   You can unsubscribe any time you like, and don't worry, your email address is totally safe with us. 
---