The Most Beautiful Funeral Flowers for a Child or Baby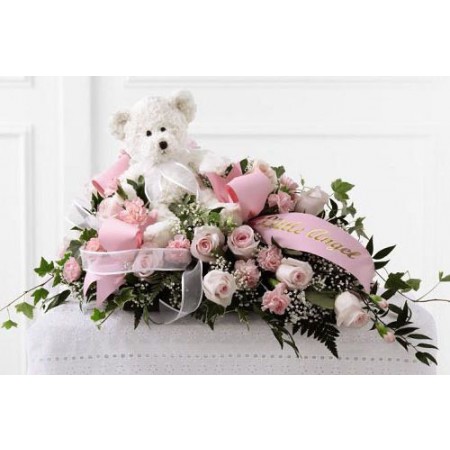 Little Angel Spray with White Teddy for Baby from Kremp Florists USA.
---
Flowers have had symbolic meanings for centuries.  Here are the meanings of some of the flowers in the funeral arrangements for babies and children on this page:  
From The Language of Flowers: 
Carnation, Pink:  Woman's Love
Chrysanthemum, White:  Truth
Roses, Pink:  Grace and Joy
Roses, White:  Innocence
White Lily:  Purity and Modesty
Choosing funeral flowers for a child or baby is one of the hardest tasks you will ever have to face.  But we hope you will take solace in the beauty of nature's bountiful blooms and pride in your choice for the farewell of your precious bundle.

Whether your preference is for a pretty bouquet with a teddy for your little baby, or a white arrangement to symbolise purity, you will find some inspiring designs on our page.  We have pink arrangements for girls or blue for boys.  There are also wreaths of flowers in the shape of hearts to show your eternal love.  
Our partners Kremp Florists and Flowers Fast both deliver to all addresses within the USA.  
We have also partnered with Interflora UK who provide free delivery for their funeral flowers within the UK.  
For those in other countries, we hope these designs will inspire you and you can get a local florist make your ideal arrangement.  
Sales from our pages result in a small commission which enables us to support the grieving through this site.  
---
Funeral Flowers for a Baby or Child with Teddy Bear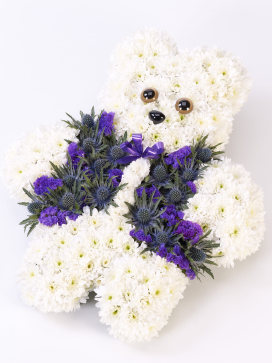 Teddy Bear Arrangement from Interflora UK. Also in Pink
---
Heart Shaped Funeral Flowers for Children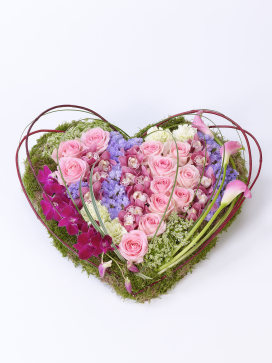 Pink Roses in a Contemporary Heart, by Interflora UK
---
Comforting Blankets and Pillows of Flowers for Baby or Child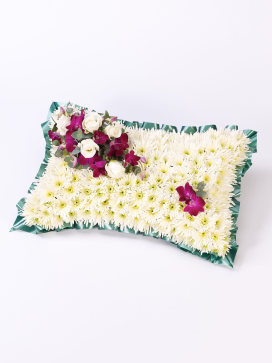 Pretty White Pillow of Flowers, by Interflora UK
---
Themed Funeral Flowers for a Child
Check out more unusual and unique flowers such as in the shape of: 
football
baseball
train
motorbike
rabbit
butterfly
 or customise your own design
---
White Flowers for the Purity of a Child
White Wreath with Pink Roses by Interflora UK
---
Pink Flowers for a Girl or Blue for a Boy
Check out the full range of Funeral Flowers from Interflora UK
---
Related Pages: 
More Unique Funeral Flower Designs for Children
Step by Step Guide to Planning a Funeral
Advice for Coping with the Loss of a Child
Books on Coping with the Loss of a Child
Grief and Sympathy Home
>
Order Funeral Flowers Online
> Child Funeral Flowers
---