10 Tips for Cleaning out a House after a Death

Parting with your loved ones possessions and cleaning out their house is one of the hardest things to face after a death. We have put together 10 tips below to help you face this daunting task.  
During a bereavement sorting and moving the loved one's belongings is one of the saddest processes after the loss of a loved one.  It can be weeks or months before the grieving can face doing it.

Many parents who have lost children keep the child's room exactly as it was. They derive comfort from being in the child's room, feeling close to them there. This is often where many of the memories remain. Hopefully they will get the strength to move on and share their child's precious things with friends and charities.

This is a good time to get help from a sympathetic friend or family member but It can often be distressing for other family members to to cope with too.

It is a daunting task and you feel as if you are throwing out part of your loved one's lifetime. However it is all part of the grieving process and the journey to acceptance.

Here are 10 helpful tips to help you cope with sorting your loved one's things:

Don't be surprised if you get upset.  Many people take months before they can face this task. 
Don't be afraid to go down memory lane as there will be lots of happy memories too, as you remember where you bought that shirt on holiday or when she wore that dress at a wedding.
Give family and friends gifts of your loved ones treasures. Something to remember them by. 
Get a supportive friend to help you.
Decide what is going to your loved one's favourite charity shop. This eases the trauma as you know they would have wanted this.
If you do get too upset leave the job, go for a walk, or out to lunch. 
Do the task over a few sessions. It doesn't have to be done in a rush unless a house move is imminent. It's best to take several days or weeks to finally complete the job. Some people have many possessions so it can be a long job.  Once started it does become easier.
You could get a family member to do it for you, but you might regret it.  You probably want to do this for your loved one. You may know that a watch was to go to a grandson, a necklace to a niece.
If you have a few close relatives, they may want to help and choose items they would like for themselves or grandchildren.  Many hands make light work.  You can do this.
Don't throw away things because you can't bear to look at them now.  You might regret it later when you wish that you had kept some special keepsakes.  
Looking after the pets

This can be one of the most heart wrenching parts of cleaning out a house after a death. 
If there is a pet which has nowhere to go - do try and find a sympathetic relative or friend to take in the animal.  Your loved one would have wanted to know that their beloved companion was being well cared for.  If you really can't find anyone to re-home the animal, then ask for help from the RSPCA or try and find a local group that re-homes pets.  Avoid the local dog pound if you can, as they are likely to have to put down the animal if it isn't re-homed within a certain period of time.  
Recommended Read: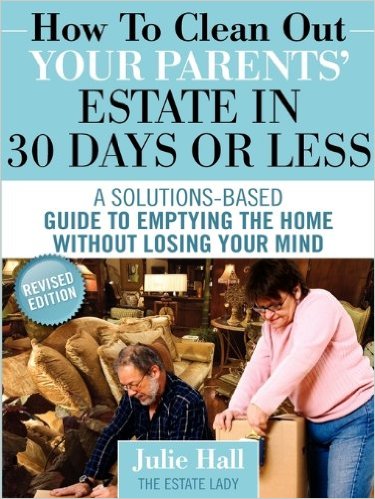 Click to Read a Sample and Order
Related Pages: 
Should we move house after bereavement? 
10 Best Ways to Deal with Grief
Our Recommendations for Best Books on Grief 
Grief and Sympathy Home
>
How to Deal with Grief
> Cleaning Out a House After Death
---
Sales from our pages result in a small commission to us which helps us to continue our work supporting the grieving.  
---
---
Memorial Magnolia Tree

The Magnolia is one of the earth's oldest plants, with a spectacular flower which dates back 95 million years.  What a beautiful specimen to commemorate a life. 
These trees are grown by the foremost magnolia nursery in the country and they will send a variety most suited to the recipient's climate. 
The flowers in spring will bring joy to the bereaved and help to heal their heart.



---
Please Support this Site with a Donation

If you have found our site helpful, please consider a small donation towards our running costs.  It is expensive in time and money to maintain the site and we try to keep it as ad free as we can! 
If everyone were to donate just one dollar, it would cover our costs.  A little more will help us to expand and reach even more people. 

Please note we are not a not-for-profit organisation, so you won't be able to claim this donation against your tax!  But we do need to eat and pay the phone bill!
You can use your paypal account but you don't need to belong to paypal to use this secure payment button, it accepts all major debit and credit cards. We do not collect any of your personal information when you make a payment. 

We thank you and all our readers thank you for whatever you can afford. 
---
Join us on Facebook for articles, support, discussion and more.  Click 'Like' below.

---
Sign up for our newsletter and receive:

"The 10 Most Important Things You Can Do
To Survive Your Grief And Get On With Life"
Our free downloadable and printable document "The 10 Most Important Things You Can Do To Survive Your Grief And Get On With Life" will help you to be positive day to day.  
The 10 points are laid out like a poem on two pretty pages which you can pin on your fridge door to help you every day! 
All you have to do to receive this free document is fill in your email address below. 
You will also receive our newsletter which we send out from time to time with our newest comforting and helpful information.   You can unsubscribe any time you like, and don't worry, your email address is totally safe with us. 
---