Best Casket Flowers for Men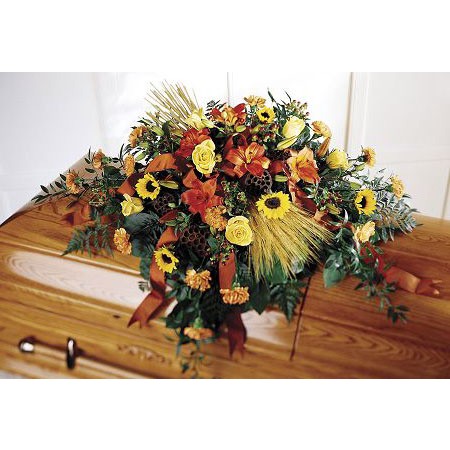 Fall Colours Casket Spray for Men with Wheat, Eucalyptus and Lotus Pods, from Kremp Florists
The best casket flowers for men are those that you choose personally for your loved one. Only you know what were their favourite colours, and which flowers they liked best.  It also depends on your relationship with the deceased and the feelings you want to express.  
Red roses would be excellent for passionate love, or yellow lilies for deep friendship.  
It's perhaps best to avoid pinks and lavenders for a man's coffin as they would perhaps look rather too feminine.  Colours such as oranges, yellows and reds or deep blues would be more masculine.  Simple arrangements with pure white flowers can also be very effective for men.  
Exotic flowers are also a good choice for mens' caskets.  
We have put together a selection of the best ones from our favourite suppliers. 
Kremp Florists supply throughout the USA, Puerto Rico and Guam and can deliver the same day in certain areas.  
Flowers Fast are also based in the USA. Same day delivery available. 
Click on any of the images on this page to find out prices and ordering information. 
We receive a small commission for sales from our pages which allow us to continue to help those who are grieving.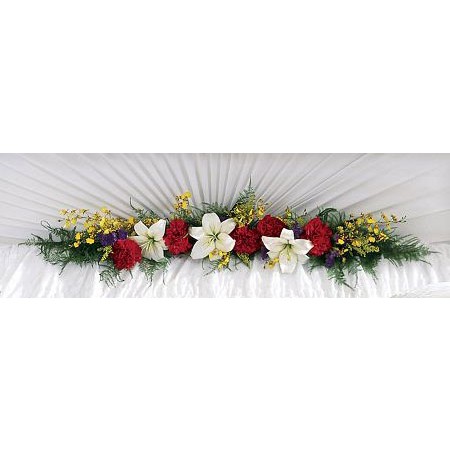 Red, White and Yellow Casket Hinge Spray by Kremp Florists.
Arrangement for the Football Fan - From Flowers Fast
Related Pages: 
Choosing Funeral Caskets, Coffins and Urns
Step by Step Guide to Planning a Funeral
Grief and Sympathy Home
>
Funeral Caskets Urns
> Casket Flowers for Men
---
Sales from our pages result in a small commission to us which helps us to continue our work supporting the grieving.  
---
---
Memorial Magnolia Tree

The Magnolia is one of the earth's oldest plants, with a spectacular flower which dates back 95 million years.  What a beautiful specimen to commemorate a life. 
These trees are grown by the foremost magnolia nursery in the country and they will send a variety most suited to the recipient's climate. 
The flowers in spring will bring joy to the bereaved and help to heal their heart.



---
Please Support this Site with a Donation

If you have found our site helpful, please consider a small donation towards our running costs.  It is expensive in time and money to maintain the site and we try to keep it as ad free as we can! 
If everyone were to donate just one dollar, it would cover our costs.  A little more will help us to expand and reach even more people. 

Please note we are not a not-for-profit organisation, so you won't be able to claim this donation against your tax!  But we do need to eat and pay the phone bill!
You can use your paypal account but you don't need to belong to paypal to use this secure payment button, it accepts all major debit and credit cards. We do not collect any of your personal information when you make a payment. 

We thank you and all our readers thank you for whatever you can afford. 
---
Join us on Facebook for articles, support, discussion and more.  Click 'Like' below.

---
Sign up for our newsletter and receive:

"The 10 Most Important Things You Can Do
To Survive Your Grief And Get On With Life"
Our free downloadable and printable document "The 10 Most Important Things You Can Do To Survive Your Grief And Get On With Life" will help you to be positive day to day.  
The 10 points are laid out like a poem on two pretty pages which you can pin on your fridge door to help you every day! 
All you have to do to receive this free document is fill in your email address below. 
You will also receive our newsletter which we send out from time to time with our newest comforting and helpful information.   You can unsubscribe any time you like, and don't worry, your email address is totally safe with us. 
---