Bereavement Thank You Notes
Bereavement thank you notes for all occasions, plus beautiful cards to buy.  
Write from the heart to thank friends, family, and colleagues for their support, cards, flowers and messages of sympathy.  Use our sample notes to get ideas of what to write.  
We have also designed a range of beautiful cards for you to use for your notes of thanks.  They can be personalised with details of your own loved one, or just add your message inside.  Just click on the cards for more information and to order.  Available in different sizes with discounts for bulk orders.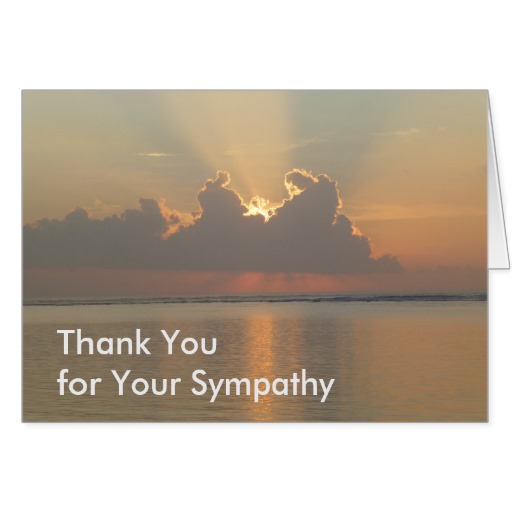 Buy Card Here
Bereavement Thank You Note to a Family Member 
Thank you all for guiding me through what was a tragic loss in my life.  I was able to cope due to your care and support.  Your presence was a huge comfort and will never be forgotten.  Your help and advice was invaluable.  I'm not sure I could have coped without it.  
Thank you for all the help with practical day to day issues, plus all the paperwork and planning involved with our loss.  
Words just don't seem adequate to relay my thanks.  My love always.  
Bereavement Thank You Note to a Good Friend
You have always been such a close friend, never more so than during this sad time.  It is a relief to know that I can always rely on a shoulder to cry on from someone who listens and gives considered advice.  
I want you to know just how much I value our friendship.  It was a lucky day for me when we met. You are always there to share the good and the bad times.  Thank you for being my rock during this difficult period. 
After the Funeral Thank You Note To All Our Friends at Church: 
Our family feel privileged to have so many supportive friends in our church community.
Your kindness and support to our family during this sad time was very special to us.  The service was very moving and such a comfort.  The church looked beautiful with the flower arrangements. 
The buffet prepared for the congregation was presented with so much care.  Many thanks to the ladies who cooked the food and served the teas and coffee so efficiently.  
All your efforts helped our family to cope with what was a difficult day for us and your kindness will never be forgotten.  
Many thanks for all the personal cards and messages received from all our friends.  We look forward to seeing you all again very soon. 
Click Here to Buy Cards
Bereavement Thank You Messages to Boss and Work Colleagues

Thank You Note to Boss: 
I have often considered how lucky I am to have such a congenial workplace.  This is mostly due to you, our boss.  You are fair but firm and show your workforce much empathy.  
This was shown clearly to me during the last few difficult days for myself and my family.  
Thank you for the compassionate leave and for sharing my work among colleagues.  It was a huge comfort and support to get your kind messages and beautiful flowers.  
I look forward to returning to work next week and seeing you all. 
Thank you note to work colleagues: 
I was overwhelmed by the many kind messages and best wishes received from you all.  The cards and flowers were a great comfort to myself and my family.  
I am very lucky to have such a friendly group of work colleagues.  Thank you for covering my work during my absence.  Your support has been a great help.  I look forward to seeing you all again next week.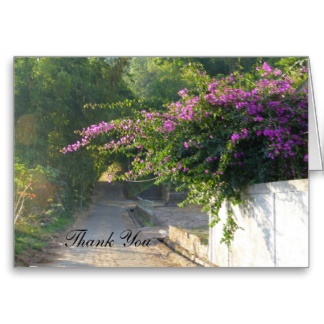 Bereavement Thank You Wording for Cards and Flowers

It was a great comfort to receive your card and flowers at this sad time.  You have always been good friends and we appreciate your kind thoughts.
Your kind words gave us support and comfort at this sad time for our family.  Thank you for the beautiful flowers and your friendship over many years. 
Your kind words gave us courage to cope at what was a very difficult time.  Our family thank you for your support.  The flowers were beautiful and much appreciated. 
We never know how we will cope at sad times like this.  Your kind words and beautiful flowers helped and supported us during this difficult period.  Your continuing friendship means a great deal to us. 
All the cards and flowers received at this sad time gave us the comfort and support which allowed us to get through it all.  It really made us appreciate our wonderful friends. 
It is at the difficult times in our lives when we realise how important friends are.  Your cards and flowers were a huge comfort and support.  
Having good friends is a privilege in life.  The comfort and strength you gave us at this difficult time, with your kind words and thoughts will never be forgotten.  
Related Pages: 
More Sample Condolence Thank You Letters
Our Range of Sympathy Thank You Notes to Buy
Grief and Sympathy Home
>
Planning a Funeral
> Bereavement Thank You Notes
---
Sales from our pages result in a small commission to us which helps us to continue our work supporting the grieving.  
---
---
Memorial Magnolia Tree

The Magnolia is one of the earth's oldest plants, with a spectacular flower which dates back 95 million years.  What a beautiful specimen to commemorate a life. 
These trees are grown by the foremost magnolia nursery in the country and they will send a variety most suited to the recipient's climate. 
The flowers in spring will bring joy to the bereaved and help to heal their heart.



---
Please Support this Site with a Donation

If you have found our site helpful, please consider a small donation towards our running costs.  It is expensive in time and money to maintain the site and we try to keep it as ad free as we can! 
If everyone were to donate just one dollar, it would cover our costs.  A little more will help us to expand and reach even more people. 

Please note we are not a not-for-profit organisation, so you won't be able to claim this donation against your tax!  But we do need to eat and pay the phone bill!
You can use your paypal account but you don't need to belong to paypal to use this secure payment button, it accepts all major debit and credit cards. We do not collect any of your personal information when you make a payment. 

We thank you and all our readers thank you for whatever you can afford. 
---
Join us on Facebook for articles, support, discussion and more.  Click 'Like' below.

---
Sign up for our newsletter and receive:

"The 10 Most Important Things You Can Do
To Survive Your Grief And Get On With Life"
Our free downloadable and printable document "The 10 Most Important Things You Can Do To Survive Your Grief And Get On With Life" will help you to be positive day to day.  
The 10 points are laid out like a poem on two pretty pages which you can pin on your fridge door to help you every day! 
All you have to do to receive this free document is fill in your email address below. 
You will also receive our newsletter which we send out from time to time with our newest comforting and helpful information.   You can unsubscribe any time you like, and don't worry, your email address is totally safe with us. 
---