Sample Sympathy Messages for the Loss of Grandparents

We hope these sample sympathy messages will help you in your task when writing to someone who has lost a grandparent.  

Are you having difficulty writing sympathy cards?  It's one of those times when it is hard to know what to say.  Let's face it, no words are going to wave a magic wand and make it all better.  But letting someone know you are there for them and that you care is what really matters.  So even if you just say "thinking of you", it will be meaningful to your friend or family member. 

Here's some sample sympathy messages for you to get some ideas if you're really stuck. 
The cards illustrated on this page are designed by us and available from the Zazzle.com store.  Proceeds help us to keep this site going. 

One day we will remember how lucky we were to have known their love, with wonder, not grief. Quote by Elizabeth Postle. Buy as a card.
---

Sympathy Messages for the Loss of a Grandmother
Dear Jessica and family
Your grandmother Sally and I, as you probably all know, met at school and became firm friends.  She was a special person who enriched the lives of people around her.  We had a very long friendship which has seen both of us have families, children and grandchildren.  I know that she was very proud of her family.  I shall miss her and you should be proud to have had her wonderful presence in your lives. 
My love to you all at this sad time.

Mary
Dear June
We were so sorry to hear of the loss of your grandmother, her home cooking was legendary among your friends.  Many of us recall her stories of the "Good Old Days" with respect and fondness.  She was full of sound advice but also full of fun and at times quite risque!  She will not only be missed by the family but also their friends.  We are all thinking about you at this sad time.

Love from your college friends, Jean and Norma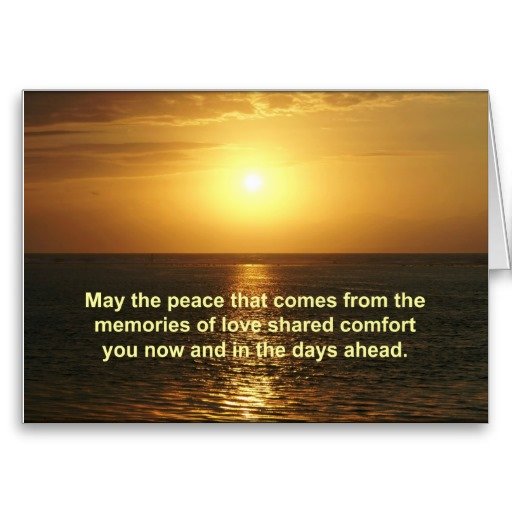 May the Peace that Comes from the Memories of Loved Shared Comfort You Now and in the Days Ahead. Buy Card Now
---

Condolence Messages for Loss of a Grandfather
Dear Tom

We were so sorry to hear the sad news of the loss of your grandfather Jack.  We have so many happy memories of listening to his tales of times gone by.  How many huge fish that got away!  His story telling skills were so entertaining.
He was always ready to be the taxi driver to our swimming teams or soccer matches.  We always knew where to go if we needed the skate boards or bicycles repaired.  His barbeque sausages at club events were always considered the best. He was a friend to us all, touched all our lives in many ways.  Our condolences go out to your family at this sad time.
Your friends
Dan and the boys.
Dear Beth
I am so sorry to hear that your beloved grandfather Jerry has passed away.  I know how much he meant to you and that you will miss him terribly.  He was such an influence in your life and was loved by all who knew him.  
I hope that you will be able to remember him with joy and not too much sadness.  I'll give you a call in a couple of days to see how you are doing.  
Lots of love
Those who do not know how to weep with their whole hearts, don't know how to laugh either. Golda Meir Click to Buy
---
Check out our complete range of sympathy cards here

If this is your first visit to our site, please do read our page on helping others with their grief, and perhaps recommend the site to your friend or family member who is mourning. 
Recommended Read: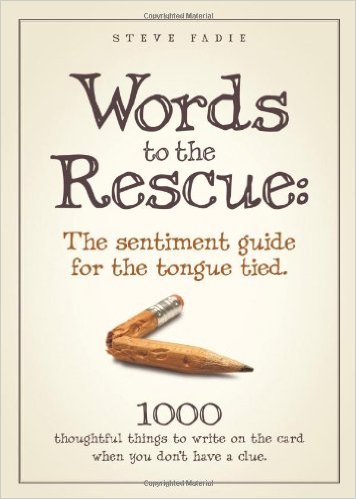 Click to Read Reviews and Order

Send a Sympathy Gift Too
Related Pages: 
Condolence Phrases for Flowers and Cards
Funeral Condolences to Be Read at the Service
Grief and Sympathy Home
>
Words of Sympathy
> Sample Sympathy Messages
---
Sales from our pages result in a small commission to us which helps us to continue our work supporting the grieving.  
---
---
Memorial Magnolia Tree

The Magnolia is one of the earth's oldest plants, with a spectacular flower which dates back 95 million years.  What a beautiful specimen to commemorate a life. 
These trees are grown by the foremost magnolia nursery in the country and they will send a variety most suited to the recipient's climate. 
The flowers in spring will bring joy to the bereaved and help to heal their heart.



---
Please Support this Site with a Donation

If you have found our site helpful, please consider a small donation towards our running costs.  It is expensive in time and money to maintain the site and we try to keep it as ad free as we can! 
If everyone were to donate just one dollar, it would cover our costs.  A little more will help us to expand and reach even more people. 

Please note we are not a not-for-profit organisation, so you won't be able to claim this donation against your tax!  But we do need to eat and pay the phone bill!
You can use your paypal account but you don't need to belong to paypal to use this secure payment button, it accepts all major debit and credit cards. We do not collect any of your personal information when you make a payment. 

We thank you and all our readers thank you for whatever you can afford. 
---
Join us on Facebook for articles, support, discussion and more.  Click 'Like' below.

---
Sign up for our newsletter and receive:

"The 10 Most Important Things You Can Do
To Survive Your Grief And Get On With Life"
Our free downloadable and printable document "The 10 Most Important Things You Can Do To Survive Your Grief And Get On With Life" will help you to be positive day to day.  
The 10 points are laid out like a poem on two pretty pages which you can pin on your fridge door to help you every day! 
All you have to do to receive this free document is fill in your email address below. 
You will also receive our newsletter which we send out from time to time with our newest comforting and helpful information.   You can unsubscribe any time you like, and don't worry, your email address is totally safe with us. 
---